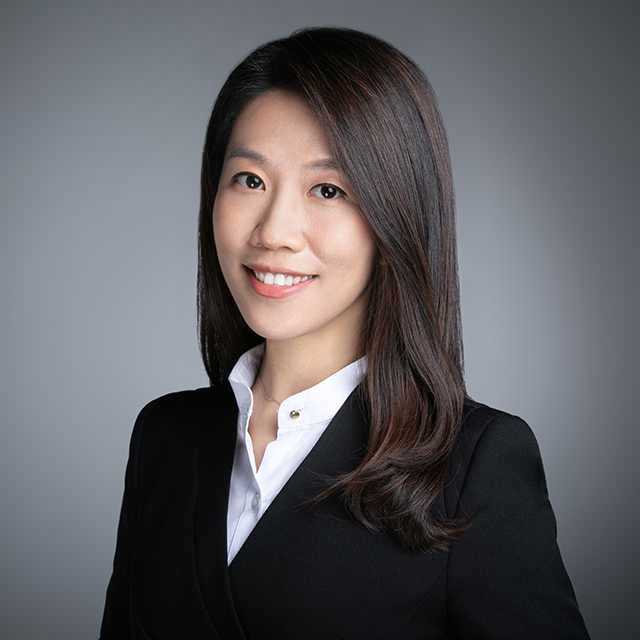 Call : 2014 (HK)
---
Set : Main
---
Practice Areas
---
Administrative and Public Law
Arbitration
Commercial Law
Criminal Law
Defamation
Employment
Family Law
Land and Property Law
Mediation
Probate and Administration
Regulatory and Disciplinary
Tort and Personal Injuries
---
Stephanie has a broad civil and criminal practice, has appeared as an advocate in the Magistracies, Juvenile Courts, District Court, the Lands Tribunal and High Court. She has also been instructed as junior counsel for appeals to the Court of Appeal and Court of Final Appeal. Since 2021, she has also been serving as a Judicial Associate to the Court of Appeal.
Stephanie was  accredited by the Hong Kong Mediation Accreditation Association in 2015 and maintains a busy practice as a general mediator in a wide variety of disputes. She is also currently in the accreditation process to becoming a family mediator in Hong Kong.
Prior to her career in law, Stephanie also possesses working experience in the IT industry as a chief operations officer, in one of the largest youth NGO as a leadership trainer and development officer focusing on social policy analysis, in the Sustainable Development Unit of the HKSAR Government, and in Private Wealth Management at Goldman Sachs, in Chicago, US.
Civil Practice
Stephanie has been involved in a wide range of civil matters, including cases involving:
Personal injuries law, employees compensation, medical negligence and proceedings at the Medical Council
General tort, defamation
Land, town planning and environmental law, Buildings Management, Chinese customary law
Matrimonial and family law
Contract, commercial law
Probate and trust law
Judicial reviews, human rights, administrative and public law
Personal Injuries
Stephanie regularly takes instructions as both counsel and mediator in personal injuries and employee compensation cases for both Plaintiffs and Defendants, and has a keen interest in medical ethics, medical law and related issues. She is a counsel under the Personal Injuries panel of the Hong Kong Legal Aid Department and has acted as counsel for personal injuries trials at the District Court level. She also has experience in the handling of medical negligence cases at the Medical Council, and cases involving guardianship of minors.
Lands & Building Management
In the area of land law, Stephanie has handled a variety of land and building management disputes, and has acted as legal adviser for cases involving Chinese customary law in land disputes, New Territories land, environmental and town planning in Hong Kong. She has conducted trials in the Lands Tribunal, at the District Court Level, and has also acted for landowners against Planning Department summons at the Magistrate Courts.
Matrimonial and General Civil Practice
Stephanie readily accepts probate and matrimonial cases involving child custody and ancillary matters, she is also in the process of being accredited as a family mediator.  She is also regularly instructed for general civil matters, including contract, commercial, general torts and defamation cases.
Criminal Practice
Stephanie conducts trials on fiat as Prosecutor for the Department of Justice and appears as Duty Lawyer in the Magistracies and Junvenile Courts on a regular basis.
She has been instructed privately as counsel for defendants at the Magistracies, District Court and for appeals to the Court of Final Appeal.
Stephanie has also been instructed as defence counsel for cases involving prosecutions from the ICAC and Planning Department. She shares a particular interest in juvenile delinquency issues due to her previous work experience with one of the largest youth NGOs in Hong Kong.
Legal Aid
Stephanie accepts instructions for Legal Aid appeals and opinion drafting for Legal Aid grants in Hong Kong and has had experience in this area since the beginning of her practice.
With a keen interest in trial advocacy and public speaking training, Stephanie has sat as an Academic Tutor of law at St. John's College (HKU) since 2012, and was a mooting coach for the HKU LLB program in 2014. She has also been a trainer for mock Legislative Council debating of students from 2006-2010 with her work at the Hong Kong Federation of Youth Groups.
Languages
Fluent in English, Cantonese and Putonghua
Service
Member, Standing Committee on Civic Education, Hong Kong Bar Association
Member, Standing Committee on Constitutional Affairs and Human Rights, Hong Kong Bar Association
Academic Tutor (Law), St. John's College, University of Hong Kong
Mentor, Hong Kong Joint School Law Association, 2018
---
Mediator, HKMAAL Accredited (2015)
Accredited Mediator for Building Management cases in the Lands Tribunal (Listed under Building Management Mediation Co-ordinator's Office)
Associate, Chartered Institute of Arbitrators (CIArb) (2016)
---
Juris Doctor, University of Hong Kong (2012)
PCLL, University of Hong Kong (2013)
Master of International & Public Affairs University of Hong Kong, John Hopkins University Paul H.
Nitze School of Advanced International Studies, D.C., USA (2009)
Bachelor of Science (History) (Communication Studies), Northwestern University, IL., USA (2006)
Chinese International School, Sacred Heart Canossian College
---
Judicial Associate, Court of Appeal (2021 to present)
Member, Standing Committee on Civic Education, Hong Kong Bar Association
Member, Standing Committee on Constitutional Affairs and Human Rights, Hong Kong Bar Association
Academic Tutor (Law), St. John's College, University of Hong Kong
Mentor, Hong Kong Joint School Law Association, 2018
---
Polysoon Investments Ltd v Lau Mo Kun and Another [2022] HKDC 211; DCCJ1549/2018  (2 March 2022)
Chan Kiu Yeung v Mak Shung Wai [2021] HKDC 598; DCPI 921/2017 (20 May 2021)
Ho Lai King v Kwok Fung Ying and Another [2020] HKCA 657; CACV 108/2019 (31 July 2020)
The Incorporated Owners of Fortune Gardens v Chan, Grant and Another, [2018] HKLdT 53
HKSAR v Sha Lo Tung Development Company Limited, STS 6445/2016, 13 July 2017
HKSAR v Lam Hin Fai, FAMC 3/2016, 6 July 2016
HKSAR v Law Yat Ting, (2015) 18 HKCFAR 400, FAMC 24/2015, 3 July 2015
HKSAR v Law Yat Ting (No 2), (2015) 18 HKCFAR 420, FACC 3/2015, 26 October 2015