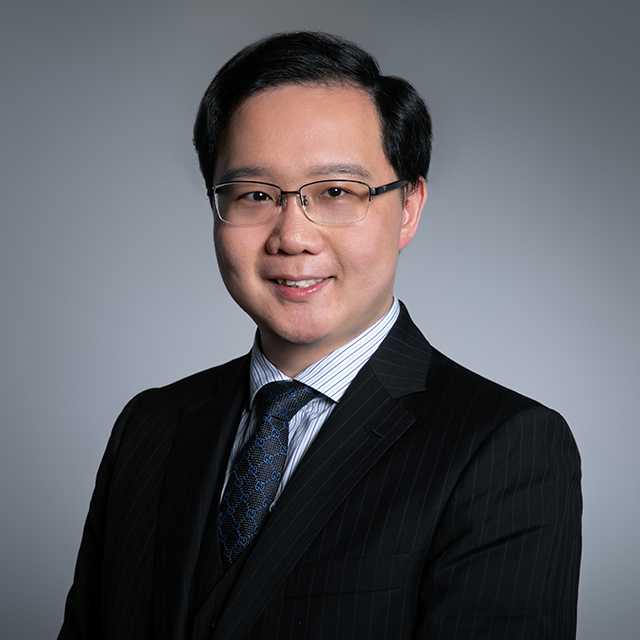 Call : 2018 (HK), 2021 (E&W), 2010 (Solicitor, HK)
---
Set : Main
---
Practice Areas
---
Administrative and Public Law
Arbitration
Chancery
Chinese Customary Law
Commercial Law
Company and Insolvency
Competition Law
Employment
Intellectual Property
Land and Property Law
Mediation
Probate and Administration
Public International Law
Regulatory and Disciplinary
Tax Law
Tort and Personal Injuries
---
"A junior who has litigation in his blood and is passionate about his work. He is very thorough and provides clear and succinct arguments on complex issues."
Legal 500 Asia-Pacific 2022, Commercial Disputes — Leading Juniors
"[Thomas WK Wong] has sound legal knowledge and analytical powers, outstanding research skills, and the ability to articulate arguments forcefully and yet clearly and succinctly."
Legal 500 Asia-Pacific 2021, Commercial Disputes — Leading Juniors
Thomas WK Wong, FCIArb, FHKIArb, is a seasoned civil litigator who was called to the Bar and joined Chambers in 2018.  Prior to that, Thomas had practised for seven years as a civil litigation solicitor, at three top-tier litigation Firms (Hogan Lovells, Clifford Chance and Wilkinson & Grist).
Having been a litigation solicitor himself for a number of years, Thomas thoroughly understands the needs and requirements, and strives to exceed the expectations, of Clients and instructing solicitors.
Both as Counsel and as a civil litigator, Thomas has handled and conducted a full range of Civil cases (as to which please see "Selected Cases" below), from commercial / contract, chancery, and companies, to defamation, enforcement of arbitral awards, and judicial review. Thomas is also a Fellow of the Chartered Institute of Arbitrators and of the Hong Kong Institute of Arbitrators, and acts as both Counsel and Arbitrator in arbitrations.
Armed with his accumulated written and oral advocacy experience, and adopting a results-oriented approach, Thomas is well-poised to add a valuable dimension to the legal team, creating legal solutions for Clients in a broad range of matters.
Aside from his practice, Thomas also has an immense interest in further developing his legal knowledge and skills, and has recently obtained a Master of Laws (with Distinction) at The London School of Economics.
Furthermore, Thomas cares about nurturing future talents, and has served as an international mooting team coach for The University of Hong Kong, his alma mater, from 2006 to 2014.
Thomas accepts instructions in all areas of Chambers practice, and is comfortable to prepare and make submissions in both English and Chinese.
---
FHKIArb (2020 – present)
FCIArb (2020 – present)
Solicitor (Hong Kong) (2010 – 2017)
---
LLM (Distinction), London School of Economics (2019)
PCLL, The University of Hong Kong (2008)
LLB, The University of Hong Kong (2007)
BSocSc(Govt&Laws), The University of Hong Kong (2006)
---
Fellow, Chartered Institute of Arbitrators (FCIArb)
Fellow, Hong Kong Institute of Arbitrators (FHKIArb)
---
Co-authored two Chapters on Hong Kong law in two international legal encyclopaedias: Attachment of Assets (Mareva injunctions) and Enforcement of Money Judgments both published by Juris Publishing, Inc.
---
Arbitration
Acting for a Contractor (a subsidiary of a transnational conglomerate) who has completed refurbishment and other works at a car park of a residential development on MacDonnell Road (one of Hong Kong's most exclusive residential areas), in circumstances where the IO has refused to pay on the purported grounds of defective works and the lack of an appointed Architect under the Contract (adapted from the Standard Form of Building Contract Private Edition – Without Quantities (2006 Edition)).
Civil Fraud
CS Asia Opportunities Master Fund v Zhao Haohui, HCA 3001/2018
Acting for a high net-worth individual investor in defending a claim in excess of US$12 million purportedly on the strength of an equity swap transaction confirmation, on the bases that the confirmation was forged, and in any event that the transaction is tainted by illegality (as constituting an unlawful gaming contract and/or being contrary to sections 114 and 115 of the Securities and Futures Ordinance (Cap 571)) .
Company Law
Suen Wai Mo v Lam Hong Ki, HCA 133/2020
Acting for two high net worth individuals in their competing claims over 80% beneficial ownership of two companies holding numerous local and foreign investments totalling HK$9-digit figures, and resisting the other side's (1) summary judgment application and (2) interim receivership application (led by Mr Denis Chang SC, with Raymond Ho and Tommy Cheung).
(1) Re ebp Global Ltd, HCCW 215/2020
(2) Re COBO Asia Limited, HCCW 362/2021
In each case, acting for an aggrieved minority shareholder of a quasi-partnership presenting an unfair prejudice Petition against the other shareholder(s) seeking (inter alia) a buy-out order (ongoing).
Competition Law
Competition Commission v W Hing Construction Co Ltd [2018] HKCT 5; [2019] 3 HKLRD 46, [2019] HKCT 3
Acted and appeared as Co-Counsel for two Respondents in Hong Kong's first-ever trial of an Enforcement Action by the Competition Commission before the Competition Tribunal; issues raised included "by object" restrictions under the First Conduct Rule, and the efficiency defence under section 1, Schedule 1 to the Competition Ordinance (Cap 619).
Disciplinary Boards / Appeals
Appeared as Counsel for the Travel Industry Council ("TIC") in two appeals brought by Expedia Asia Pacific Ltd before the TIC Appeal Board concerning the interpretation of a core TIC Directive, the Travel Agents Ordinance (Cap 218) and its subsidiary legislation.
Employment Law
Kouk Chung Fai v ebp Global Ltd [2019] HKCFI 2350; [2020] HKCFI 3070
Acted for two senior employees in successfully resisting a Labour Tribunal appeal to the Court of First Instance against the Deputy Presiding Officer's refusal (in the employees' favour) to transfer the case to the District Court.
Insolvency
Re Luen Tat Watch Band Manufacturer Ltd
(1) [2021] HKCA 577 (led by Mr Stewart Wong SC)
(2) [2020] 5 HKLRD 183, [2020] HKCFI 2610 (merits); [2021] HKCFI 835 (stay of execution) (led by Mr Anson Wong SC)
(3) HCA 1397/2018 (led by Mr Stewart Wong SC)
Acting for former Liquidators (partners of Ernst & Young) of a company (whose liquidation has been permanently stayed) in their appeal to the Court of Appeal against their removal for cause (as opposed to mere discharge upon stay) (1); and in resisting a related High Court Action (involving a 9-digit civil claim) (2), as well as a related application for production of documents before the Court of First Instance (3).
Bank of Singapore Ltd v Li Wing Sang, HCB 5577/2017 (CFI)
Acted as Co-Counsel for a creditor-bank in resisting a substantive Statutory Demand setting aside application by the debtor.
Intellectual Property
Profundo Technologies Ltd v Wenhuan Zhong, HCA 1885/2015
Acting for Plaintiffs in a trademark infringement, passing-off and breach of contractual restraint of trade action; successfully obtained judgment and a post-judgment Mareva injunction; now obtaining an account of profits.
Opposition to Trade Mark Application No. 303959335 
Acted for Johnson & Johnson and successfully resisted an opposition before the Registrar of Trade Marks by a wholly-owned subsidiary of a Hong Kong listed company (Lee's Pharmaceutical (HK) Limited (HKEx: 0950)) to its Trademark Application No 303959335 "兆科" in Class 5: see Decision dated 10 June 2020.
Judicial Review
MK v Government of HKSAR [2019] 2 HKLRD 978, [2019] HKCFI 1089
Acted as Counsel for the Catholic Diocese of Hong Kong in its intended intervention in this application for judicial review.
Land / Estate Agency
Longlife International (HK) Co Ltd v May Delight Ltd, HCA 2544/2016
Acting for a Hong Kong company plaintiff in a High Court Action concerning an entire residential development in Shanghai worth over RMB1 billion (led by Mr Denis Chang SC).
Cheung Shun Yee v Rich Resource Development Ltd [2019] HKCFI 2835
Acted for an experienced property investor against a wholly-owned subsidiary of a major Hong Kong property investor in a High Court Action concerning the sale and purchase of an entire shopping mall (led by Mr Denis Chang SC).
Jacques Cuvelier v Chen Qizhi [2019] HKCFI 2386
Successfully obtained summary judgment as sole Counsel in an application for an order for sale of a co-owned property under section 6 of the Partition Ordinance (Cap 352) together with related and consequential relief, including an account against the Defendant of the property's rentals for the past 15 years.
Fairmile Consultants Ltd v Esquel Enterprises Ltd [2019] HKCFI 2797 (merits); [2020] HKCFI 253 (costs)
Acted for a real estate agent company (on instructions) to attempt to seek summary judgment for its commission in respect of a transaction which was concluded by another real estate agent company, and where there was no signed estate agency agreement (or exclusivity agreement).
Sale of Goods
Technic Star Universal Ltd v Tiny Love Ltd, HCA 192/2014 and HCA 208/2015 (consolidated; judgment pending)
As sole Counsel in an 8-day trial, defending and counterclaiming for a global toy and baby products company against sale of goods and related claims totalling circa US$1.4 million brought by its former Hong Kong-based manufacturer and prosecuting its counterclaim exceeding US$1.5 million.
Miscellaneous
Poon Kit Ah v The Personal Representatives of Au-Yang Hoong Fung Victoria (Deceased) [2020] HKCFI 3115
Appeared as Counsel for the plaintiff in successfully obtaining an order for the sale of property which the plaintiff co-owned with the deceased (in the absence of a personal representative of the deceased's estate)
---
Handled, advised and pursued many other contractual, estate agency, sale of goods, employment, and/or commercial monetary claims both before the Court of First Instance and the District Court.  Recent example:
Punjab National Bank v KSK Energy Ltd, HCA 2150/2017, 11 December 2018 (summary judgment (liquidated claim); Counsel for the Bank)
Indian Overseas Bank v Ask Re Limited, HCMP 2107/2019, 6 October 2020 (O 88 possession and liquidated claims against both mortgagor and joint and several guarantors; Counsel for the Bank; successfully obtained ex tempore possession order, monetary judgments and indemnity costs orders against all defendants)