---
Thomas WK Wong is a seasoned civil litigator who was called to the Bar and joined Chambers in 2018.  Prior to that, Thomas had practised for seven years as a civil litigation solicitor, at three top-tier litigation Firms (Hogan Lovells, Clifford Chance and Wilkinson & Grist).
Having been a litigation solicitor himself for a number of years, Thomas thoroughly understands the needs and requirements, and strives to exceed the expectations, of Clients and instructing solicitors.
As a civil litigator, Thomas has handled and conducted a full range of Civil cases, from commercial / contract, chancery, and companies, to defamation, enforcement of arbitral awards, and judicial review.
Armed with his accumulated written and oral advocacy experience, and adopting a results-oriented approach, Thomas is well-poised to add a valuable dimension to the legal team, creating legal solutions for Clients in a broad range of matters.
Aside from his practice, Thomas also has an immense interest in further developing his legal knowledge and skills, and is currently undertaking the Executive Master of Laws programme at The London School of Economics, expecting to graduate with Distinction in 2019.
Furthermore, Thomas cares about nurturing future talents, and have served as an international mooting team coach for The University of Hong Kong, his alma mater, from 2006 to 2014.
Thomas accepts instructions in all areas of Chambers practice, and is comfortable to prepare and make submissions in both English and Chinese.
---
Solicitor (Hong Kong) (2010-2017)
FCIArb (accelerated course completed 2018)
---
LLM (Distinction), London School of Economics (expected 2019)
PCLL, The University of Hong Kong (2008)
LLB, The University of Hong Kong (2007)
BSocSc(Govt&Laws), The University of Hong Kong (2006)
---
Co-authored two Chapters on Hong Kong law in two international legal encyclopaedias: Attachment of Assets (Mareva injunctions) and Enforcement of Money Judgments both published by Juris Publishing, Inc.
---
Re Luen Tat Watch Band Manufacturer Ltd, CACV 11/2018
Civil appeal; junior Counsel for the Appellants
Longlife International (HK) Co Ltd v May Delight Ltd, HCA 2544/2016
Contract / land; junior Counsel for the Plaintiff
Profundo Technologies Ltd v Wenhuan Zhong, HCA 1885/2015
Intellectual property; Counsel for the Plaintiffs
MK v Government of HKSAR (Catholic Diocese of Hong Kong, Intended Intervener) [2019] HKCFI 1089
Judicial review; Counsel for the Diocese
Punjab National Bank v KSK Energy Ltd, HCA 2150/2017
Summary judgment (liquidated claim); Counsel for the Bank
Competition Commission v W Hing Construction Co Ltd, CTEA 2/2017
Second trial before the Hong Kong Competition Tribunal; Co-Counsel for two Respondents
Bank of Singapore Ltd v Li Wing Sang, HCB 5577/2017
Setting aside Statutory Demand; Co-Counsel for the Bank
Travel Industry Council v Expedia Asia Pacific Ltd, September 2018
Appeal before the TIC Appeal Board; Counsel for the TIC
Bond Speed Ltd v Goodwell Sam Cheong Grocery Co Ltd, CACV90/2010, 11 January 2012
Taxation review hearing before Master; solicitor / sole advocate for the receiving party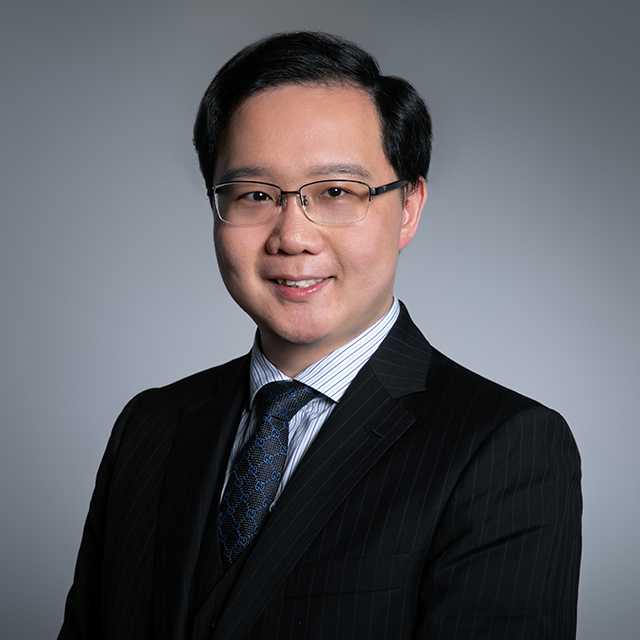 Call : 2018 , 2010 (Solicitor, HK)
---
Set : Main
---
Practice Areas
---
Administrative and Public Law
Arbitration
Chancery
Chinese Customary Law
Commercial Law
Company and Insolvency
Competition Law
Intellectual Property
Land and Property Law
Mediation
Probate and Administration
Public International Law
Regulatory and Disciplinary
Tax Law
Tort and Personal Injuries