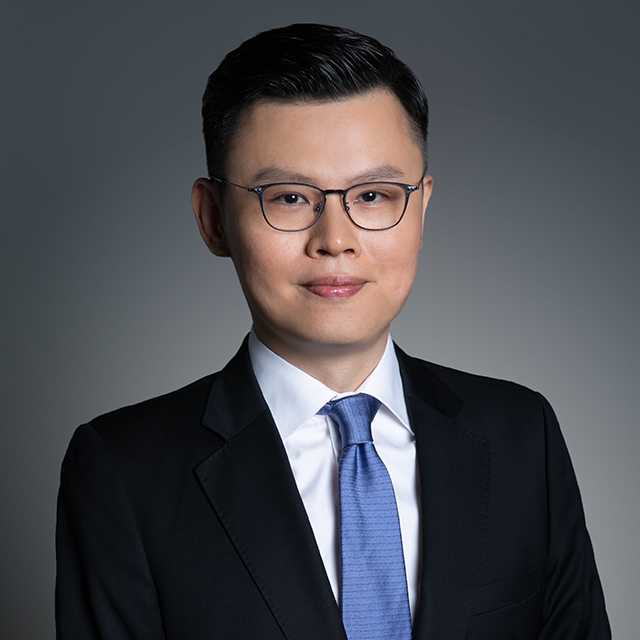 Call : 2006 (HK) , 2006 (Victoria, Australia)
---
Set : Main
---
Practice Areas
---
Administrative and Public Law
Arbitration
Chancery
Commercial Law
Company and Insolvency
Competition Law
Criminal Law
Employment
Family Law
Intellectual Property
Land and Property Law
Mediation
Probate and Administration
Regulatory and Disciplinary
Tax Law
Tort and Personal Injuries
---
Wilson Hui practices broadly in civil and commercial litigation.  He has advised and represented clients in trust, tax, charity, contracts, mergers and acquisitions, medical and professional negligence, personal injuries, insurance and matrimonial disputes, etc.
He has received instructions to advise and represent the Commissioner of Inland Revenue in tax appeals. He has also advised the Legal Aid Department on the merits of cases for the purposes of considering whether legal aid should be granted.
Apart from court proceedings, Wilson has also advised and represented clients in mediation, arbitration and tribunal hearings.   He has also acted as expert on Hong Kong Law in court proceedings in Taiwan and Mainland China.
He is enrolled as barrister and solicitor in the Supreme Court of Victoria, Australia.
He was a part-time tutor at the School of Law of City University of Hong Kong between 2007 and 2009.  He served as a committee member of the Special Committee for Young Barristers of the Hong Kong Bar Association between 2006 and 2008.
---
Called to the Hong Kong Bar in 2006.
Enrolled as barrister and solicitor in the Supreme Court of Victoria, Australia in 2006.
---
PCLL, The University of Hong Kong
Graduate Diploma in Legal Practice, The College of Law, New South Wales
Bachelor of Laws, The University of Melbourne
Bachelor of Commerce (specialised in Accounting), The University of Melbourne
St Joseph's College, Hong Kong
---
Tax
For the Commissioner of Inland Revenue:
Handled tax appeals concerning salaries tax disputes.
For the taxpayers:
Represented the CEO of a US company in a tax appeal to the Board of Review. One of the issues was whether the sum of about USD7.29 million received by the taxpayer pursuant to a confidential settlement agreement should be chargeable to salaries tax (B/R, 44/12).
Advised on stamp duty issues in respect of a lease agreement.
Advised a group of companies on profits tax issues including the locality of their trading profits (either in his own right or led by Russell Coleman SC).
Advised a toy manufacturing company on tax deductibility of bad debts (led by Russell Coleman SC).
Commercial
Represented the successful plaintiff in seeking a warrant for committal against the defendant for failing to comply with court orders in relation to O.48 of the Rules of High Court (HCMP 58/2018).
Advised and represented a hydropower company in a dispute arising from the mergers and acquisitions of over 20 companies at the consideration of over RMB 300 million (HCA 901/2015).
Advised and represented a businessman in a High Court trial. The commercial disputes lasted over a decade and involved complicated issues surrounding the development of a piece of land in the PRC (HCA 2811/2003).
Trust and Charity
Represented a philanthropist in an action against an organisation that enjoys tax exemption as charitable institution under s. 88 of the Inland Revenue Ordinance for mishandling of funds. The issues include the applicability of the cy-pres doctrine and charitable trust (HCA 1261/2016) (led by Richard Khaw SC).
Disciplinary
Represented two insurance professionals including the top selling director of an international insurance company who have both successfully defended all the disciplinary charges against them at the Insurance Agents Registration Board (IARB).  The allegations include the mishandling of clients' funds and failure to render proper advice on insurance policies (with Robin McLeish).
Arbitration
Represented the successful claimant in an arbitration.  The claimant, an aircraft management company, has successfully claimed against the aircraft owner for its fees and charges incurred.  The claimant also dismissed all counterclaims alleging the breach of aviation rules, failure to maintain the aircraft and provide adequate pilots, cabin crew and mechanics.  Expert evidence on aviation regulations and aircraft maintenance considered (with Richard Khaw).
Advised a shipbuilder on contractual and arbitration issues (led by Russell Coleman SC).
Personal Injuries
Handled personal injury cases concerning traffic, industrial and workplace accidents, etc. Regularly advised plaintiffs, defendants/insurers on the issues of liability, quantum and evidence.
Advised insurers on issues including insurance coverage and policy liability.
Medical Negligence
Acted in a claim against a surgeon of a public hospital regarding the quality of a surgery performed.
Acted in a claim against a dermatologist in private practice regarding laser and wounds treatment received by a patient.
Advised on a claim against a private hospital for failing to diagnose and render proper treatment.
Professional Negligence
Advised on a claim against a barrister for negligent advice in a civil action.
Advised on a claim against a solicitors' firm in a conveyancing transaction.
Matrimonial
Advised on the maintenance for a child.
Advised on matrimonial finance and maintenance for the wife and children (led by Russell Coleman SC)