A Guide to Relationship Agreements for Spouses, Cohabitees and Beyond – 26 May 2022, 4pm to 5pm
Join Jeremy S.K. Chan, Phyllis Lee and Valerie Tang from Denis Chang's Chambers, together with Partner Kajal Aswani and Associate Catherine Tso from disputes law firm Gall, in understanding the ins and outs of relationship agreements. Whether you are or acting for someone in a marriage or a relationship, this webinar will provide you with a solid overview of how relationship agreements operate and what they could achieve for you.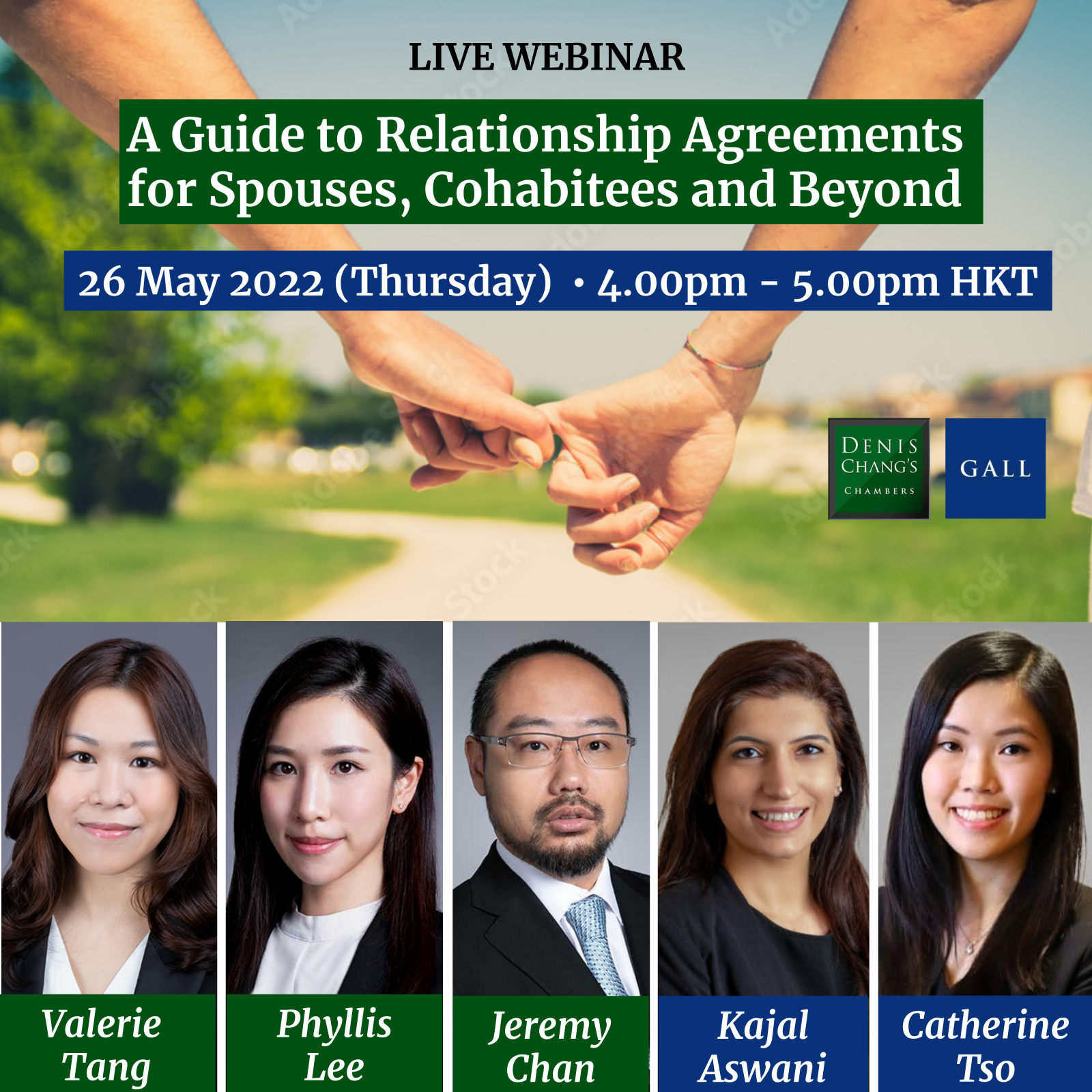 | | | |
| --- | --- | --- |
|   |   |   |
|   | Date: | 26 May 2022 (Thursday) |
|   |   |   |
|   | Time: | 4.00pm – 5pm HKT |
|   |   |   |
|   | CPD Points: | 1 CPD point awarded by the Law Society of Hong Kong  |
|   |   |   |
|   | Venue: | Zoom |
|   |   |   |
Divorce and separation can often mean the start of a long and bitter dispute over assets, liabilities and parental rights. The good news is that in most cases, parties can avoid an acrimonious legal battle through relationship agreements which set out the allocation of assets, entitlements and responsibilities in advance.
While most people are familiar with pre-nuptial and post-nuptial agreements, unmarried couples can also derive practical benefits from entering into relationship agreements.
With foresight, parties can utilize relationship agreements to address their needs in a wide range of scenarios, including the granting of joint guardianship rights to a same-sex couple in the event of separation, and the continuation of financial support to a mistress upon the beneficiary's death.  
In this webinar, we will explore:
• Pre and post-nuptial agreements – Why do you need one and is it even binding in Hong Kong?
• Crossley applications – a practical overview
• Provision after death for persons beyond one's immediate family members under the Inheritance (Provision for Family and Dependents) Ordinance, Cap. 481
• Provision for rights under the Guardianship of Minors Ordinance, Cap. 3
For enquiries, please email [email protected]. 
---
Presenters from Denis Chang's Chambers
Jeremy S.K. Chan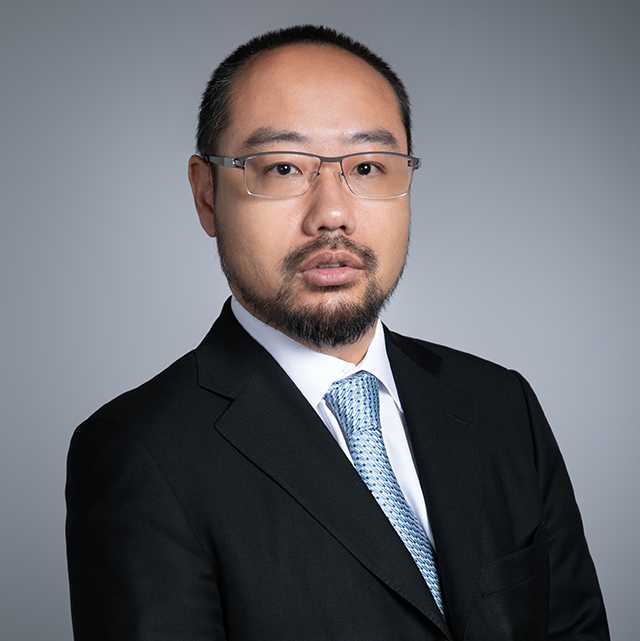 "Jeremy Chan of Denis Chang's Chambers is a recognised authority on matrimonial finance and family law matters, particularly those involving complex and high-value financial questions, and offers focused expertise in disputes arising out of familial breakdowns involving trust and assets abroad."
Chambers & Partners Greater China Region 2022 – Family / Matrimonial: The Bar (Spotlight Table) 
Jeremy enjoys a broad civil practice, concentrating particular emphasis upon private client work and Chancery matters, in particular matrimonial finance & family law, inheritance & probate, trust & administration, conveyancing & land disputes.
He is widely regarded as a leading family practitioner in Chambers & Partners Greater China Region Guide 2022, Legal 500 Asia-Pacific 2022, as well as the Doyle's Guide 2022. 
Find out more from Jeremy's profile.
---
Phyllis Lee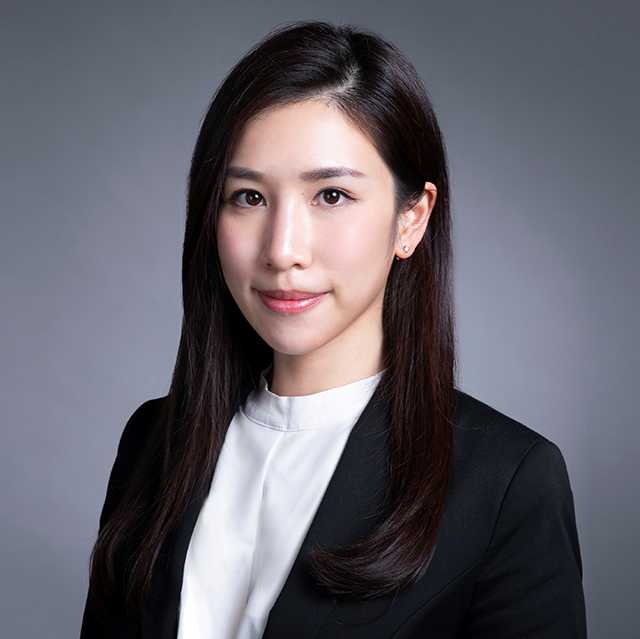 Since joining the Bar in 2014, Phyllis has appeared as an advocate in the Court of Appeal, the Court of First Instance, the District Court, the Lands Tribunal and Magistrates' Courts. 
She is developing a broad civil practice and has been instructed in a wide range of cases involving areas including but not limited to family/matrimonial, construction, company, defamation, probate and trust, employee compensation, intellectual property and personal injuries matters.  
Phyllis acted for the mother in An Lw v. Aw Nee Ac [2019] HKFC 320, in relation to the father's application for leave to permanently remove the two children of the family out of the jurisdiction of Hong Kong in order to reside with him in Michigan, USA.
Visit Phyllis' profile for more details.
---
Valerie Tang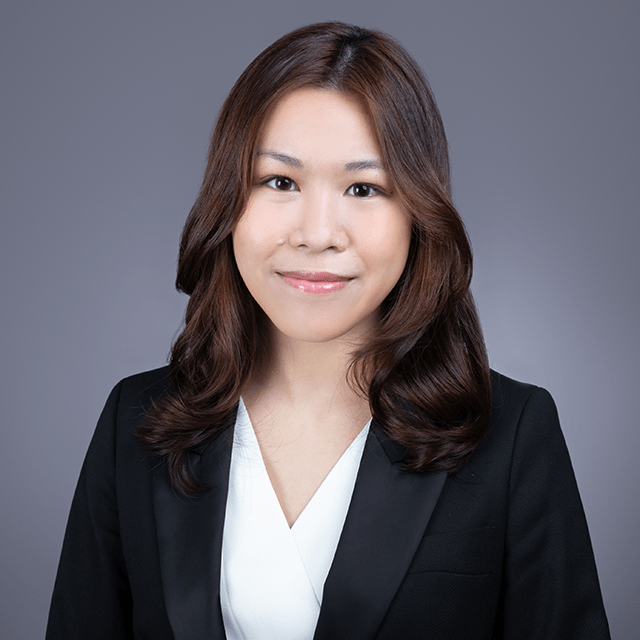 Valerie was called to the Bar in 2019 and is developing a broad civil practice with a special focus on commercial and company law. She also has experience in matrimonial, probate, land, employment and criminal matters. 
In KKSR v. CLH (FCMC13299/2019) [2020] HKFC 94, Valerie acted for the successful Respondent wife in obtaining interim maintenance from the Petitioner husband, despite his claims of being financially impacted by the COVID-19 outbreak.  
She has also appeared as sole advocate in a number of family law cases including CWBA v LWS (FCMC 10645/2008), where she successfully sought the enforcement of maintenance payments in arrears by way of attachment order to government pension.
For more information, please see Valerie's profile.
---
Disclaimer: Seminars, webinars, training presentations or workshops ("Events") and related materials produced by Members of Denis Chang's Chambers  ("DCC") provide general information regarding particular subjects and are not intended to constitute legal advice. Registering for an event only constitutes an agreement to attend it, not instructions to Counsel. Except as otherwise noted, the views expressed at Events are the views of the speakers only and do not represent the opinions of all other Members of DCC.