Criminal and Civil Asset Recovery Against Offshore Trust and Company Structures: 4 June 2021 (Friday), 4pm to 5pm
The world is becoming ever increasingly interconnected and the ability to freeze and seize offshore assets in addition to onshore assets is an increasingly important topic. Onshore prosecutions and attempts to freeze offshore assets are becoming a more regular occurrence as is onshore civil recovery litigation with an eye on offshore asset recovery.  In these circumstances, it is unsurprising that offshore jurisdictions are increasingly being asked to enforce criminal and civil asset recovery orders against offshore trust and company structures. 
In this seminar, James Wood of Denis Chang's Chambers, together with Collingwood Thompson QC and David O'Mahony of 7BR (virtually), will discuss some of the recent case law in this developing area including the interplay with liquidations of companies.
1 Law Society CPD point is being applied for (attendance certificate will be provided upon request).
Attendance at this event is free of charge.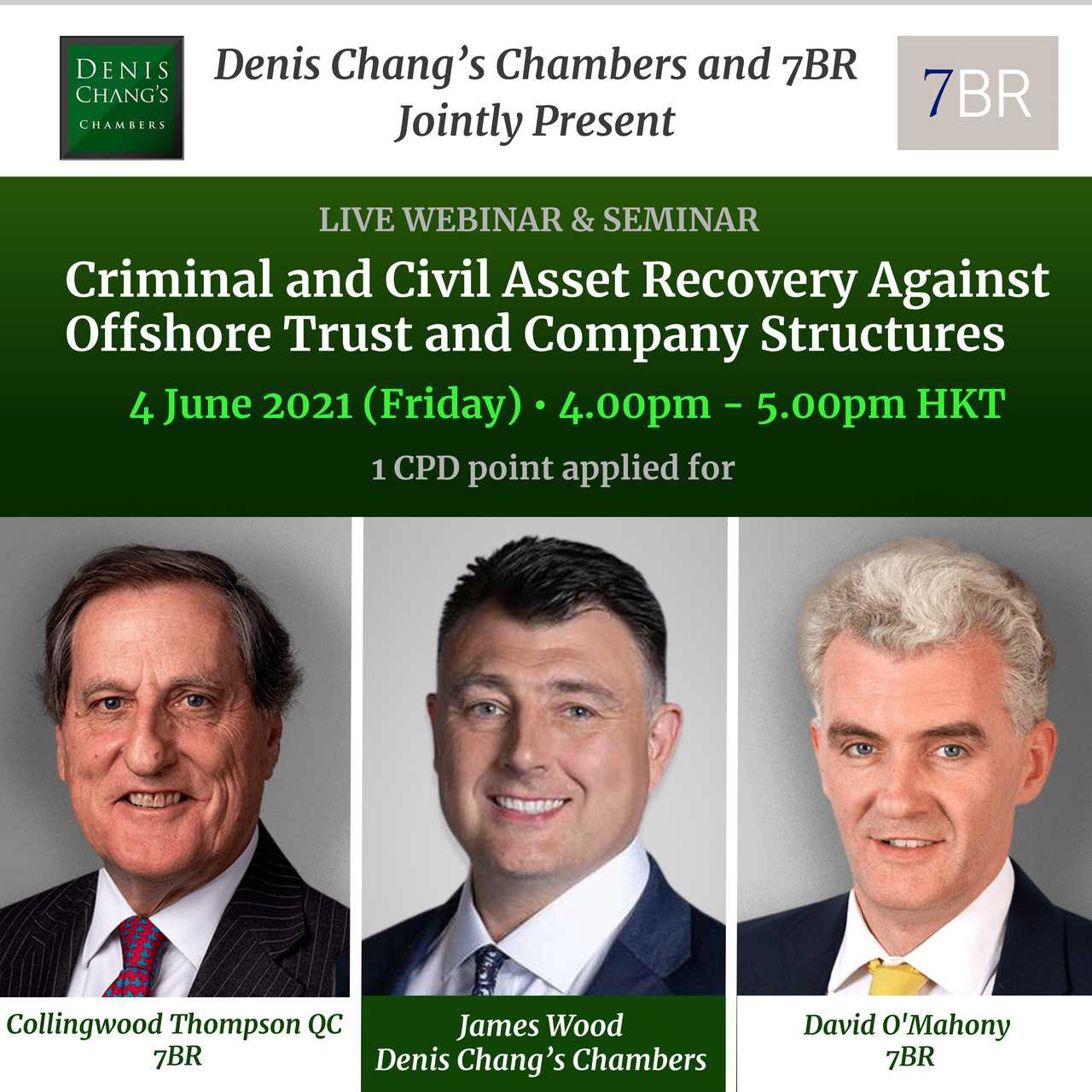 The event has been successfully completed. 
For enquiries about this or future events at Denis Chang's Chambers, please reach out to our Practice Development Managers:
---
James Wood
Barrister, Denis Chang's Chambers
James Wood is a seasoned litigator with over 25 years experience. He is particularly recognised for his expertise in restructuring and insolvency, commercial fraud and financial disputes, including disputes involving asset tracing and recovery. Before joining the Bar, James was a financial services and disputes lawyer with Freshfields, Goldman Sachs, O'Melveny & Myers, and most recently a Solicitor Advocate and Partner at Lipman Karas. His cases are often substantial and cross-border in nature, involving legal proceedings in forums around the world including in Bermuda, the Caribbean, the Channel Islands, Indonesia, Mauritius, the PRC, and Singapore. He has also been recommended in Chambers & Partners

 and 

Legal 500

.



Collingwood Thompson QC
Head of Chambers, 7BR
Collingwood Thompson QC

is Head of Chambers at 7BR. He specialises in both civil and criminal fraud and has acted in some of the most high profile fraud cases, both on behalf of the Crown and the defence. While being in silk and through his fraud practice he has developed an expertise in legal professional privilege, particularly in connection with search warrants and production orders. Over the past 20 years his practice has become increasingly international, where he has appeared in the courts and advised in a number of jurisdictions including; Caribbean, Hong Kong, Isle of Man, Thailand and Jersey.

David O'Mahony
Barrister, 7BR
David O'Mahony is a barrister in private practice. He has been in most of the recent cases in which the relevant principles have begun to be worked out. He is the head of the Offshore an International team at 7 Bedford Row in London. He has recently published a short textbook: "Cross-border criminal and civil recovery litigation offshore."