Topical Issues in Tenancy Disputes and Building Management – 10 December 2020 (Thursday), 3pm – 4pm
More and more landlords and tenants are saying "see you in Court" as tenancy disputes soar in the aftermath of the COVID-19 pandemic.  Disputes over the use of common parts involving incorporated owners of buildings are also becoming increasingly prevalent. Stay abreast of the latest legal developments in this area with Henry Cheng and Isabel Tam, who will offer updates, case analysis and insights on a practical selection of topical issues.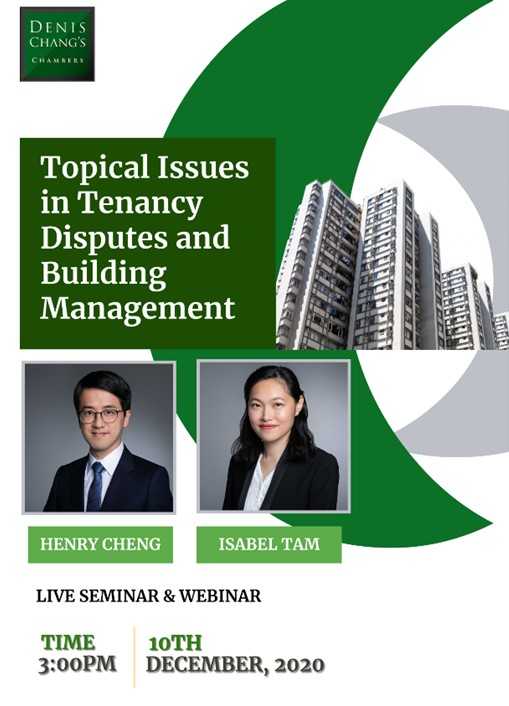 | | | |
| --- | --- | --- |
|   |   | |
|   | Date: | 10 December 2020 (Thursday) |
|   | Time: | 3pm – 4pm |
|   | Speakers:  | Henry Cheng & Isabel Tam |
|   |   |   |
In this webinar, you will get up to speed on:
• Tenancy disputes – strategies for landlords vs strategies for tenants
• Guidance on summary proceedings
• Pros and cons of pursuing distraint proceedings
• Powers of incorporated owners – power to approve breaches of DMC vs. statutory duty to enforce the DMC
• Interaction between the DMC and the Building Management Ordinance, and more.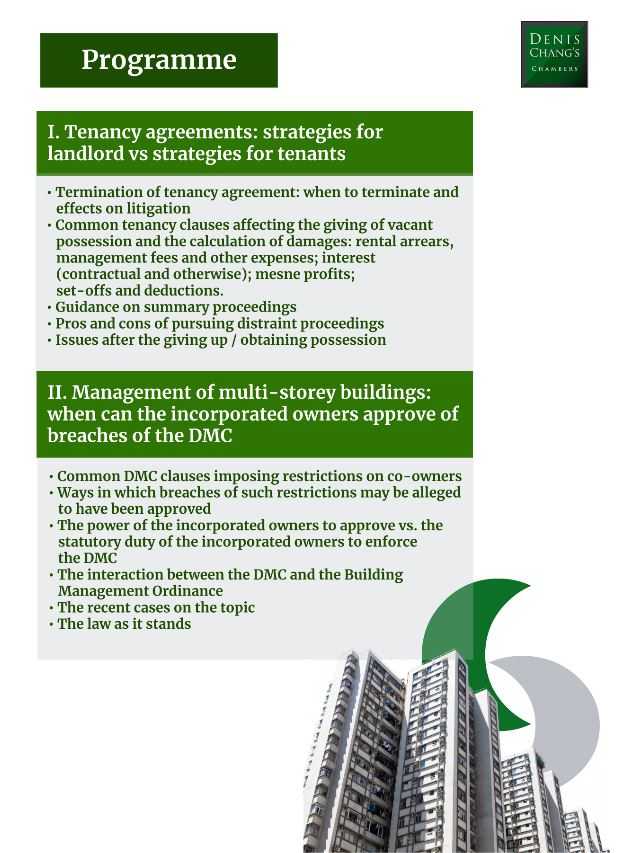 The event has been successfully completed. 
For enquiries about this or future events at Denis Chang's Chambers, please reach out to our Practice Development Managers Sonia Chan ([email protected]) or Taylor Goodwin ([email protected]). 
Speakers:
Henry Cheng


Henry obtained his LLB at the University of Hong Kong and was called to the Bar in 2010. Since his admission, Henry has developed a well-regarded practice in commercial and civil litigation, appearing in cases involving land, conveyancing disputes and buildings management.

He has also provided legal opinions on Hong Kong law in a number of listing applications to The Hong Kong Stock Exchange Limited, including on the compliance with the Companies Ordinance and the Competition Ordinance. His practice also includes other areas of civil matters such as personal injuries litigation, insurance disputes, defamation disputes, and disputes involving equity and trusts.

 
Isabel Tam


Isabel is a Bar Scholar who graduated with a first class LLB and with distinction in her LLM. She also has an MA in competition law with distinction in the examination component, and was seconded to the Competition Commission.

Called to the Bar in 2013, Isabel practises in a wide range of areas, with an emphasis on building management and property law, public law, family law, commercial law and regulatory matters. Her experience in building management includes: trials and hearings on adverse possession, management fees, disputes over common parts, IO meeting procedures, charging orders, and unauthorized building works.

Disclaimer: Seminars, webinars, training presentations or workshops ("Events") and related materials produced by Members of Denis Chang's Chambers  ("DCC") provide general information regarding particular subjects and are not intended to constitute legal advice. Registering for an event only constitutes an agreement to attend it, not instructions to Counsel. Except as otherwise noted, the views expressed at Events are the views of the speakers only and do not represent the opinions of all other Members of DCC.