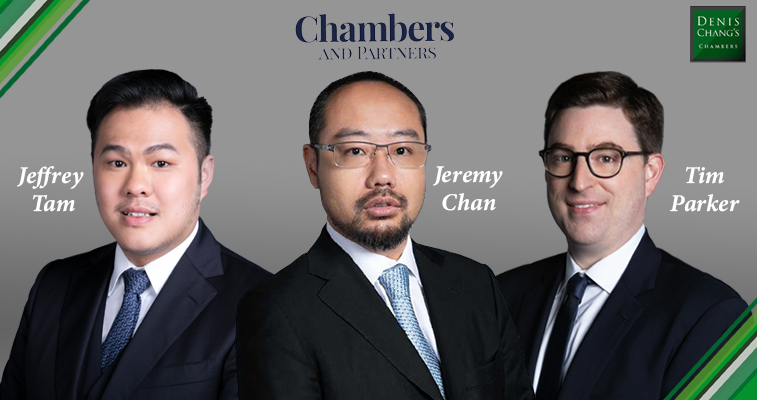 Commercial and family law barristers at Denis Chang's Chambers recognised in Chambers and Partners 2022 guide
In the inaugural edition of Chambers and Partners' Greater China Region guide to the Bar, Jeremy S.K. Chan is commended as a recognised authority in matrimonial law matters, while Tim Parker and Jeffrey Tam received praise for their strengths across a broad range of commercial disputes and public law cases.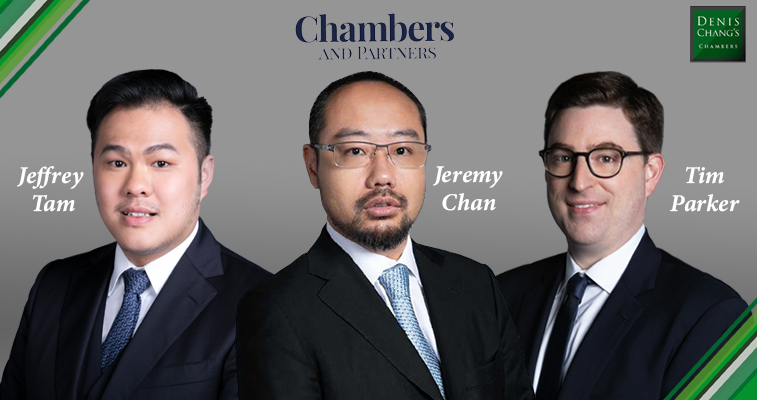 Commercial Dispute Resolution  
Tim Parker 
Tim is noted for his specialisation in public international and regulatory law, and his active work in civil liberties cases and constitutional law matters. Ranked in the "Commercial Dispute Resolution – Juniors" category, he garnered praise for being "really top-notch across a broad range of work" and "an intelligent and astute counsel of high integrity".   
Jeffrey Tam 
According to interviewees, Jeffrey stands out as a barrister who is "very sound and reliable in the public law area" and "very knowledgeable with regard to judicial review cases". In addition to his involvement in high-profile cases concerning public order issues, Jeffrey is placed in the "Commercial Dispute Resolution – Juniors" category for maintaining a broad commercial practice embracing – among others – shareholder and securities-related issues.   
Family/Matrimonial  
Jeremy S.K. Chan  
Ranked as a Junior in the "Family/Matrimonial – Spotlight Table", Jeremy is described as "a recognised authority on matrimonial finance and family law matters, particularly those involving complex and high-value financial questions, [who] offers focused expertise in disputes arising out of familial breakdowns involving trust and assets abroad."  
Extensive and highly positive feedback from interviewees mentioned Jeremy's "encyclopedic mind" and "fantastic research and paperwork". One source commented that he is "in huge demand for family work, is involved in pretty much all the big money cases and combines prodigious intellect with approachability." 
____________________________________________________________________________________ 
We would like to express our sincere gratitude to our clients and peers who took the time to provide their positive feedback. Our heartfelt thanks also go to Chambers and Partners' Greater China Region Editorial Team for their recognition and support.  
This article was first published on 19 January 2022.