Hybrid CPD Talk at DCC on 25 October 2023
Land and Property Law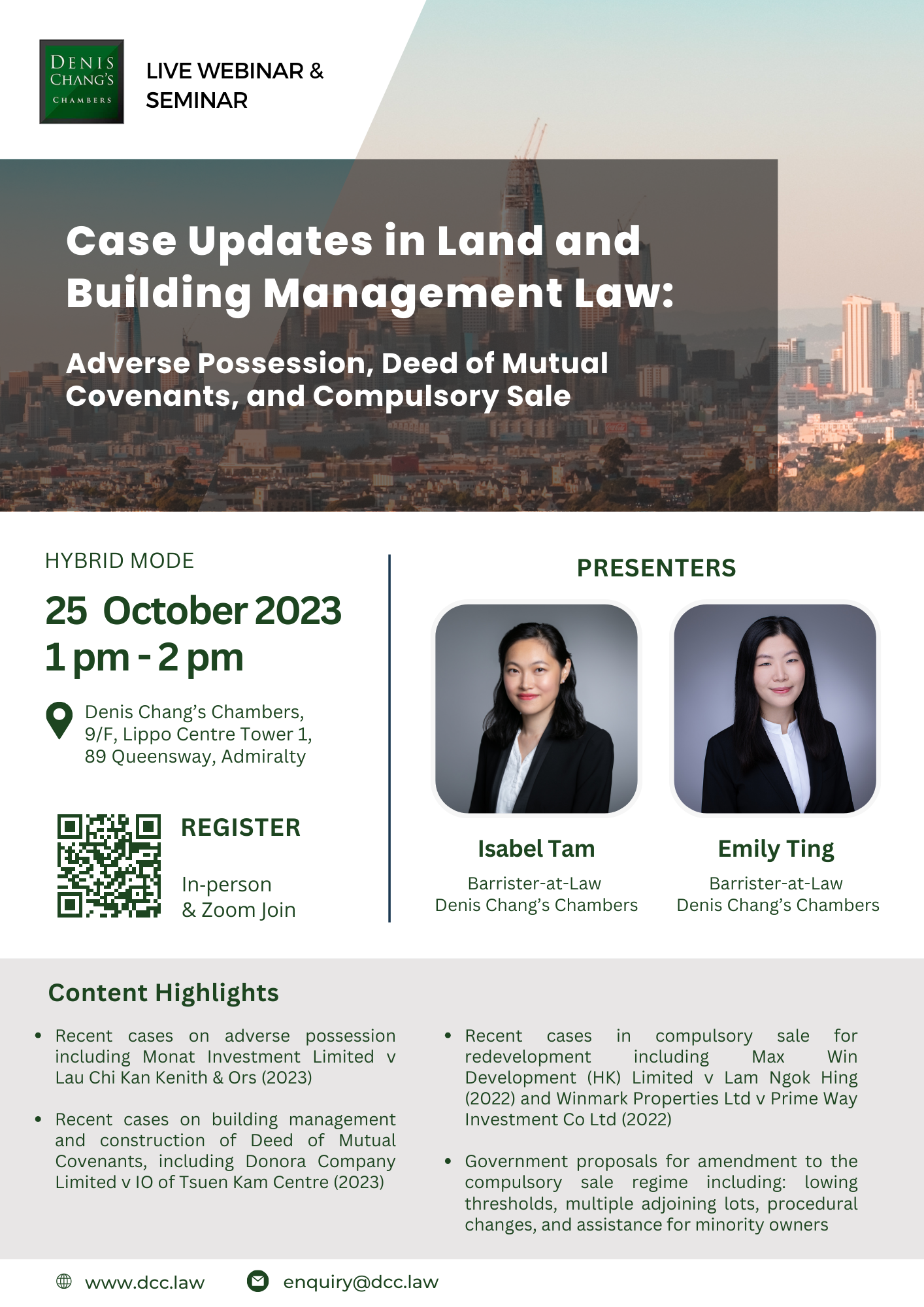 In this lunchtime talk held in hybrid mode, Isabel Tam and Emily Ting will address recent case updates in three areas of land and building management law:
• appellate case updates in adverse possession, including the newest Hong Kong appellate authority on the test for illegality;
• cases on building management and construction of Deeds of Mutual Covenant; 
• recent cases under the Land (Compulsory Sale for Redevelopment) Ordinance regime as well as potential legislative developments in the compulsory sale sphere. 
We look forward to seeing you! 
• Date: 25 October 2023 (Wednesday)
• Time: 1.00 pm – 2.00 pm HKT 
• Venue for in-person joining: Denis Chang's Chambers, 9/F, Lippo Centre Tower 1, 89 Queensway, Admiralty
• CPD Accreditation: 1 point has been applied for from the Law Society of Hong Kong
• Light refreshments will be provided
For enquiries, please reach out to our Practice Development Assistant Manager at [email protected].
To secure your spot at this not-to-be-missed event, click the button below to register:
Presenters
Isabel Tam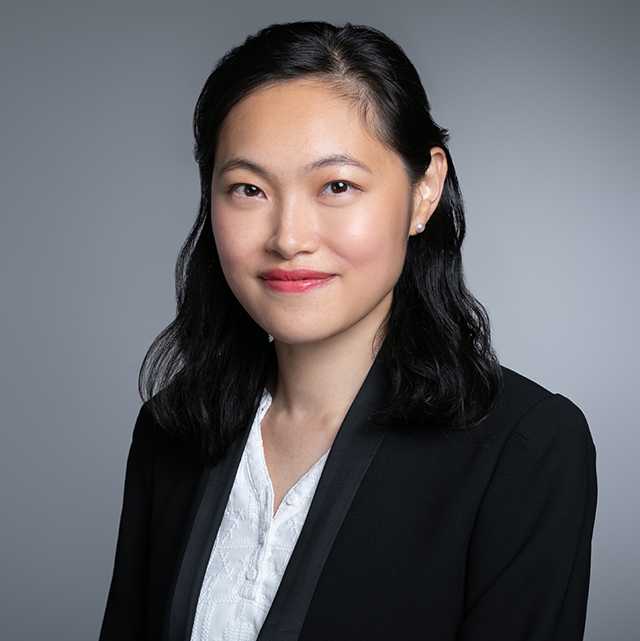 Isabel is a Bar Scholar and a Charles Ching Memorial Scholar who graduated with a first class LLB and with distinction in her LLM. She also has an MA in competition law with distinction in the examination component, and was seconded to the Competition Commission.
Called to the Bar in 2013, Isabel practises in a wide range of areas, with an emphasis on building management and property law, public law, family law, and regulatory matters.
Her recent land-related cases include the judicial review of the Small House Policy. Her experience in building management and land law includes: trials and hearings on adverse possession, management fees, disputes over common parts, IO meeting procedures, charging orders, and unauthorized building works. She has written on building management matters including on DMC exemption clauses written together with Emily Ting.
Emily Ting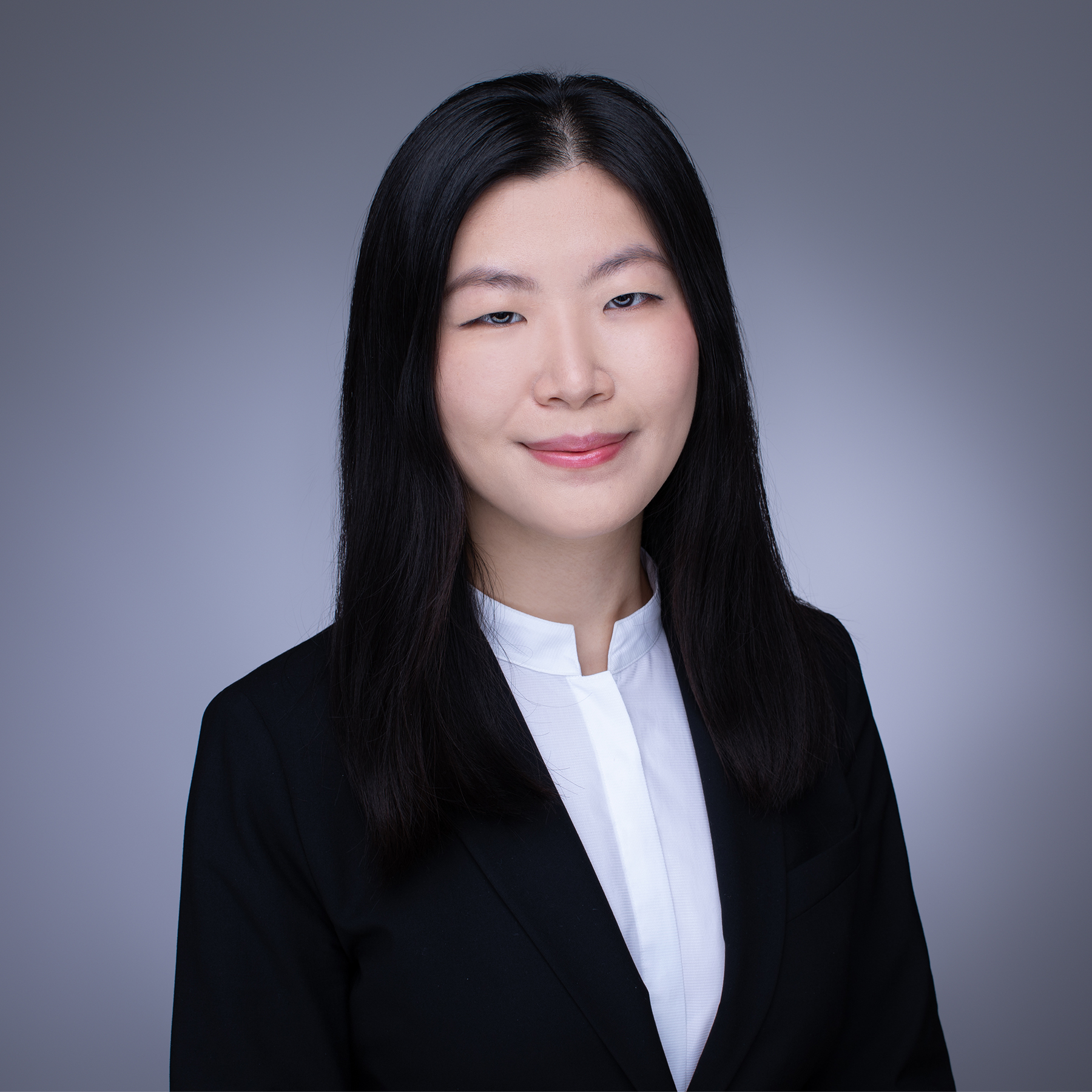 Emily is a Charles Ching Memorial Scholar. Called to the Bar in 2019, she is developing a broad civil practice, with experience in land, trusts, company, insolvency, competition law and tax matters. Her experience in land and building management matters includes work on adverse possession, landlord and tenant matters, building management disputes, building planning, and trial and advisory work in land compulsory sale applications.
Her recent cases include Ever Great Development Limited v Fong Yau Shun & others [2023] HKLdT 50, in which she acted as sole advocate in a Cap. 545 land compulsory sale for development application, and in which the Tribunal ruled on legal points on the inclusion in the application of lots which are 100%-owned by the applicant. Her writings on land-related issues include articles on compulsory sale.
Before joining Chambers, Emily was a Judicial Assistant at the Court of Final Appeal between 2019 and 2020  where she assisted judges in appeals, leave applications and other research and publications.
Disclaimer: Seminars, webinars, training presentations or workshops ("Events") and related materials produced by Members of Denis Chang's Chambers  ("DCC") provide general information regarding particular subjects and are not intended to constitute legal advice. Registering for an event only constitutes an agreement to attend it, not instructions to Counsel. Except as otherwise noted, the views expressed at Events are the views of the speakers only and do not represent the opinions of all other Members of DCC.