Cartels, Commitments and Competition: Understanding Recent Developments and Initiatives in Competition Law, Compliance and Enforcements – 20 April 2021, 1pm to 2.30pm
With the appointment of a new Chairman and the search for a new CEO, the Competition Commission continues to take robust and novel initiatives and measures on competition issues. This includes bringing the first case on abuse of substantial market power and issuing infringement notices in lieu of proceedings in the Competition Tribunal. 
This seminar, co-hosted by Carter Chim of Denis Chang's Chambers and Dominic Wai of ONC Lawyers, will take stock of the case law decisions and new initiatives in Competition law and enforcement in Hong Kong.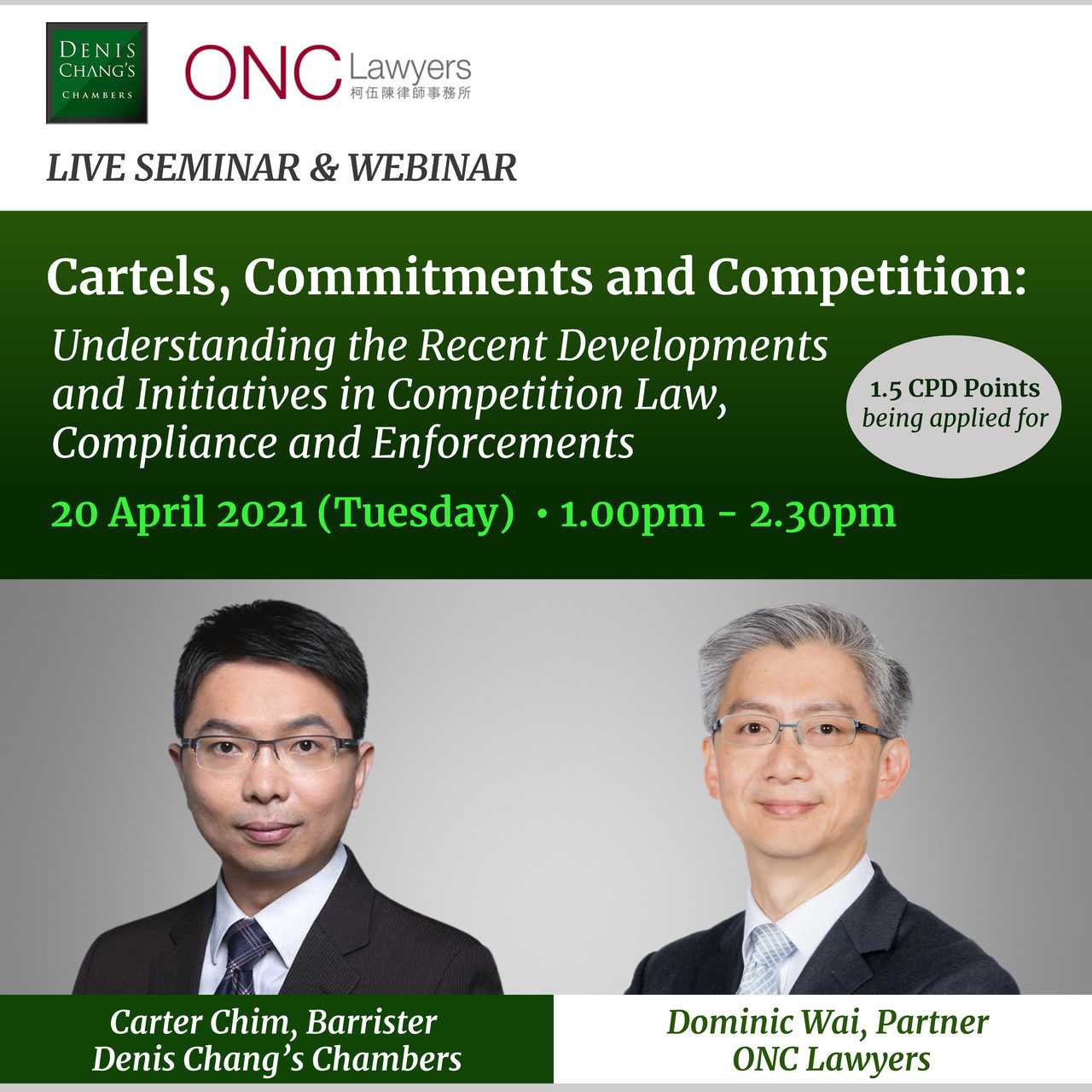 Date:

20 April 2021 (Tuesday)

 
Time:

1.00pm – 2.30pm

 
Speakers: 
Carter Chim, Denis Chang's Chambers
Dominic Wai, Partner, ONC Lawyers
 
Language:

English

 
Cost:

Free

 
CPD Points:

1.5 Law Society points being applied for (attendance certificate will be provided upon request)

 
 

 
The seminar will also cover the following issues:
• The key decisions of the Competition Tribunal in the past 2 years
• An overview of the investigative, probing and search powers of the Competition Commission and how to deal with them
• Legal representation and legal professional privilege in the context of a Competition Commission investigation
• Lessons learned from the first use of infringement notices to 6 hotel groups and a tour counter operator for facilitating a price-fixing cartel
The event has been successfully completed. 
For enquiries about this or future events at Denis Chang's Chambers, please reach out to our Practice Development Managers:
---
Carter Chim

Carter was called to the Hong Kong Bar in 2012 and has established a solid practice specialising in competition law, advising clients in both the public and private sectors. In 2015-2016, he was appointed as a legal counsel to the Competition Commission (Hong Kong), where he helped the Commission finalise its Guidelines, drafted policy documents and acted as case manager of the Commission's first enforcement case. Currently, he also serves as a non-governmental advisor to the International Competition Network, the only global body devoted exclusively to competition law enforcement with members representing national and multinational competition authorities.
*Denis Chang's Chambers reserves the right to cancel the physical attendance arrangement in response to developments in the Covid-19 situation. In that case, confirmed physical attendees will be provided with the webinar link to join the event virtually.  Please note that any interaction with the general public poses an elevated risk of being exposed to Covid-19 and DCC cannot guarantee that participants will not be exposed while in attendance at the event.