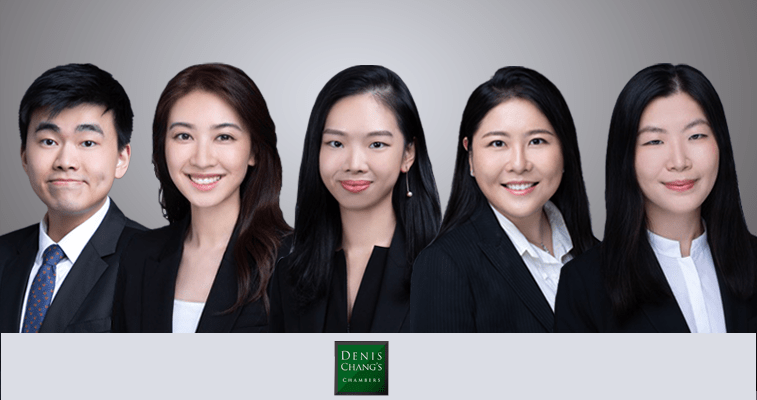 CHAMBERS NEWS – Denis Chang's Chambers welcomes five new tenants
It is with great pleasure that we announce the addition of five new Members following the successful completion of their pupillages: Emily Ting, Vivien Leung, Samantha Lau, Tracy Chu and Keith Cheung. Their arrival further enhances the strength and depth of Chambers' offering across our wide-ranging practice areas.
Emily Ting


Emily was called to the Bar in 2019 and joined Chambers in September 2020. She completed pupillage with Ms. Maggie Wong SC, Mr. Earl Deng, Mr. Ross Yuen and Ms. Queenie Lau, gaining experience in commercial, land, and public law & criminal matters. During her legal studies, she earned the Hong Kong Bar Association Prize for Trial Advocacy and the Jarvis & Kensington Prize for Trial Advocacy. 

Before joining Chambers, Emily was a Judicial Assistant at the Court of Final Appeal between 2019 and 2020, where she assisted judges in appeals, leave applications and other research and publications. Emily is developing a broad civil and criminal practice and accepts instructions in all areas of Chambers' work.

---
Vivien Leung


Vivien is a former solicitor with a decade of litigation experience under her belt. She trained and practised as a commercial litigator from 2009 to 2016 at Deacons, and practised as a family lawyer at Withers from 2016 to 2019.  She served pupillages with Selwyn Yu SC, Jeremy Chan, Eugene Yim and Robin D'Souza and was marshal to Deputy High Court Judge José Maurellet SC during her extended pupillage with him.

In recent years, Vivien has developed a specialist practice in matrimonial law. Alongside her matrimonial practice, Vivien is regularly instructed to advise on fraud and assets tracing, trusts, land, probate and succession, company and chancery matters.

---
Samantha Lau


Samantha graduated from the University of Hong Kong with double first-class degrees in law and government, before attending Harvard Law School for postgraduate studies, where she graduated with a top prize for her essay on equality law. She later served as a judicial assistant of the Court of Final Appeal of Hong Kong, before being awarded the Hong Kong Bar Scholarship.

Prior to joining Chambers, Samantha served pupillage with Mr Derek Chan SC, Mr Robin D'Souza, Mr Tim Parker and Mr Richard Yip. She is quickly developing a predominantly civil practice with an emphasis on commercial and public law litigation, and also securities law. Samantha accepts instructions in all areas of Chambers' practice.

---
Tracy Chu


Tracy joined Chambers upon completion of her pupillage with Mr. Chan Chi Hung SC, Mr. Tim Kwok, Mr. Giles Surman, Ms. Catherine Wong and Mr. Robin D'Souza.

She is developing a broad civil and criminal practice. She has experience in areas such as family and matrimonial matters, land, tort, personal injuries, contract and commercial disputes. Tracy accepts instructions in English, Cantonese and Mandarin.

---
Keith Cheung


Keith is developing a broad civil practice and accepts instructions in English or Chinese across a variety of practice areas. Prior to joining the Bar, Keith qualified as a solicitor with a major international law firm in Hong Kong. In that capacity he has advised clients in transactional, advisory and contentious matters involving a range of legal issues including, in particular, corporate governance, shareholder disputes, arbitration and contentious and advisory trust matters.

He joined Chambers following his pupillage with Mr Derek Chan SC, Mr Martin Wong, Mr Randy Shek and Mr Richard Yip. Keith is also a Member of the Chartered Institute of Arbitrators and Associate of the Hong Kong Institute of Arbitrators.

---
For enquiries concerning our new Members, please get in touch with our Practice Development Managers, Taylor Goodwin or Sonia Chan.