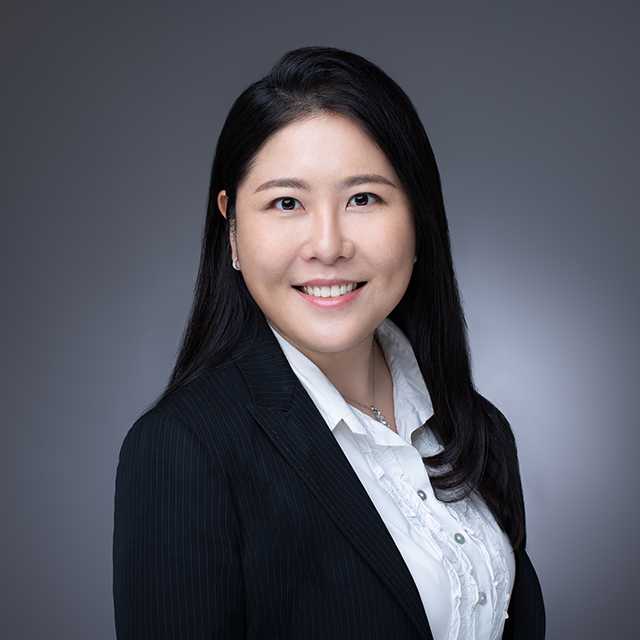 Call : 2020 (HK)
---
Set : Main
---
Practice Areas
---
Chancery
Commercial Law
Family Law
Land and Property Law
Mediation
Probate and Administration
---
Vivien is a recommended barrister in the Doyle's Guide for Leading Family & Divorce Law Barristers – Hong Kong, 2023.
She has over 14 years of experience in litigation. Vivien trained and practised as a commercial litigator from 2009 to 2016 at Hong Kong's longest established commercial law firm. Thereafter, from 2016 to 2019, she practised as a family lawyer at a leading international matrimonial practice.
Vivien advises on all aspects of matrimonial finance and children's matters and has particular experience in handling divorce cases with a cross-border or international element. She is a member of the Committee on Family Law of the Hong Kong Bar Association.
With her background in commercial litigation, Vivien regularly receives instructions on divorce matters involving aspects of fraud and international assets tracing, avoidance of dispositions, injunctions, third party interests, trusts, business valuations and post-separation accruals. She advises on relationship agreements, including pre and post nuptial agreements.
She is also experienced in handling children's matters, including matters involving issues of child abduction and Hague proceedings, relocation applications, custody and care arrangements. She is experienced in handling high conflict divorce matters, including non-molestation injunctions.
Vivien is a HKMAAL accredited family mediator. She is a member of the Hong Kong Mediation Council – Family Interest Group.
In her probate practice, Vivien regularly advises on claims under involving the validity of a Will, issues of mental capacity and claims under the Inheritance (Provision for Family and Dependents) Ordinance (Cap. 481).
She is also regularly instructed on commercial, fraud, company, trusts and land disputes.
Vivien graduated with First Class Honours in Law and Commerce from The University of Sydney, which she attended on a full scholarship.
---
HKMAAL Accredited Family Mediator
Solicitor, Hong Kong SAR (2011-2019)
Solicitor, New South Wales (non-practising)
---
Bachelor of Commerce (majoring in Finance & Econometrics) and Bachelor of Laws, The University of Sydney (2007) (1st Class Honours)
---
Recommended Barrister – Doyle's Guide on Leading Family & Divorce Barristers – Hong Kong, 2023
The University of Sydney Outstanding Achievement Scholarship (2003 – 2007)
---
Member, Committee on Family Law of the Hong Kong Bar Association
Secretary, Hong Kong Mediation Council – Family Interest Group
---
Various seminars on recent legal developments on LGBT rights and the decision of Edgar Ng v Secretary for Justice, co-speaker with Tracy Chu at Withers on 6 November 2020, Deacons on 9 December 2020 and Stevenson Wong & Co on 19 March 2021
Beneficial Ownership Disputes in the Context of Divorce Proceedings, co-speaker with Rita Ku of Withers at LexOmnibus on 9 October 2020
Surrogacy and Legal Parenthood: Latest Developments in Hong Kong, co-speaker with Hectar Pun SC at the Hong Kong Family Law Association on 20 July 2020
Give the Gift of Time, Hong Kong Mediation Council – The Rapport, May 2020 Edition
---
Matrimonial
FCWP v KTF [2023] HKFC 183 (ancillary relief; addbacks)
CN v LYP [2023] HKFC 73 (relocation trial)
TKM aka WTKM v WHG [2023] HKFC 41 (trial on care arrangements)
PMCL aka LMC aka KLMC v AKK aka KAK [2023] HKFC 34; [2023] HKFC 154 (joinder and discovery)
Chui v Cheng [2023] 3 HKLRD 950 (unless order & paramountcy principle; case management)
HMC v CWY [2023] HKFC 18 (appeal on care arrangements)
SWTQ v WE aka CWC [2022] HKFC 177 (return order; jurisdiction)
H v W [2021] HKCA 733 (relocation appeal)
YPM v BCM [2021] HKFC 11 (trial on child maintenance)
ZY v ZJ [2019] HKFC 174 (trial on sole custody)
CWYJ v LTYE [2020] 5 HKLRD 583 (appeal against prohibition order); CWYJ v LTYE, FCMC 1135 of 2016 (variation of consent order)
LXJ v CYT, FCMC 3578 of 2020 (Mareva injunction)
HY v ZT, FCMC 8683 of 2020 (Mareva injunction)
LSSM v WCH, FCMC 13968 of 2018 (bankruptcy, third party interests)
LSSK v CC, FCMC 6653 of 2019 (financial discovery)
PSK v LPC, FCMC 12624 of 2019 (Mareva injunction, maintenance pending suit)
SDE (formerly DES) v CYC,  HCMC 5 of 2018 (separate assets, post-separation accruals, add backs)
KTF v FCWP, FCMC 4089 of 2020 (interim care arrangements)
BGGB also known as NGGB v BND, FCMC 1410 of 2019 (leave to remain out of the jurisdiction, release from undertakings)
TSTS also known as TSTS v TNK also known as TNK, FCMC 7362 of 2018 (Mareva injunction)
CKM v BNA, FCMC 9278 of 2015 (variation of a consent order)
MML also known as MKM v GWL also known as GWL, FCMC 12350 of 2016 (business valuations)
TOCG also known as CTOCG v CKKD also known as CJWD, HCMC 4 of 2016 (avoidance of dispositions, financial discovery)
AWK v MTHL, HCMC 2 of 2016 (business valuations, third party interests)
THM v HL, FCMC 9695 of 2017 (post-separation accruals, addbacks, valuation of restricted stock units and private equity investments)
Yip v Geicke, HCA 676 of 2016 (setting aside consent order)
TSF v YMSW, FCMC 11790 of 2013 (enforcement of financial settlement, release from implied undertaking)
Fraud and Assets Tracing
Chan Chi Chung v Jacky Fung Chi Chung & Ors [2022] HKCFI 3053 (leave to commence statutory derivative action)
Gold Wings (HK) Limited v Standard Chartered Bank (Hong Kong) Limited, HCA 1216 of 2020 (mandatory injunction for release of frozen funds)
Huobi Asia Limited & Anor v Chen Boliang, HCA 415 of 2020 (cryptocurrencies fraud, assets tracing, worldwide injunction and disclosure orders)
Hind International Investment Limited v K&L Gates, HCA 1325 of 2011 (fraud of a law firm partner, solicitors' account rules)
Koko Lai-Shan v Yang Fu Yen & Ors, HCA 2219 of 2014; [2015] 3 HKLRD 621 (fraud, bona fide recipient)
EOS Hong Kong Limited v Speedy Footwear Limited, HCA 39 of 2012 (commercial fraud, factoring of receivables, assets tracing, enforcement)
Trusts, Land, Probate and Succession
ZQA & Ors v SCC [2022] HKFC 254 (trial on claim under Inheritance (Provision for Family and Dependents) Ordinance)
HLC & Anor v WCC & Ors, HCMP 917 of 2020 (Beddoe application)
WTK & Anor v HLC, WN and WCC, the administrators of the estate of WSL & Ors, FCMP 32 of 2020; WCC v HLC, WN and WCC, the administrators of the estate of WSL & Ors, FCMP 33 of 2020 (dependents' claims under the Inheritance (Provision for Family and Dependents) Ordinance)
SPMK v WCC & Ors [2020] HKFC 186 (variation of interim maintenance and legal costs provision under the Inheritance (Provision for Family and Dependents) Ordinance; private FDR hearing)
Li Lihong v Choi Tung Chi & Anor, HCA 3310 of 2016 (constructive trust; gift)
Chan Sang v Chan Kwok [2015] 3 HKLRD 131 (constructive trust)
Park Leung Tai Woon v Leung Tai Sing Billy & Anor, HCMP 2172 of 2011 (removal of administrator)
Company & Other Selected Cases
Lead8 Hong Kong Limited v Kwok Ka Far Antony & Anor, HCA 1594 of 2020 (injunction restraining use of copyrighted materials)
HKIAC arbitration on a shareholders' dispute regarding the construction of an exit clause in a shareholders' agreement
Hong Kong Property Services (Agency) Limited v Partners Property Holdings Limited, HCA 1038 of 2016 (stay of proceedings)
Joseph Ghossoub v Team Y&R (Hong Kong) Limited & Ors [2016] 3 HKLRD 778 (unfair prejudice, jurisdiction dispute)
Chang Pui Yin & Ors v Bank of Singapore, CACV 194 of 2016 (mis-selling of derivative products)
Charles & Colvard, Ltd. v Timelink Century Company Limited, HCA 2254 of 2014,  (jurisdictional dispute)
Henkel Hong Kong Holding Limited v Silver Star Hair Products Company Limited, HCA 1109 of 2015 (examination of judgment debtor)
EOS Hong Kong Limited v Chartkar International Limited, HCA 821 of 2015 (summary judgment)
Lee Bing Fai Stephen v Hong Kong Automobile Association, HCA 25 of 2015 (Court's supervisory jurisdiction)
Anite Telecoms Ltd v World Best Cargo-Link Co Ltd, HCA 2560 of 2013 (contract)
FCL China Development Pte. Ltd. & Anor v Lai Yuen Ling & Ors, CACV 193 of 2014 (joint venture dispute in Qingdao, China)
Progetto Jewellery Company Limited v Lau Chiu Ying & Anor, HCA 2548 of 2014 (breach of director's duties, misappropriation of company assets)
Midland Holdings Limited v Mau Wang Bong Bondy v Anor, HCA 1658 of 2014 (defamation)
Tai Cheng International (Holdings) Limited v Yan Yan Motors Limited, HCA 2269 of 2014 (quasi-easement)
HKSAR v Ip Ka Po, Executive Director of Asia Television Limited, STS13719-13735 of 2014; STS 925-945, 2116-2117, 2363-2373, 2393-2411, 2434-2455, 2886-2895 of 2015 (late payment of wages)
ING Life Insurance Company (Bermuda) Limited v Lai Ka Yee, HCA 1086 of 2012 (summary judgment)
Robert Walters (Hong Kong) Limited v FT Financial Services Limited, DCCJ 885 of 2012 (summary judgment)
Talal El Makdessi v Team Y&R (Hong Kong) Limited, CACV 199 of 2012 (inspection of corporate documents)
Ontone Finance Company Limited v Tobo Investments Limited, HCA 433 of 2011 (leave to enter judgment)
ING Life Insurance Company (Bermuda) Limited v Chen Xiaoyan, HCB 2367 of 2012 (bankruptcy)

Secretary for Justice v Times Square Limited [2011] 2 HKLRD 409 (injunction, Wrothom Park damages, preliminary issue)
Hong Kong Sheng Kung Hui Foundation v The Hong Kong Central Hospital Limited, HCA 1183 of 2011 (recovery of possession of hospital)