英國及香港爭議解決系列線上講座 (第一期):英國及香港訴訟和仲裁總覽及財産保全措施
Hong Kong Arbitration Webinar 香港仲裁讲座
Denis Chang's Chambers即将举办关于英国及香港争议解决的系列线上讲座。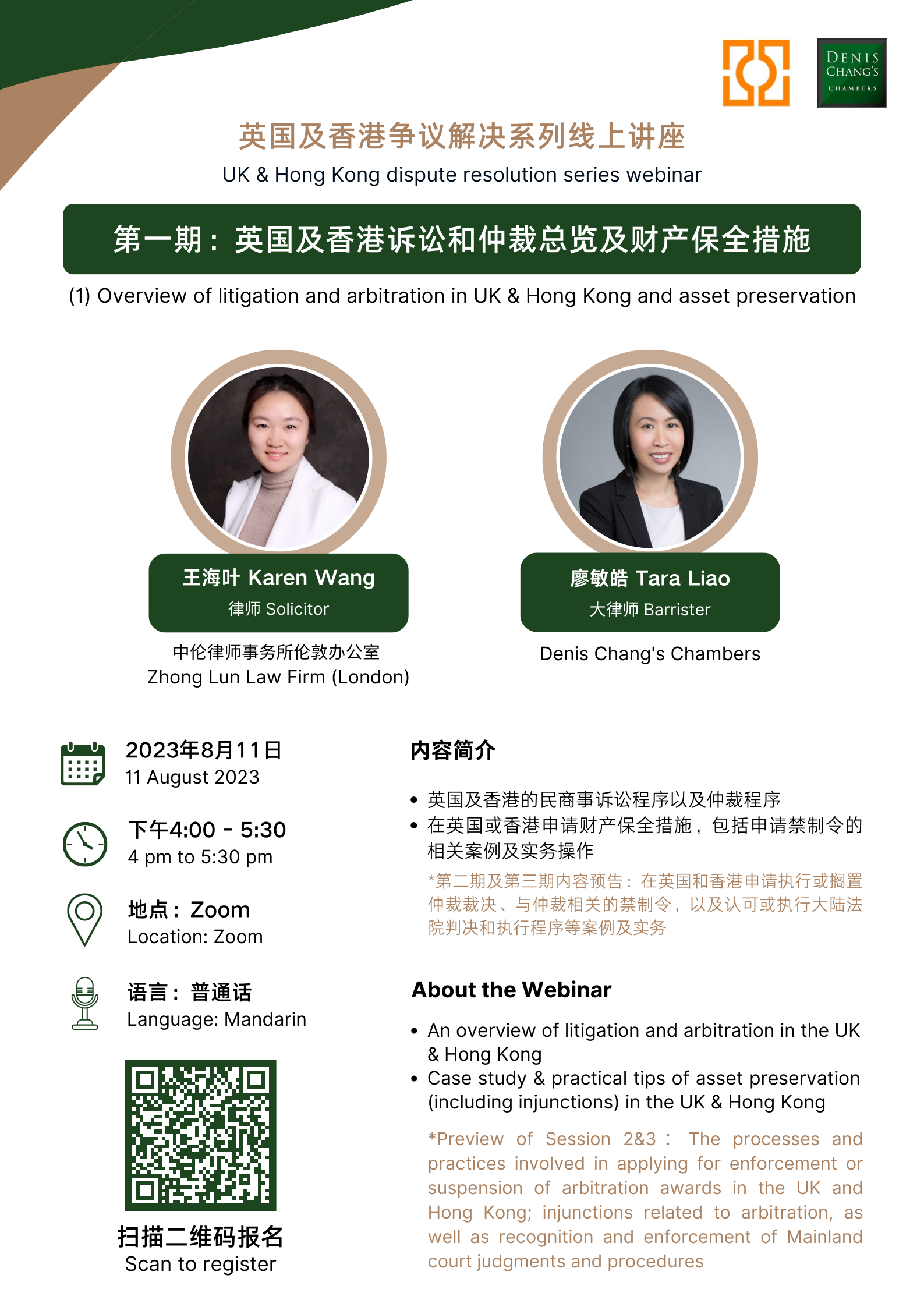 首期讲座将于2023年8月11日 (星期五) 下午4:00至5:30在ZOOM举行,讲者为Denis Chang's Chambers的廖敏皓大律师,以及来自中伦律师事务所伦敦办公室的王海叶律师。讲座将会以普通话进行。
以下是首期讲座的主要内容:
• 英国及香港的民商事诉讼程序和仲裁程序
• 在英国或香港申请财产保全措施,包括申请禁制令的相关案例及实务操作
我们期待你的加入!
第二期及第三期讲座预告:
我们将会介绍在英国和香港申请执行或搁置仲裁裁决、与仲裁相关的禁制令,以及认可或执行大陆法院判决和执行程序等案例及实务。相关的时间安排和报名细节将于稍后公布,敬请期待。
如有任何查询,请联系Denis Chang's Chambers的业务发展助理Lynci Yuan,邮箱为 [email protected].
We are excited to announce a forthcoming series of webinars that will focus on UK & Hong Kong dispute resolution.
The first session will be held on August 11, 2023 (Friday) from 4:00 to 5:30 pm via Zoom. The speakers will be Ms. Tara Liao, a barrister from Denis Chang's Chambers, and Ms. Karen Wang, a lawyer from the London office of Zhong Lun Law Firm. The lecture will be conducted in Mandarin.
The topic will cover the following:
• An overview of litigation and arbitration in the UK & Hong Kong
• Case study & practical tips of asset preservation (including injunctions) in the UK & Hong Kong
We welcome you to join this exciting discussion!
About the second & third sessions:
The processes and practices involved in applying for enforcement or suspension of arbitration awards in the UK and Hong Kong; injunctions related to arbitration, as well as recognition and enforcement of Mainland court judgments and procedures.
Details regarding the schedule and registration will be announced later. Please stay tuned for updates.
For inquiries, please reach out to Lynci Yuan, Practice Development Assistant Manager, at [email protected]
---
Presenters 讲者介绍
廖敏皓 Tara Liao
Denis Chang's Chambers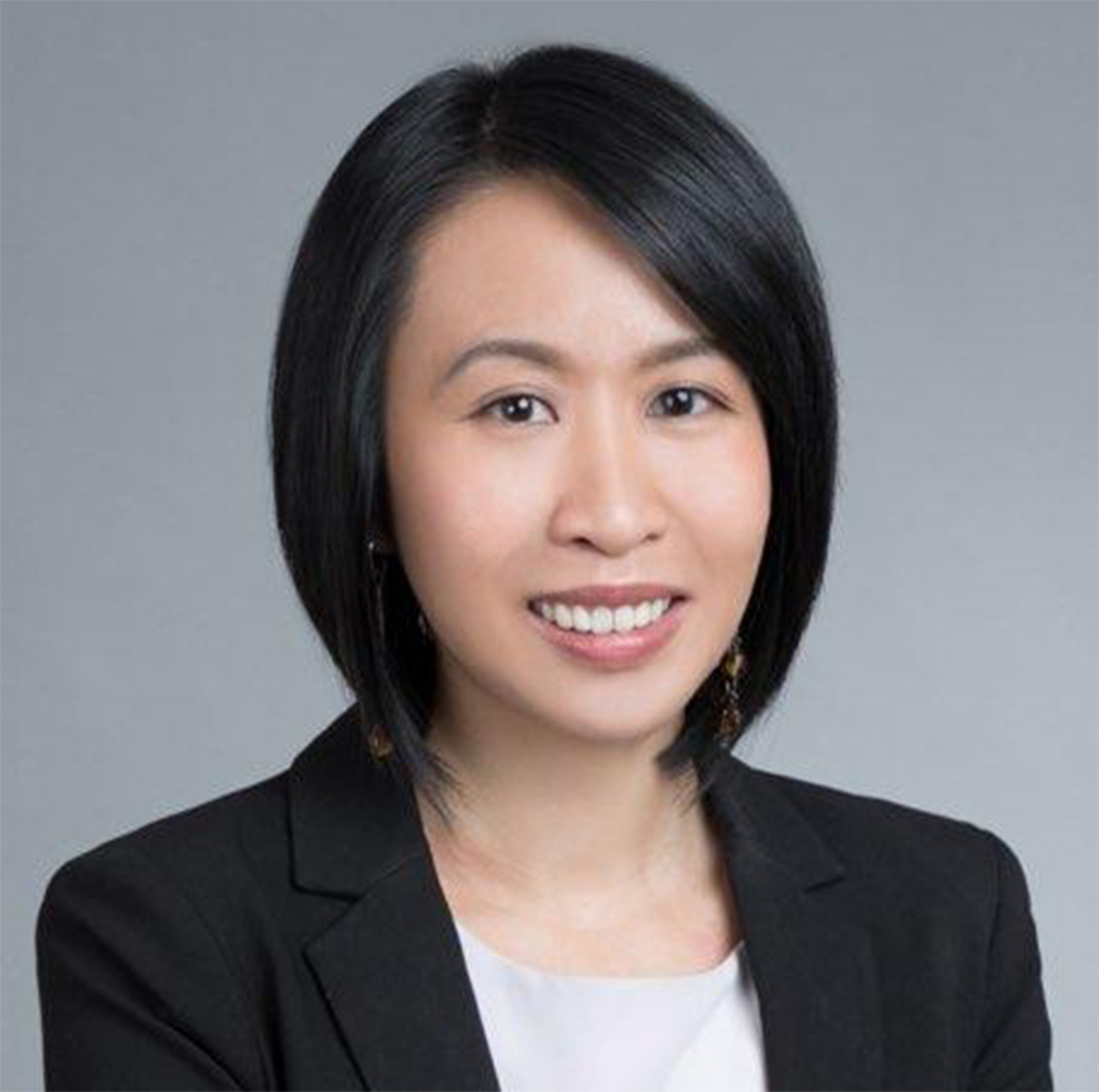 Tara于2021年、2022年和2023年被Legal 500连续评为商业争议解决领域的领先初级大律师。她常在上诉法院、高等法院和仲裁案件中出庭,重点处理商业禁令、仲裁、公司、破产、民事欺诈、信托和跨境纠纷。她于2021年和2023年担任地区法官。
Tara对仲裁有浓厚的兴趣,曾是香港国际仲裁中心支持下成立的亚洲活跃的年轻仲裁执业团体HK45的委员。
在2015年成为执业大律师之前,她曾在一家国际律所担任事务律师,专门从事商业诉讼和监管事务。她拥有北京大学中国法律学士学位,并通过了中国国家司法考试。
点击此处进一步了解廖敏皓大律师的经验。
Tara was recognised by Legal 500 as a leading junior in commercial dispute resolution in 2021, 2022 and 2023. She appears regularly in the Court of Appeal, the High Court and in arbitrations with a focus on commercial injunctions, arbitrations, company, insolvency, civil fraud, trust and cross-border disputes. She sat as a Deputy District Judge in 2021 and 2023. 
Tara has a keen interest in arbitration and was a committee member of HK45, an active young arbitration practitioners group in Asia formed under the auspice of HKIAC.  
Prior to joining the Bar in 2015, she was a solicitor in an international law firm specialising in commercial litigation and regulatory matters. She holds a bachelor degree in PRC laws from Peking University and has passed the PRC National Judicial Examination.  
Visit Tara's profile for more details.
王海叶 Karen Wang
中伦律师事务所伦敦办公室 Zhong Lun Law Firm (London)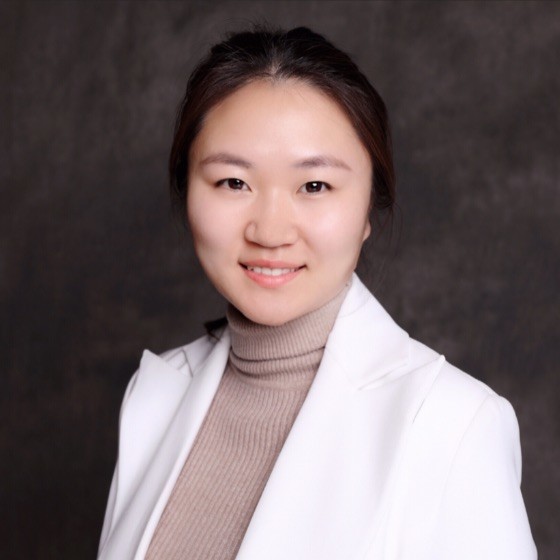 执业领域
公司和商业法、知识产权、破产清算、保险、银行和金融、商业房地产、国际贸易、白领犯罪以及侵权和刑事案件。
案例分享
– 在由中国五大银行提起的伦敦国际仲裁院(LCIA)仲裁中代表借款人,该仲裁由银团贷款协议引起,贷款额为1.88亿英镑。
– 在由某伦敦大型房地产开发项目一系列开发协议引起的国际商会(ICC)仲裁中代表被申请人,索赔金额超过3,300万英镑。
– 在LCIA仲裁中为一家航运公司由一份国际航运合同引起的争议提供咨询,争议金额为220万欧元。
– 代表借款人,在银行因银团贷款协议而提出的破产清盘申请中辩护。
– 为一家中国制造商提供债务追偿法律咨询,随后提出法定索偿要求并启动清盘程序。
– 就一项索赔价值超过120万英镑的法定索偿要求向一家商业地产业主提供咨询服务,并就无损和(without prejudice)解谈判提供咨询服务。
– 在一项价值17亿英镑的房地产开发项目的清盘申请中代表21家项目公司。
– 代表一名高净值人士在英国高等法院就上海仲裁中心仲裁裁决、冻结令和披露令的执行进行抗辩,并就随后的临时抵押令进行抗辩。
– 通过诉讼之友为一名高净值人士代理,就两份判决债务超过2,000万英镑的中国判决和冻结令的执行进行抗辩。
– 为一名高净值人士在不公平损害请愿和衍生索赔案中提供咨询服务,该案的潜在追偿价值约为200万英镑。
点击此处进一步了解王海叶律师的经验。
Practice Area
Company & business law, intellectual property, bankruptcy & insolvency, insurance, banking & finance, commercial real estate, international trade, white collar crime as well as tortious and criminal cases.
Recent Works  
– Representing the borrower in an LCIA arbitration brought by the five largest Chinese banks arising from a syndicate facility agreement with a loan amount of £188 million.
– Represented an international corporation in an ICC arbitration under a series of Development Agreements of a major real estate development project in London with a claim value in excess of £33 million.
– Advised a shipping company in an LCIA arbitration arising from an international shipping contract with EUR 2.2 million in dispute, defended an anti-suit injunction application and made relief from sanction application in the High Court.
– Represented the borrower and successfully defended a winding up petition brought by the Chinese banks arising from the syndicate loan agreement.
– Advising a Chinese manufacturer in a debt recovery claim to be followed by a statutory demand and initiating the winding up proceedings.
– Advising a commercial property landlord in response to a statutory demand with a claim value in excess of £1.2 million and advising on without prejudice settlement negotiations.
– Represented 21 project companies in a winding up petition arising from a £1.7 billion real estate development project.
– Acted for an HNWI in defending the enforcement of SHIAC arbitration award, Freezing Injunction and disclosure order in High Court and defended the subsequent interim charging order.
– Acted for an HNWI acting through a Litigation Friend in defending the enforcement of two Chinese judgements with judgement debts of over £ 20 million and Freezing Injunction.
– Advised an HNWI in an unfair prejudice petition and derivative claim with a potential recovery value in the region of £ 2 million.
Visit Karen's profile for more details.
免责声明:此講座只提供有关在香港执行仲裁裁决的一般信息,并不构成法律建议。 注册参加講座仅构成参加该活动的协议,而不是給予律师的指示。 除非另有说明,在講座中表达的观点仅为讲者的观点,并不代表 Denis Chang's Chambers的观点。
Disclaimer: Seminars, webinars, training presentations or workshops ("Events") and related materials produced by Members of Denis Chang's Chambers  ("DCC") provide general information regarding particular subjects and are not intended to constitute legal advice. Registering for an event only constitutes an agreement to attend it, not instructions to Counsel. Except as otherwise noted, the views expressed at Events are the views of the speakers only and do not represent the opinions of all other Members of DCC.