Family Law: Is it All About the Money? 23 April 2021, 3pm to 5.30pm
Is family law litigation all about the money ? Our Members Jeremy S.K. Chan and Tracy Chu, together with Alfred Ip and Raphael Wong of Hugill & Ip Solicitors will discuss issues related to the financial aspects of divorce and maintenance – from the whole family's immediate to long-term needs and the division of matrimonial pot – with particular emphasis on children's needs.
In this seminar, you will also learn about common issues and pitfalls in handling family matters, COVID-19's impact on the needs of spouses, and relevant case law developments.
2 Law Society CPD points are being applied for.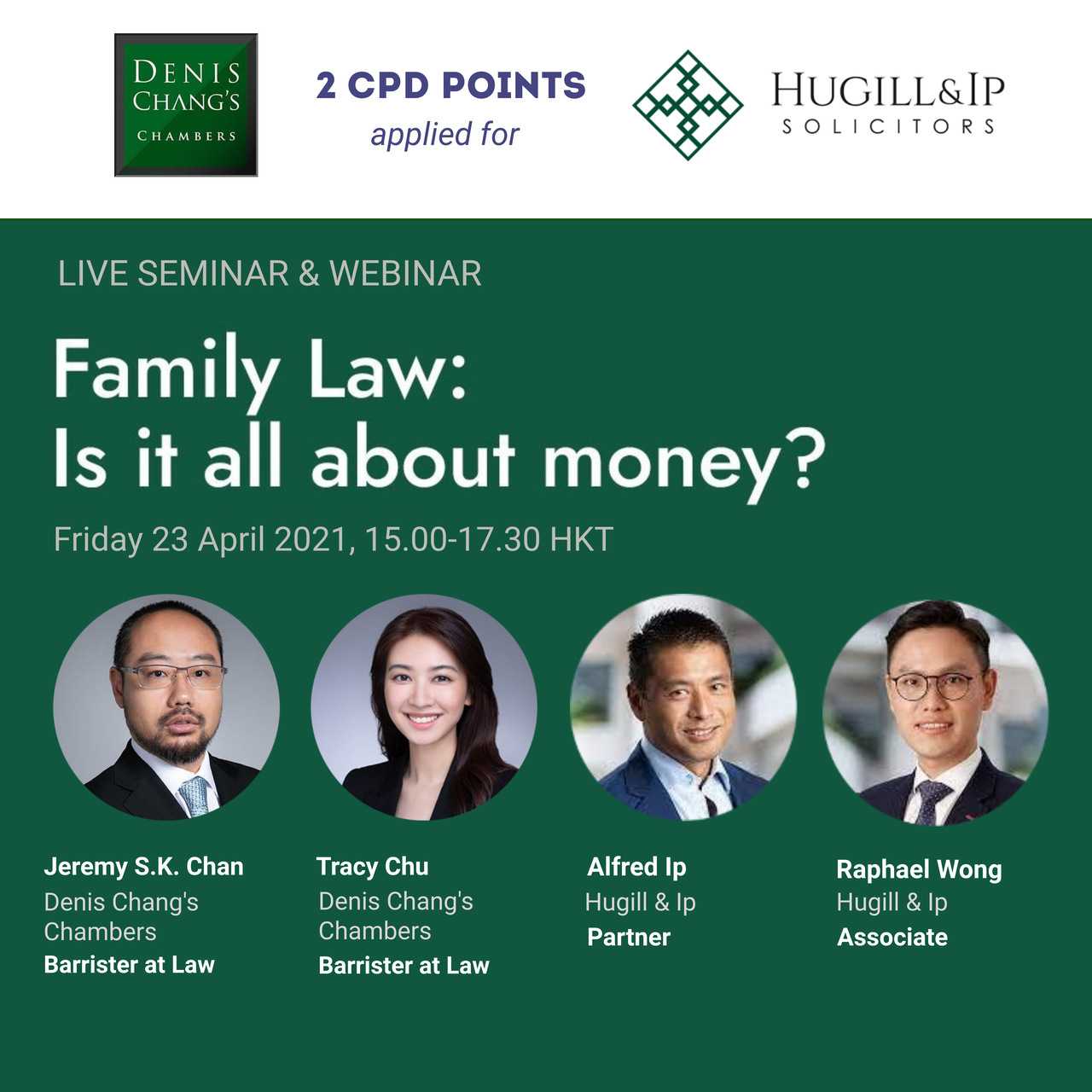 Date:

23 April 2021 (Friday)

 
Time:

3.00pm – 5.30pm

 
Speakers: 
Jeremy S.K. Chan, Denis Chang's Chambers
Tracy Chu, Denis Chang's Chambers
Alfred Ip, Partner, Hugill & Ip Solicitors
Raphael Wong, Associate, Hugill & Ip Solicitors
 
Language:

English

 
Cost:

Free

 
CPD Points:
2 Law Society points being applied for
(attendance certificate will be provided upon request)
 
 

 
The event has been successfully completed. 
For enquiries about this or future events at Denis Chang's Chambers, please reach out to our Practice Development Managers:
---
Jeremy S.K. Chan

Jeremy enjoys a broad civil practice, concentrating particular emphasis upon private client work and Chancery matters, in particular matrimonial finance & family law, inheritance & probate, trust & administration, conveyancing & land disputes. He is widely regarded as "one of the top family practitioners", as noted in Chambers & Partners Global 2020 and recognised as a leading junior counsel in estates and probate litigation by Doyles Guide 2020.  

 
Tracy Chu


Tracy joined Chambers in 2020 upon completion of her pupillage with Mr. Chan Chi Hung SC, Mr. Tim Kwok, Mr. Giles Surman, Ms. Catherine Wong and Mr. Robin D'Souza.

She is developing a predominately civil practice with interest in criminal law, and has experience in matrimonial, personal injuries, contract and commercial disputes.

 
*Denis Chang's Chambers reserves the right to cancel the physical attendance arrangement in response to developments in the Covid-19 situation. In that case, confirmed physical attendees will be provided with the webinar link to join the event virtually.  Please note that any interaction with the general public poses an elevated risk of being exposed to Covid-19 and DCC cannot guarantee that participants will not be exposed while in attendance at the event.