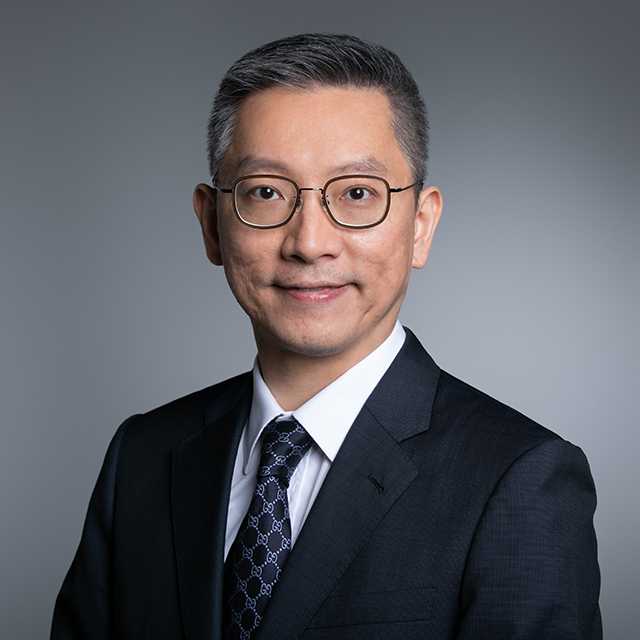 Call : 2008 (HK)
---
Set : Main
---
Practice Areas
---
Arbitration
Chancery
Commercial Law
Company and Insolvency
Defamation
Intellectual Property
Land and Property Law
Mediation
Probate and Administration
Regulatory and Disciplinary
Tort and Personal Injuries
---
Ross has developed a general civil practice with particular emphasis on land and commercial law. He has extensive trial experience in adverse possession, compulsory sale and land resumption. His recent court experience also includes trials on constructive trust/resulting trust, building management and appeals relating to money lenders action and nuisance.
As well as trials, he is often instructed to act in injunctions and other discrete matters such as company law, arbitration, etc.
He is an accredited mediator of the Hong Kong International Arbitration Centre. He has experiences in conducting mediation of variety nature of cases, in particular cases involving company, lands and trusts matters.
Before coming to the Bar Ross worked for 8 years in the finance sector. He is a Chartered Financial Analyst of the CFA Institute.
Ross Yuen completed the PCLL from the University of Hong Kong with distinction in 2007 and was awarded the Association of China-Appointed Attesting Officers Scholarship for PCLL Students.
He is a part-time tutor of the PCLL civil advocacy course of the University of Hong Kong.
He is on the Legal Aid Panel.
---
Chartered Financial Analyst – The CFA Institute
---
PCLL  –  University of Hong Kong (Distinction)
LLB    –  University of London
BBA   –  Chinese University of Hong Kong
---
Association of China-Appointed Attesting Officers Scholarship for PCLL Students 2006-2007
Commendation – Or, Ng & Chan Practical Legal Research and Problem Solving Prize
---
'Minibonds: High or Low Risk?': Hong Kong Lawyer, March 2009
---
Compulsory Sale
New Dorset Investment Ltd v Chiu Mei Kiu & Ors [2020] HKLdT 22
Redevelopment of Nos 99 & 101 Des Voeux Road West
Kannix Limited & Or v Coreluxe Developments Limited & Ors [2020] HKLdT 9
Redevelopment of Nos 326-332 Des Voeux Road West and Nos 11A-11D Sai On Lane; the Tribunal accepted that the developer's profit should be maintained at 15% (the higher the %, the lower the land value) despite the recent social movement around the valuation date
Wealth Plan Development Limited v Xiu Chuan Limited & Ors [2019] HKLdT 70
Redevelopment of No 121 King Lam Street Kowloon; the Tribunal maintained the developer's profit at 15% in view of the government initiative to revitalize industrial buildings whereby the subject building has the potential to attain 20% over the usual plot ratio permitted under the outline zoning plan
Century Wide Development Ltd v Loong Huber Ho Fung & Ors [2019] HKLdT 65
Redevelopment of No 1 Ka Shin Street, No 2 Pok Man Street & Nos 39-53 Tai Kok Tsui Road
Asia Charming Ltd v Kar Shing Capital Resources Ltd & Ors [2018] HKLdT 44
Redevelopment of 4 buildings at Gillies Avenue South and Baker Street
Alliance Fame Ltd v Mak Kam To, LDCS 9000/2015, 4 August 2017
Redevelopment of Nos 222-228 Wan Chai Road
Gainfield Investment Ltd v Legend Time Ltd, LDCS16000/2014, 17 October 2016
Redevelopment at Nos 2A-2F Tak Shing Street
Good Faith Properties Ltd v Cibean Development Co Ltd, LDCS 42000/2011, 31 May 2013
Redevelopment of No. 20 Caine Road
Land Resumption
Chan Shiu Chong v Director of Lands [2018] HKLdT 89
Determination of redevelopment value in a case of land resumption
Cheng Kwok Kuen v Director of Lands, LDLR 6/2015, 7 June 2018
Determination of classification of land and optimum development potential
Cheung Lin v Director of Lands, LDLR 1/2015, 24 October 2016
Au Yeung Ping Ki v Director of Lands, LDLR 2/2010, 20 June 2012
Assessment of pre-resumption loss of profits, goodwill, etc.
Land Law / Adverse Possession
Monat Investment Ltd v Lau Chi Kan Kenith [2020] HKCFI 1970
Successfully opposed partially the claim of adverse possession with no order as to costs
Tsang Kiu v Fulland International Ltd [2019] HKDC 676
Successfully opposed partially the claim of adverse possession with costs order against the squatter
Chan Mei Lin & Ors v Lee Hong [2018] HKCFI 2441
Successfully opposed the claim of ownership and rights over agricultural land relating to adverse possession, proprietary estoppel, etc; led by Mr. C Y Li, SC
Tsang Woon Ming v Tsan Hing Tat Heidi, DCCJ 3791/2016, 19 July 2018
Appeal against refusal to strike out claim based on proprietary estoppel / unjust enrichment
Tse's Brothers Co Ltd v Kinghall Development Ltd, HCA 1341 and 2401/2012, 9 July 2018
Ownership of land based on alleged trust and/or proprietary estoppel
Chan Wai Kwok v Lo Chuen Mui, DCCJ 2057/2014, 23 November 2017
Successfully opposed claim for sole ownership of land based on resulting trust/constructive trust
Yu King Chau v Personal Representatives of the estate of Fong Fu Foon, HCA 1438/2011, 21 November 2017
Successfully opposed claim for adverse possession of units in multi-storey buildings
Incorporated Owners of Fuk Wing Building v Ma Hing Ching, DCCJ 2356/2015, 17 July 2017
Successfully opposed claim for adverse possession by IO
Chan Yan Cheong v Chan Yan Shum, DCCJ1347/2013, 25 August 2014
Proprietary estoppel
Woo Hoi Lun v Lai Yung, DCCJ 2312/2012, 20 October 2014
Successfully opposed claim for adverse possession of New Territories land
Cheng Wing Hei v Chan Yat Kwan, DCCJ 168/2010, 18 November 2013
Successfully opposed claim for adverse possession of New Territories land
Silver Hope Ltd v Chan Kwai Wah Alice [2013] 1 HKLRD 823
Whether registered charging order took priority over earlier contracts for sale and purchase which were stamped but not registered
譚海强 v 林樹福遺產管理人, HCA2462/2009, 15 May 2013
Successfully opposed claim for adverse possession of New Territories land
Others
Chin Ling Wah by her son and next friend Shum Lui v Shum Chau [2022] HKCFI 1800, [2022] 3 HKLRD 372
Appeared for the next friend of a mentally incapacitated person in successfully obtaining an order for sale under the Partition Ordinance, without having first made an application under the Mental Health Ordinance
Gain Wealth Global Credit & Investment Ltd v Chan Suk Fong [2020] HKCA 737
Successfully appealed for money lender where the Court of Appeal considered the legal effect of finding of collusion and the definition of interest and principal under the Money Lenders Ordinance Cap. 163
Century Way Investment Limited v Willbert Limited and Or [2019] HKCA 739
Successfully appealed on finding of nuisance of water condensation caused by the operation of server room; led by Mr. C Y Li, SC
Leung Kwok Hung v Johnson Controls Hong Kong Ltd, HCCT 56/2017, 28 June 2018
Stay of proceedings for arbitration
Brassart Jacqueline Marcelle v R & P International Accounting Affairs Ltd, HCA 305/2015, 26 May 2017
Entering loan agreement by deceit and induced by fraudulent misrepresentation
Cheer Signal Development Ltd v Wong Siu Fan, HCA780/2015, 26 Oct 2015
Discharge of Mareva injunction
開聯工業中心業主立案法團 v 北豐有限公司, LDBM 95/2013, 24 July 2015
Building management – award of indemnity costs against individual owner
Steak Expert Holdings Ltd v Incorporated Owners of Jade Plaza (Tsuen Wan), LDBM 171/2013, 25 Feb 2015
Building management
Chu Chung Ming v Lam Wai Dan, HCCW 377/2011, 22 December 2014
Winding up – unfair prejudice
China Capital Ltd v Chu San Hung, HCA 2367/2012, 3 Dec 2014
Striking-out action for tracing and constructive trust by dishonest assistance
Lo Sam Shing v Li Fong, HCA 1803/2011, 14 Mar 2014
Defamation – statements contained in letter issued by defendant during period of plaintiff's election campaign
Chu Chung Ming v Lam Wai Dan [2012] 4 HKLRD 897
Admissibility – whether exceptions to principles on confidentiality of mediation or "without prejudice" communications applied