Litigation Essentials: 8 Key Updates in Civil Procedure – 26 May 2021, 1pm to 2.30pm
Tailored for all civil litigation practitioners, this seminar will address 8 noteworthy recent judgments relevant to civil procedure. Our speakers Thomas WK Wong and Andrew Lau will take you through a breadth of topics including: implications of FNG v BCJ [2021] HKCA 160 on service of notice of appeal; applications for proprietary injunctions by victims of fraud; costs-only appeals before a final appellate court; and more. 
1.5 Law Society CPD points are being applied for (attendance certificate will be provided upon request).
Attendance at this event is free of charge.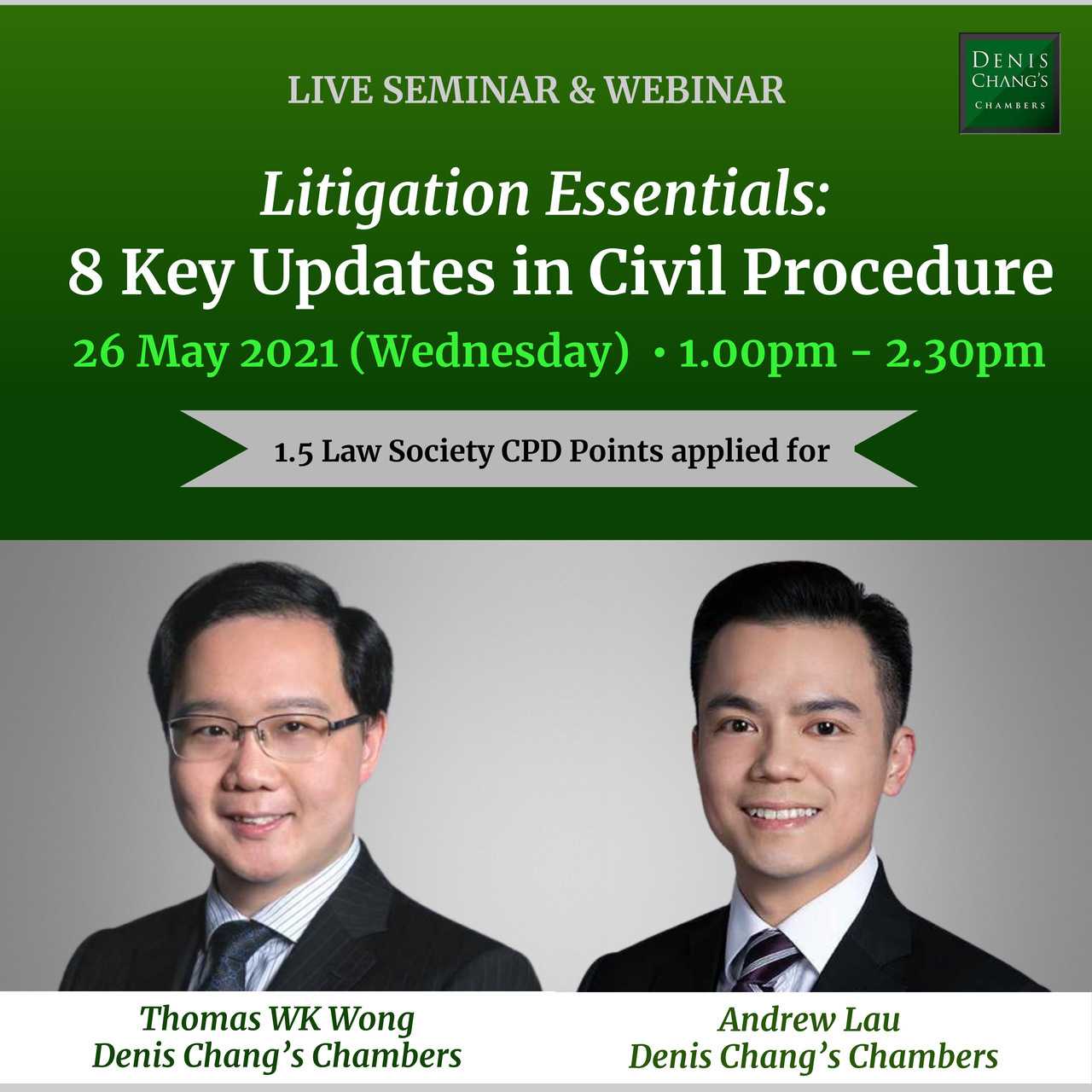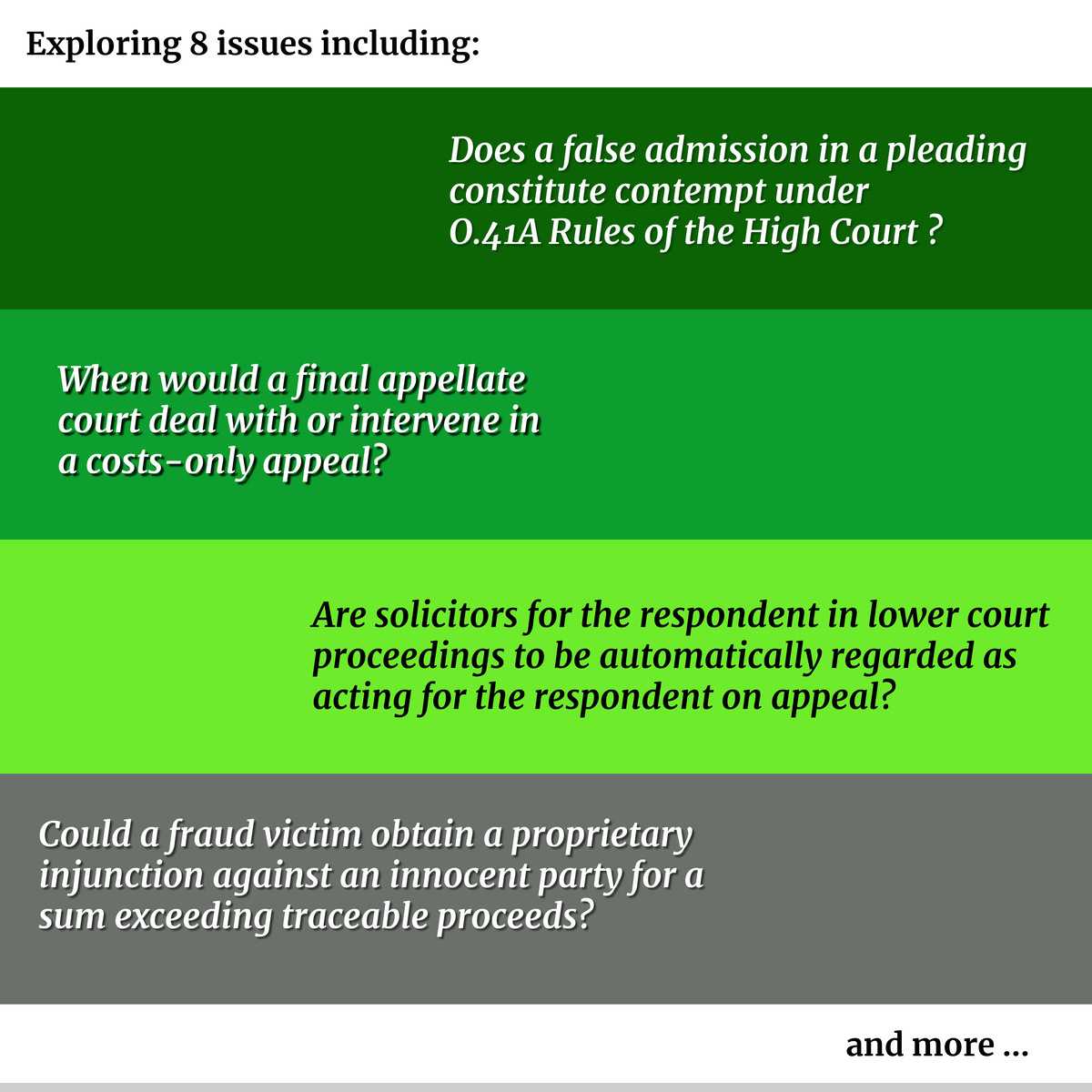 The event has been successfully completed. 
For enquiries about this or future events at Denis Chang's Chambers, please reach out to our Practice Development Managers:
---
Thomas WK Wong


"[Thomas WK Wong] has sound legal knowledge and analytical powers, outstanding research skills, and the ability to articulate arguments forcefully and yet clearly and succinctly": Legal 500 Asia Pacific 2021 –Leading Junior, Commercial Disputes.

Thomas is a seasoned civil litigator. Prior to joining the Bar in 2018, he practiced for seven years as a civil litigation solicitor at three top-tier litigation firms. Cases he has conducted include Re Luen Tat Watch Band Manufacturer Ltd, CACV 11/2018; HCA 1397/2018; [2020] 5 HKLRD 183, [2020] HKCFI 2610, where he acted for former Liquidators (partners of Ernst & Young) of a company (whose liquidation has been permanently stayed) in their appeal to the Court of Appeal against their removal for cause (as opposed to mere discharge upon stay), and in resisting a related High Court Action, as well as a related application for production of documents before the Court of First Instance (led by Mr Stewart Wong SC / Mr Anson Wong SC).

Andrew Lau


Andrew is a Charles Ching Scholar who joined Chambers in 2018. His experience encompasses a broad range of areas such as commercial disputes, company/insolvency, construction, equity/trusts, probate, personal injuries and public law.

Andrew is developing a broad civil and criminal practice, with experience in areas such as commercial disputes, company/insolvency, construction, equity/trusts, land, probate, personal injuries and public law. He appeared in Tian Tian v Cao Ji [2019] HKDC 197, where he successfully applied for a Mareva injunction in relation to cyber-fraud, and in 陳基裘 v. 香港政府警務處 [2020] HKCFI 2882 and Yeung Tsz Chun v. Commissioner of Police [2020] HKCFI 2882, where the Court held that the failure of the police to display unique identification numbers violated the Hong Kong Bill of Rights (led by Martin Lee SC and with Jeffrey Tam).

Court work aside, Andrew teaches civil procedure law at HKU SPACE, administrative law at the Chinese University of Hong Kong and media law at the Hong Kong Baptist University.