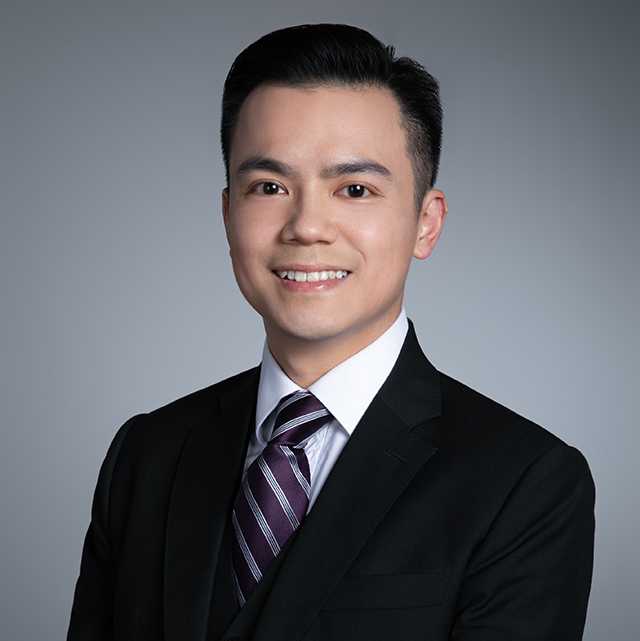 Call : 2018 (HK)
---
Set : Annex
---
Practice Areas
---
Administrative and Public Law
Chancery
Commercial Law
Company and Insolvency
Criminal Law
Employment
Land and Property Law
Probate and Administration
Regulatory and Disciplinary
Tort and Personal Injuries
---
Andrew is a Charles Ching Scholar. He joined Chambers in 2018 upon completion of pupillage with Mr. Chan Chi Hung SC, Mr. Benson Tsoi, Mr. Vincent Lung and Mr. Jeffrey Tam.
Andrew is developing a broad civil and criminal practice, with experience in areas such as commercial disputes, company/insolvency, construction, equity/trusts, land, probate, personal injuries and public law. He has appeared in civil and criminal appeals, as well as in trials.
Court work aside, Andrew teaches administrative law at the Chinese University of Hong Kong, and media law at the Hong Kong Baptist University.
Prior to joining the Bar, Andrew worked as a bilingual reporter for TVB News. He also anchored the flagship newscasts News at Six-Thirty (六點半新聞) and Late News (晚間新聞).
Andrew speaks English, Cantonese, Putonghua, and (conversational) Japanese.
---
PCLL (Distinction), Chinese University of Hong Kong (2017)
Juris Doctor (Top 5%), Chinese University of Hong Kong (2016)
Master of Journalism (Distinction), University of Hong Kong (2010)
BSc (Radio/TV/Film and Economics), Northwestern University (2009)
Li Po Chun United World College of Hong Kong (2006)
Diocesan Boys' School (2004)
---
Charles Ching Memorial Scholarship (2018)
Dean's Letter of Distinction (2017)
Prize for Criminal Litigation Practice (2017)
Association of China-Appointed Attesting Officers Scholarship (2017)
HKSAR Government Scholarship (2016)
Finalist, Hong Kong Law Reform Commission Essay Competition (2015)
Northwestern University Immersion Language Grant Award (2008)
Dean's List (2006-2008)
---
Committee Member, Standing Committee on Civic Education, Hong Kong Bar Association (2019 – present)
Lecturer, Department of Journalism, Hong Kong Baptist University (2020 – present)
Lecturer, Faculty of Law, Chinese University of Hong Kong (2019 – present)
Lecturer, Certificate in Legal Studies, HKUSPACE (2019 – present)
Tutor, Graduate Diploma in English and Hong Kong Law, HKUSPACE (2019 – present)
Lecturer, Division of Social Science, Community College of City University (2018 – present)
---
General Civil and Commercial
Tse Dao Chuen v Cheung Wai Yan formerly known as Cheung Suet Ngor [2021] HKDC 399
Successfully resisted a claim for the entire beneficial interest in a property and obtained the Court's order for sale of the property (sole advocate)
Tian Tian v Cao Ji [2019] HKDC 197
Successfully applied for a Mareva injunction in the context of cyber-fraud (sole advocate)
Chan Yi Pang and Ors. v Sin Yuk Ling and Ors. [2019] HKCFI 65 (now CACV 61/2019)
Four-day trial arising from the sale of a retail jewelry business involving fraudulent misrepresentations and breaches of contract (with Mr. Jeffrey Tam)
Chiu Ricky Tong v Eagle Bright Property Development Company Ltd and Ors (HCA 52/2019)
Ongoing involvement in defending claims for breach of contract and unjust enrichment (sole advocate)
Chan Chiu Pok v Kong Fung RMB Remittance Exchange Ltd and Anor (HCA 1747/2019)
Ongoing involvement in a claim for unjust enrichment (with Mr. Jeffrey Tam)
Ren Guowei v Secret Rise Electronic Technology Ltd (HCA 1493/2019)
Ongoing involvement in a claim for unjust enrichment (with Mr. Jeffrey Tam)
Construction
Sun Cheong Construction Company Ltd v The IOs of King Fu, Ho Fu, Ki Fu and Ka Fu Buildings [2019] HKCFI 2076
Seven-day trial arising from a contractual dispute to carry out building repair and maintenance works (with Mr. Tim Kwok and Mr. Albert Wan)
Sun Cheong Construction Company Ltd v The IOs of King Fu, Ho Fu, Ki Fu and Ka Fu Buildings [2019] HKCFI 236; [2019] HKCA 167
Application to rule D's expert reports as inadmissible evidence due to D's failure to comply with the expert evidence procedural regime under O.38 of the Rules of the High Court (Cap. 4A) (with Mr. Tim Kwok and Mr. Albert Wan)
Land
陳小華 and Ors v 鄭道珍 [2019] HKLdT 54
Resisted the Applicants' application for costs after the Applicants discontinued their claim (with Mr. Matthew Tse)
高笑萍  v 陳樹雄 (LDPE 1203/2014)
Successfully resisted the Respondent's application for leave to appeal on the grounds of delay and res judicata (sole advocate)
Judicial Review
Cheung Tak Wing v Director of Administration [2020] HKCA 124
Represented the Applicant in the Government's appeal against the CFI's ruling that the permission scheme limiting public assemblies/demonstrations at the East Wing Forecourt of the Central Government Offices was unconstitutional (led by Ms. Gladys Li SC and with Mr. Jeffrey Tam)
Tsang Kin Shing v Secretary for Justice [2019] HKCFI 2215
Judicial review challenging the Department of Justice's decisions not to prosecute (with Mr. Jeffrey Tam)
Tsang Kin Shing v Secretary for Justice [2019] HKCFI 900
Resisting the putative respondents' application to sever a rolled-up hearing as directed by the Court (with Mr. Jeffrey Tam)
Election Petition
Lau Siu-Lai v Kwok Wai Fun, Franco and Chan Hoi Yan (HCAL 245/2019)
Ongoing involvement in an election petition arising from the returning officer's determination that the petitioner was not validly nominated in the Legislative Council By-election for the Kowloon West Geographical Constituency held on 25 November 2018 (led by Mr. Paul Shieh SC and with Mr. Jeffrey Tam)
Small Claims Appeal
Wong Chi Fung v Secretary for Justice [2018] HKCFI 2318
Application for leave to appeal against the decision of the Small Claims Tribunal on the point of law that the police had no right to use handcuffs on the claimant without lawfully arresting him in the first place (with Mr. Jeffrey Tam)
Legal Aid Appeal
Re: Yeung Tsz Chun and Chan Ki Kau, HCAL 2671/2019 and HCAL 1747/2019 (LAA 1299/2019 and LAA 1214/2019)
Appeal against the decisions of the Director of Legal Aid in refusing the applicants' legal aid applications for failure to disclose reasonable grounds for taking the proceedings (with Mr. Jeffrey Tam)
Re: Kwok Cheuk Kin, HCAL 260/2015 (LAA 1351/2018)
Appeal against the decision of the Director of Legal Aid in revoking the applicant's legal aid certificate for willful failure to disclose his financial resources (sole advocate)
Immigration
ROPT 21/2018
Appeal against the decision of the Commissioner of Registration in refusing the appellant's application for the issuance of a Hong Kong Permanent Identity Card for, inter alia, failure to satisfy the 7-year ordinary residence requirement (sole advocate)
Criminal
HKSAR v Cheung Kwai Choi and Chow Nok Hang [2018] HKCFI 2243; [2019] HKCFA 13
D1's appeal against conviction of an offence under section 20(b) of the Legislative Council (Powers and Privileges) Ordinance (Cap. 382) for contravention of an administrative instruction issued under section 8(3) of the same ordinance (with Mr. Jeffrey Tam)
TMCC 1954/2019
Represented the defendant at trial for a charge of possession of offensive weapon in public place contrary to section 33 of the Public Order Ordinance (Cap. 245) (sole advocate)
STCC 4139/2019
Represented the defendant in a common assault trial (sole advocate)