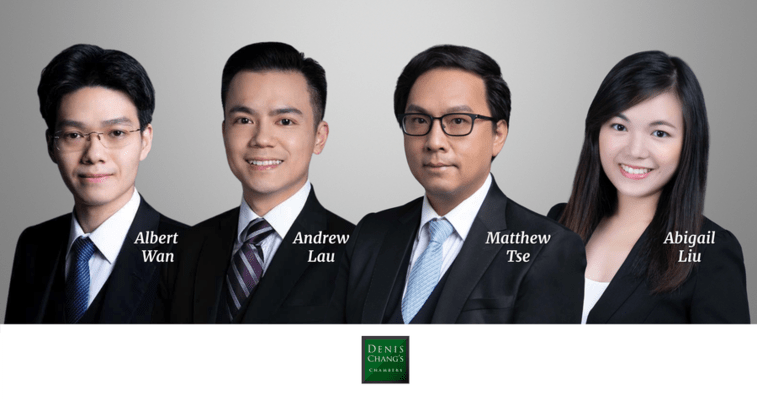 AWARDS & RECOGNITION – Members of Denis Chang's Chambers recognised for pro bono legal services to the community
Denis Chang's Chambers is pleased to announce that our Members Matthew Tse, Albert Wan, Andrew Lau and Abigail Liu have been recognised for their pro bono work under the Government's 2018-20 Recognition Scheme for Provision of Pro Bono Legal Services (the "Recognition Scheme").
All four Members received awards for the pro bono legal services they performed within the two-year period from 1 July 2018 to 30 June 2020.
Andrew Lau earned the Special Award by virtue of having contributed over 50 hours of pro bono services, while Matthew Tse, Albert Wan and Abigail Liu each received the Individual Award for providing at least 30 hours of pro bono services.
Members of Denis Chang's Chambers are committed to pro bono work, often volunteering their time and expertise without charge for parties who would otherwise be unable to access legal assistance.
The Recognition Scheme is run by the Chief Secretary for Administration's Office to commend legal professionals who provided pro bono legal services for the community, as well as encourage more legal professionals to provide more free legal services to members of the public.
Andrew Lau – Special Award Recipient
Andrew is a Charles Ching Scholar who joined Chambers in 2018. He has experience in areas such as commercial disputes, company/insolvency, construction, equity/trusts, probate, personal injuries and public law.


Andrew's notable cases include 陳基裘 v. 香港政府警務處 [2020] HKCFI 2882 and Yeung Tsz Chun v. Commissioner of Police [2020] HKCFI 2882, where the Court held that the failure of the police to display unique identification numbers  violated the Hong Kong Bill of Rights (led by Martin Lee SC and with Jeffrey Tam), and Tian Tian v Cao Ji [2019] HKDC 197, where Andrew successfully obtained a Mareva injunction in the cyber-fraud context.

Court work aside, Andrew teaches administrative law at the Chinese University of Hong Kong and media law at the Hong Kong Baptist University.
Matthew Tse – Individual Award Recipient
Matthew

was called to the Bar in 2004. He maintains a broad civil practice which encompasses personal injuries, commercial litigation, probate and public law matters. Over the years, he has regularly provided free legal advice service to members of the public through the Free Legal Advice Scheme.


Matthew is experienced in handling different probate cases including Chan Siu Man v. Lam Jenny [2014] 1 HKLRD 529 and Cheng Tam Kam Yung v. Tang Kam Cheung HCMP147/2008 and medical negligence cases like Gurung Sumitra v. Hospital Authority HCPI 887/2013 as well as employees' compensation claims like Wong Kin v. Him Kee Food Distribution Co Ltd [2016] 2 HKLRD 665 where he raised an argument of tripartite employment relationship between the principal contractor, employment agent and worker.
 Albert Wan – Individual Award Recipient
Albert

obtained a Master of Law (LLM) at the University of Cambridge and Bachelor of Laws (LLB) at City University of Hong Kong with First Class Honours. He was called to the Bar in 2017.


Albert has a wide-ranging practice with experience in general civil, land, company, probate, contract, tort, commercial, construction, bankruptcy, personal injuries, judicial review and election petition. His recent cases include Sun Cheong Construction Co Ltd v IO of King Fu, Ho Fu, Ki Fu & Ka Fu Buildings [2019] HKCFI 2076, where he acted for the contractor and successfully obtained judgment for the outstanding contract sum and defended against substantial parts of the Incorporated Owners' counterclaim for alleged defects (with Mr Tim Kwok and Mr Andrew Lau).
Abigail Liu – Individual Award Recipient
Abigail

joined Chambers in 2019 and is developing a broad civil and criminal practice, with experience in various areas such as family and matrimonial matters, public law, land, tort, personal injuries, employee compensation, commercial litigation, trusts and probate.


Recently, she resisted a claim for allegedly due loan repayments in Yuan Yuqin v. Cheung Hiu Yan, Fion and Another [2020] HKCFI 1419 (with Mr. Simon Wong), and defended an election petition in 董健莉 對 吳定霖及另二人 [2021] HKCFI 514 (with Mr. Jeffrey Tam) where the Court interpreted section 51 of the District Councils Ordinance (Cap. 547) for the very first time.