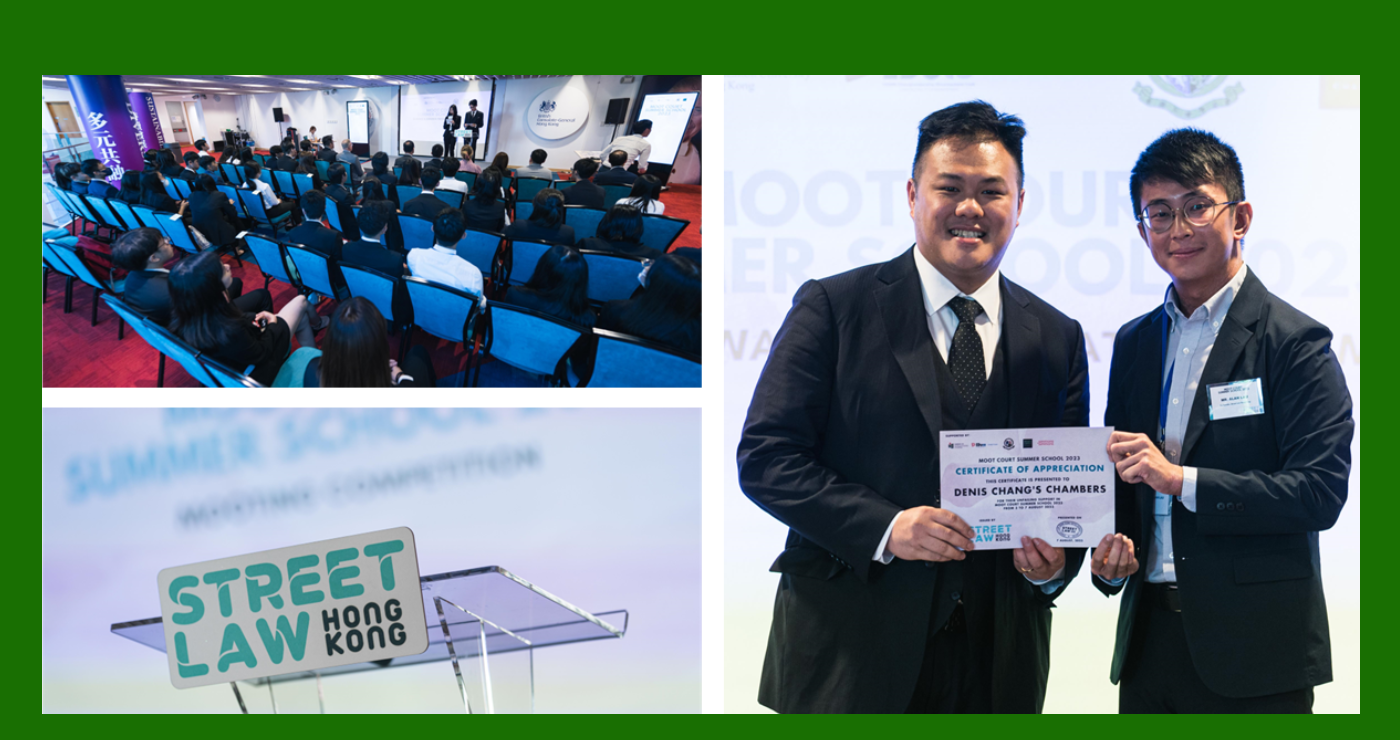 Denis Chang's Chambers supports the Moot Court Summer School for the fourth consecutive year
It is with great pride that we announce Denis Chang's Chambers (DCC) has participated in the Moot Court Summer School for the fourth consecutive year. This remarkable programme organized by Street Law Hong Kong aims to promote legal education within the Hong Kong community, and we are thrilled to be a part of it once again.
Under this year's theme of "Shall We 'Tort'", the Moot Court Summer School offered a comprehensive platform designed to engage students in various activities and workshops, enabling them to delve into important legal principles and gain a deeper understanding of the operation of Hong Kong courts.
Seven members of DCC – Earl Deng, Jeffrey Tam, Anson Wong, Jun Lee, Jason Ko, Emily Ting, and Jasper Wong, actively participated in these activities to support the inspiring programme.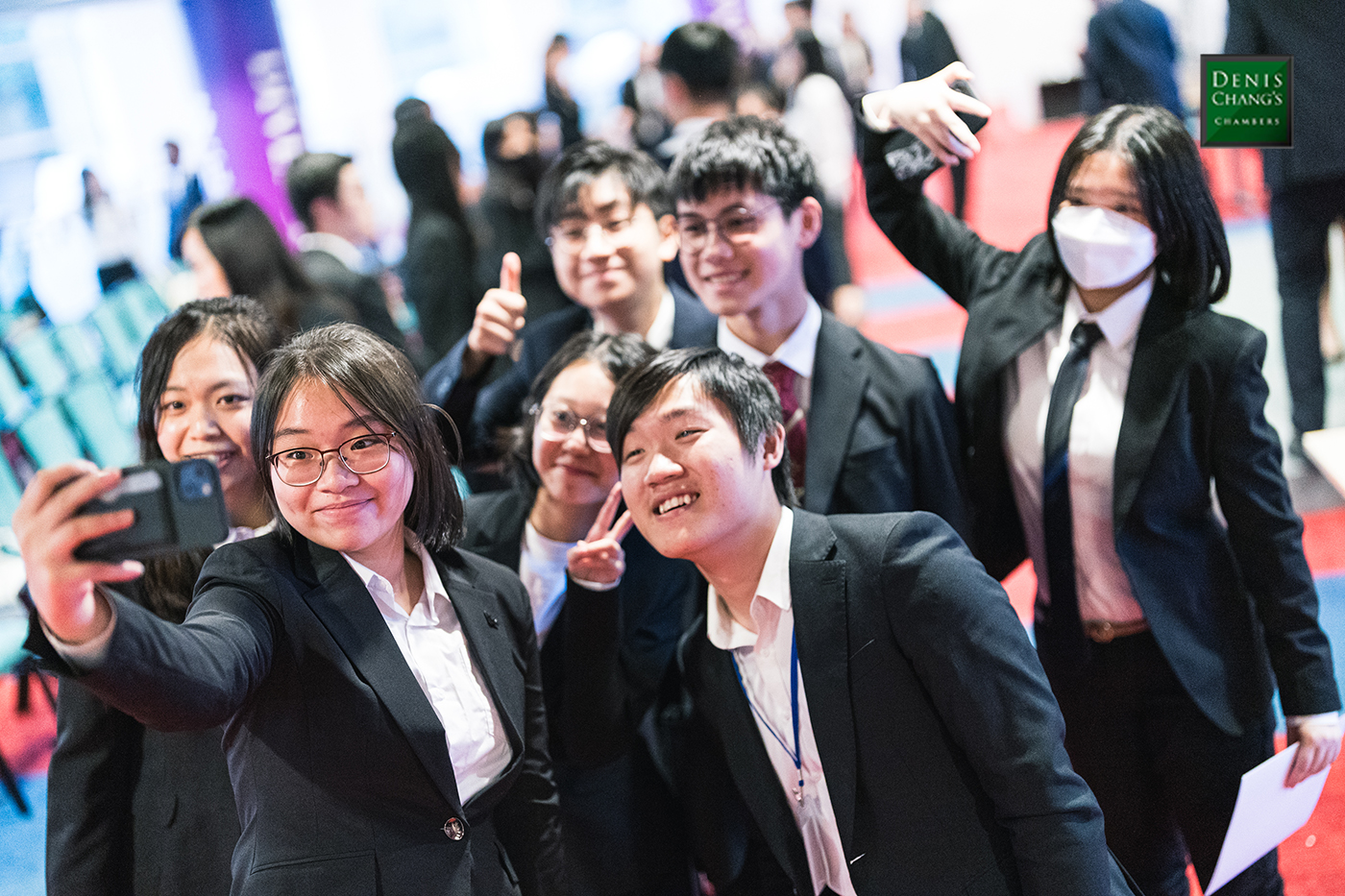 To provide support for the "Learning Facilitators" at the event – university students tasked with guiding secondary students through activities – our counsel, Jeffrey Tam created an informative video in which he shared knowledge on the moot question and provided valuable guidance on the basic skills for successful mooting.
DCC collaborated with solicitors from Simmons & Simmons and the Young Barrister Committee of the HK Bar Association to conduct a dynamic mini-moot workshop. During this workshop, Earl Deng, Jason Ko, and Emily Ting alongside other legal professionals, guided the students through role-playing exercises based on real-life cases. Through this interactive session, the students gained a deeper understanding of essential legal research and advocacy skills, as well as an appreciation for the intricacies of the Hong Kong legal system.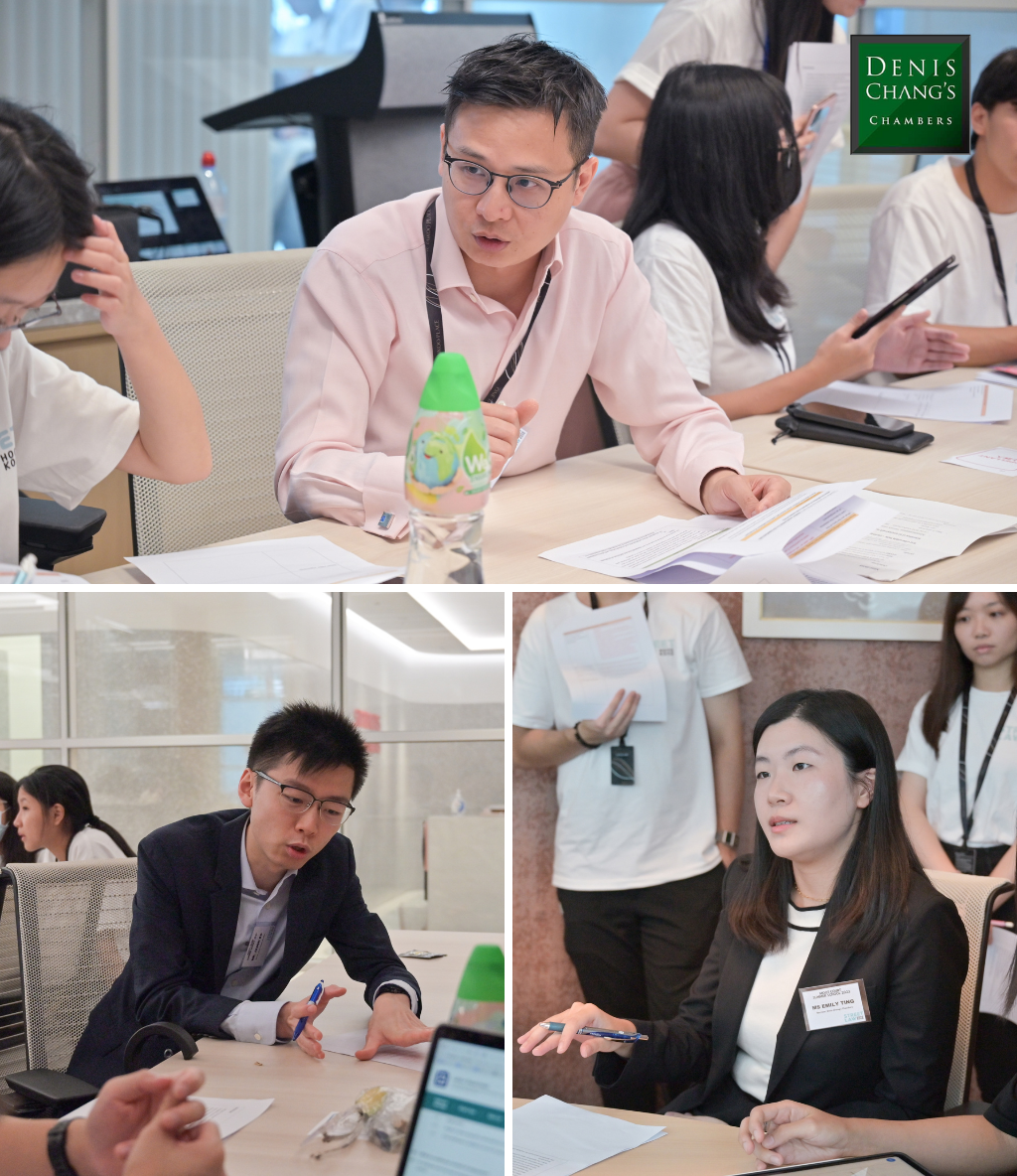 Earl Deng (at the top), Jason Ko (bottom left), and Emily Ting (bottom right) at the Mini-moot workshop
For the anticipated mooting competition this year, our counsel Jasper Wong once again crafted mooting questions that formed the basis of the mooting competition. Jeffrey Tam, Anson Wong, and Jun Lee adjudicated three rounds of mooting, carefully assessing the students' presentation skills, clarity of arguments, courtroom manner, and responses to judicial questioning.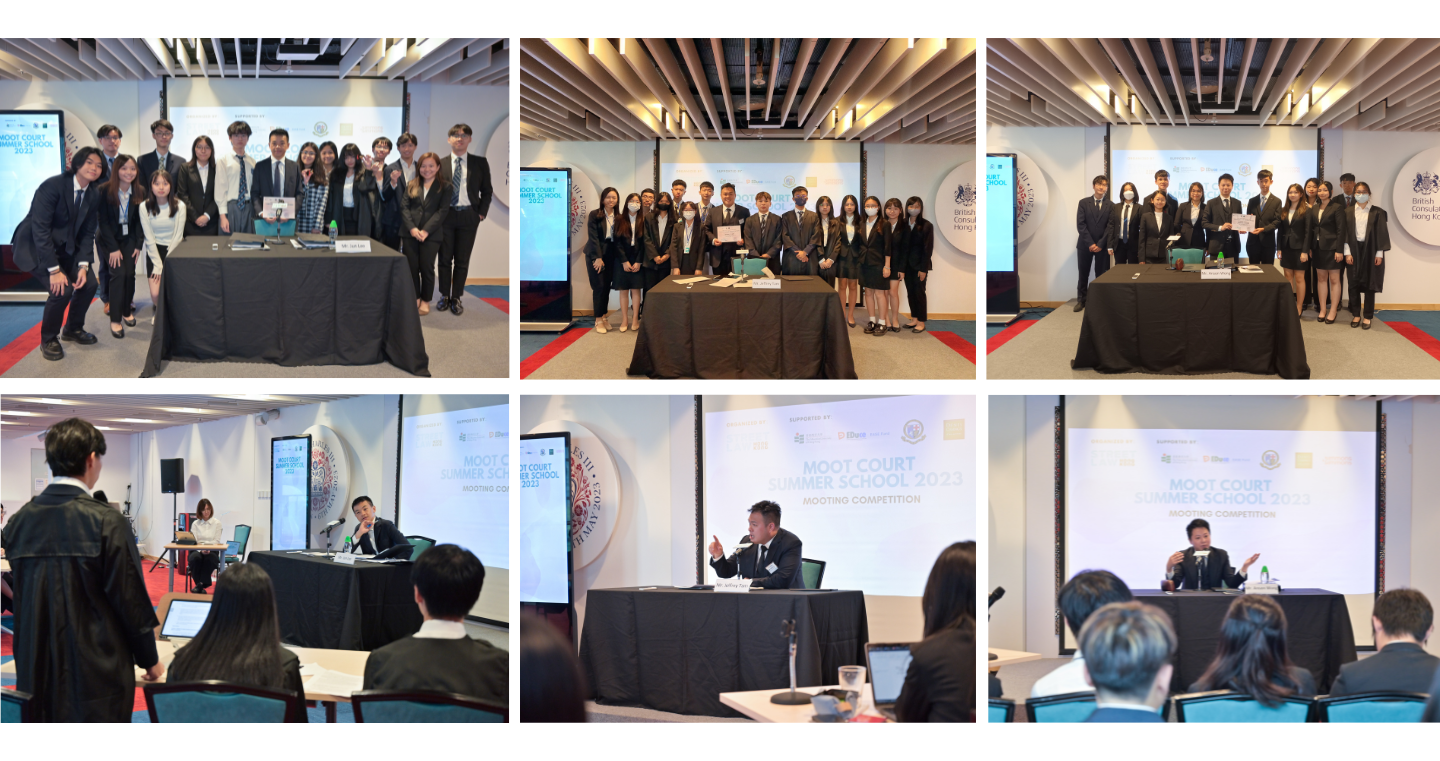 Jun Lee (on the left), Jeffrey Tam (in the middle), and Anson Wong (on the right) serve as judges of the Mooting Competition
We want to extend our gratitude to Street Law Hong Kong as well as all the participants and partners for making the programme a huge success. At DCC, we take pride in supporting the growth and progress of budding legal professionals, and our active participation in this remarkable event demonstrates our dedication to fostering future leaders in the legal industry.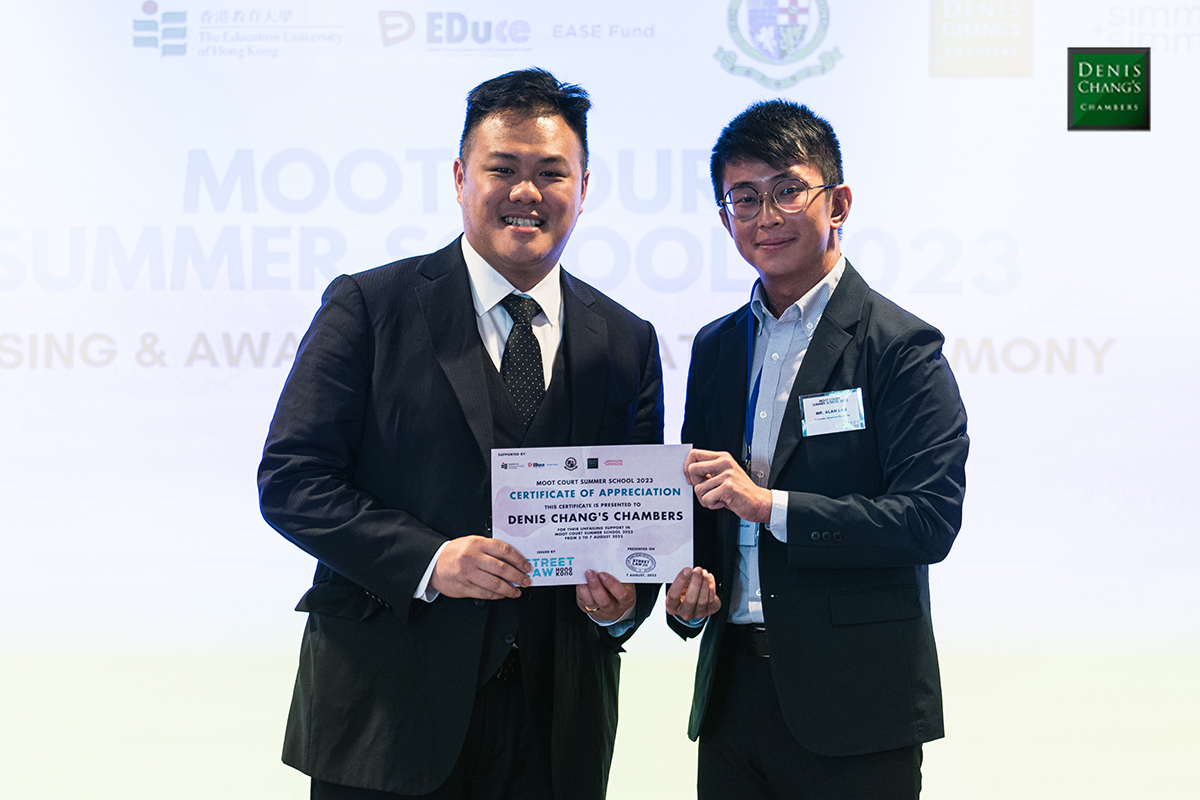 Jeffrey Tam (on the left) receives the Certificate of Appreciation on behalf of Denis Chang's Chambers from Alan Lau, Co-founder of Street Law Hong Kong
About Moot Court Summer School
Street Law Hong Kong is a social enterprise founded in 2021 that strives to use innovative and engaging inter-disciplinary methods to teach basic legal knowledge in various communities with the aim of empowering them.
The Moot Court Summer School is an annual flagship programme of Street Law Hong Kong. With different social issues as the mooting theme each year, participants will have the opportunities to learn how to analyse popular social issues from a legal perspective. At the same time, through the use of a wide variety of interactive activities, the participants would not lose sight of the real human beings behind each case, therefore strengthening not only their analytical skills, but also their social awareness and sensitivity.
Earl Deng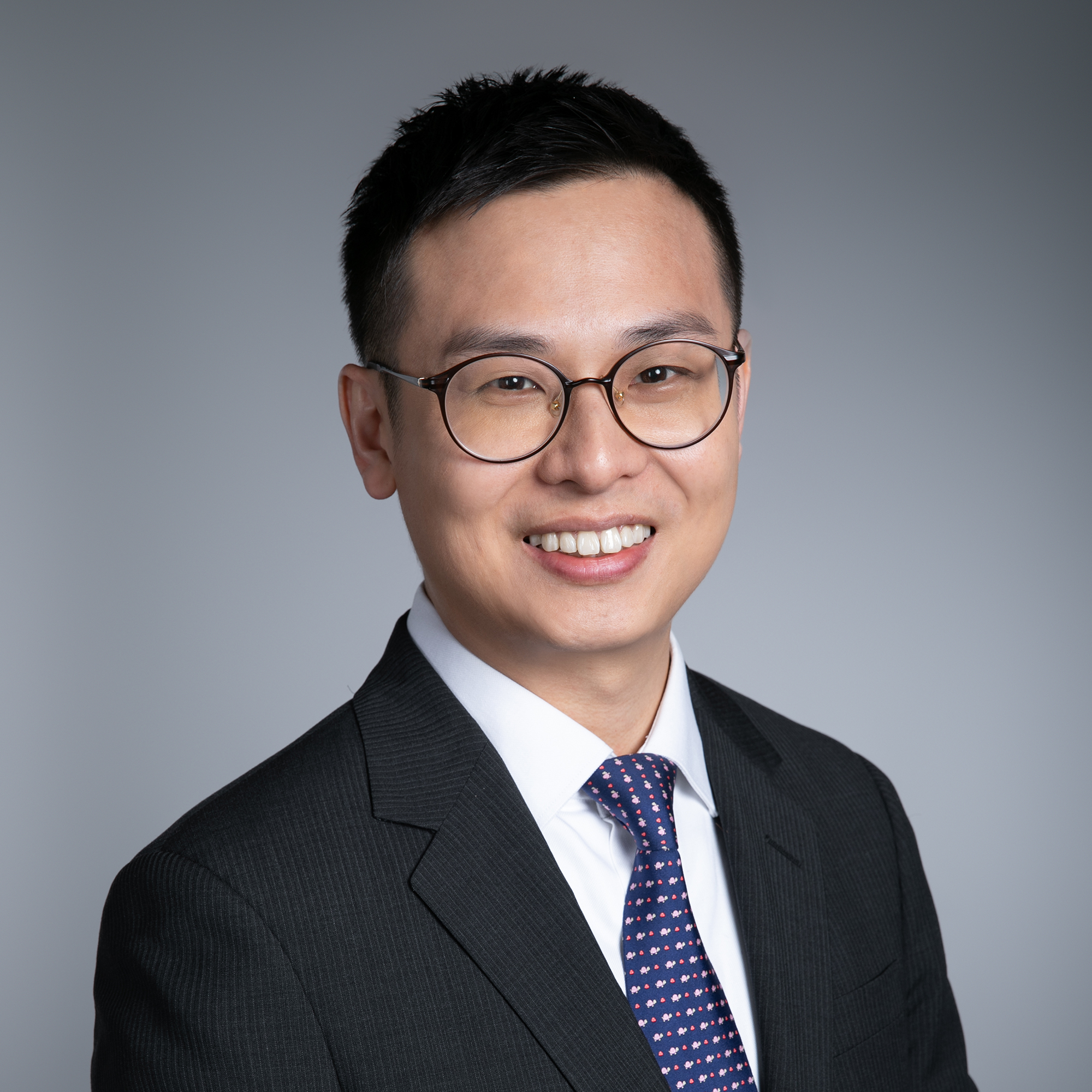 Recognised in Legal 500 Asia-Pacific consecutively from 2021 to 2023, as a Leading Junior in the areas of Commercial Disputes, Labour and Employment, Intellectual Property, and Administrative and Public Law, Earl is praised for providing "incredibly incisive and technically excellent advice which is also commercially sound".
Earl read Law at the University of Cambridge, Fitzwilliam College on a Prince Philip Scholarship Bursary and was called to the Hong Kong Bar in 2008. In addition to maintaining an active civil law practice, Earl also contributes regularly to practitioner publications, including Chitty on Contracts (Hong Kong Specific Edn.), and the Annotated Ordinance Series – Societies Ordinance, Cap. 151 (published 2019).
Visit Earl's profile for more details.
Jeffrey Tam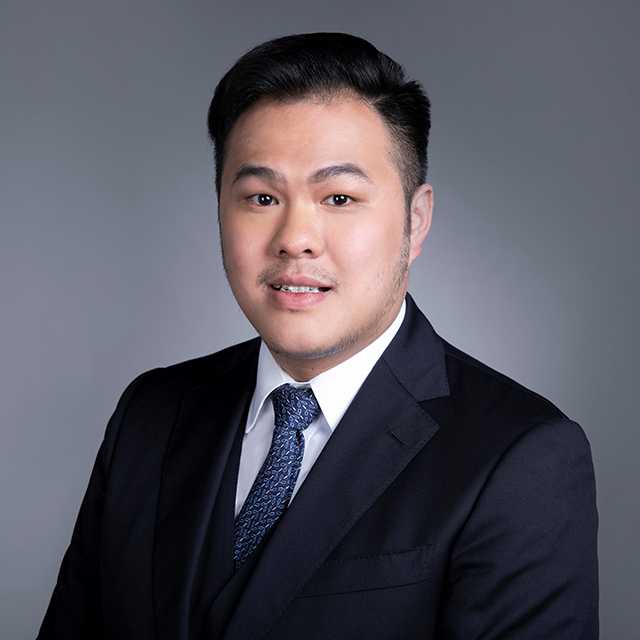 "Jeffrey Tam of Denis Chang's Chambers stands out in the opinion of several interviewees … he also operates a broad commercial practice, embracing, among other matters, shareholder and securities-related issues." — Chambers & Partners Greater China Region 2022, Commercial Dispute Resolution: The Bar (Spotlight Table)
Jeffrey Tam, FHKIArb, attended St. Anne's College at the University of Oxford for a Bachelor of Civil Law (BCL) on a scholarship after reading law at the City University of Hong Kong. He is also named as a "Leading Junior" for Administrative and Public Law in Legal 500 Asia-Pacific 2022 and 2023.
Visit Jeffrey's profile for more details.
Anson Wong Yu Yat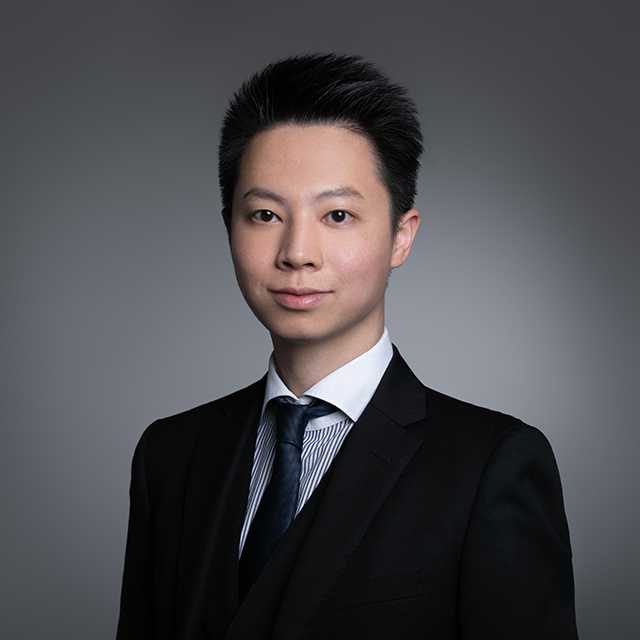 "Anson is intelligent, detail-oriented and practical. He is highly capable of analysing and deconstructing complicated legal issues."
Legal 500 Asia-Pacific from 2022 – 2023, Commercial Disputes & Administrative and Public Law — Rising Stars
Anson has appeared in more than 130 court judgments (including 15 cases in the Court of Final Appeal with 11 substantive appeals) over the mere span of 7 years of full practice, reflecting the exceptional wealth of experience and exposure in civil litigation for his seniority.
Anson is experienced in handling complex questions of law, including those of great general or public importance which reached the Court of Final Appeal. For example, he has recently appeared in (among others) three civil appeals before the Court of Final Appeal dealing with important questions concerning insolvency matters, land law and equity, service out of jurisdiction and statutory interpretation.
Visit Anson's profile for more details.
Jun Lee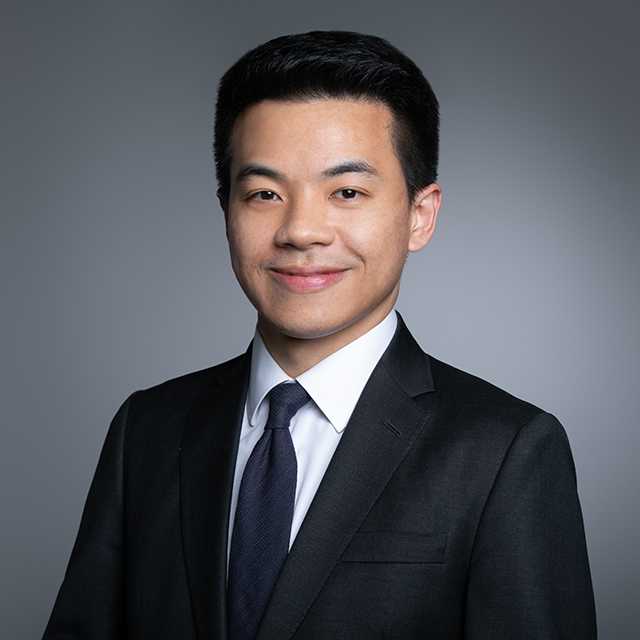 Jun has a broad civil litigation and advisory practice.  He has acted in and advised on a wide range of civil matters, including commercial disputes, shareholder disputes, civil fraud claims, defamation claims and bankruptcy and insolvency-related litigation.  He also accepts instructions to act as arbitration counsel.
Visit Jun's profile for further information.
 Jason Ko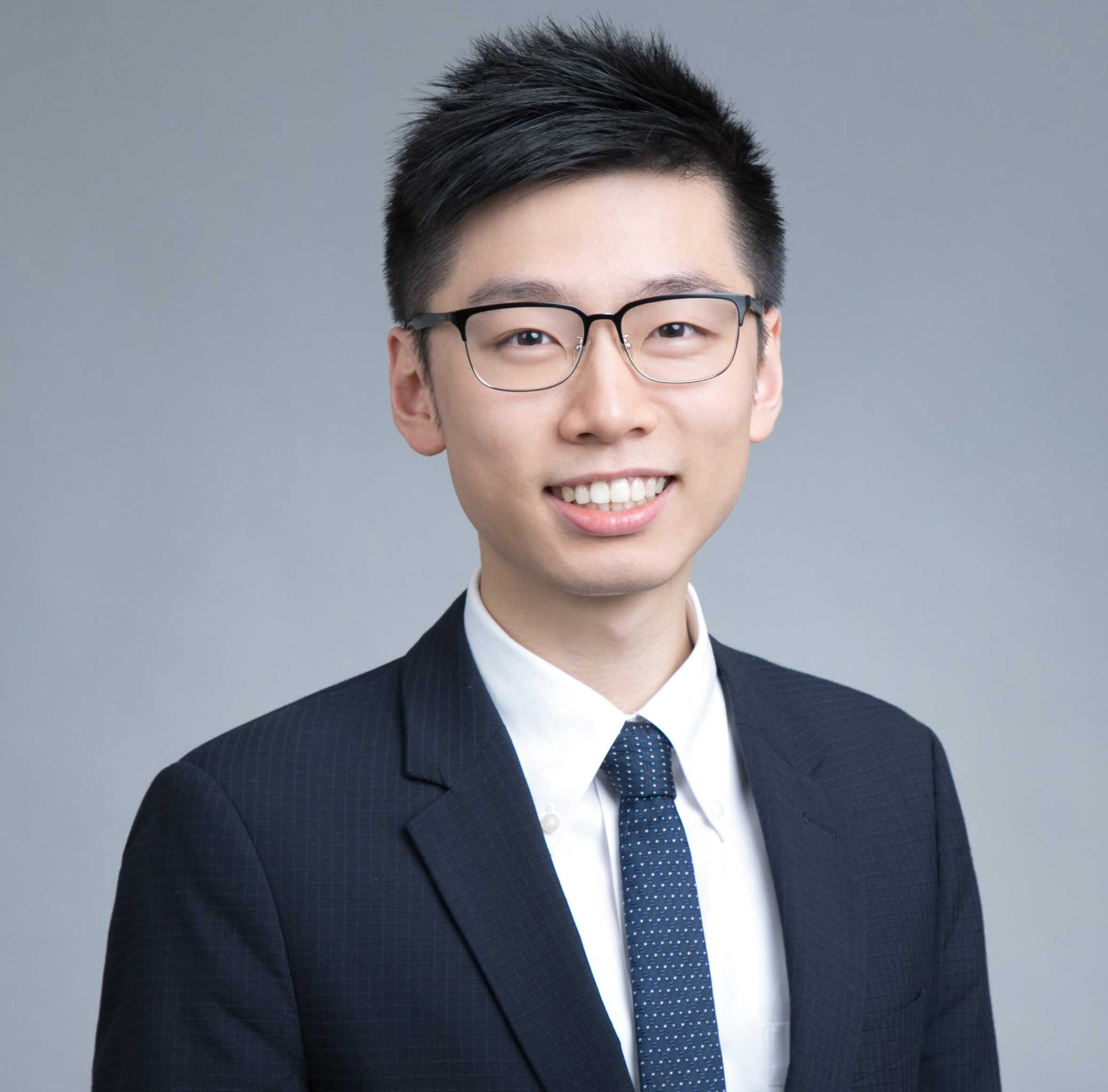 Jason was awarded the Charles Ching Memorial Scholarship in 2019. He is developing a broad civil practice and accepts instructions in all areas of Chambers' work. He has appeared (either in his own right or as a led junior) in all levels of court from the Magistrates' Courts to the Court of Final Appeal.
Jason was a seasoned mooter. During his studies, he represented the University of Hong Kong in the Philip C Jessup International Law Moot Court Competition (2018), where his team won the Hong Kong Champion and he was ranked the top 100 oralists internationally, and in the Red Cross International Humanitarian Law Moot (2017), where his team captured the international 1st runner up.
Find out more from Jason's profile.
Emily Ting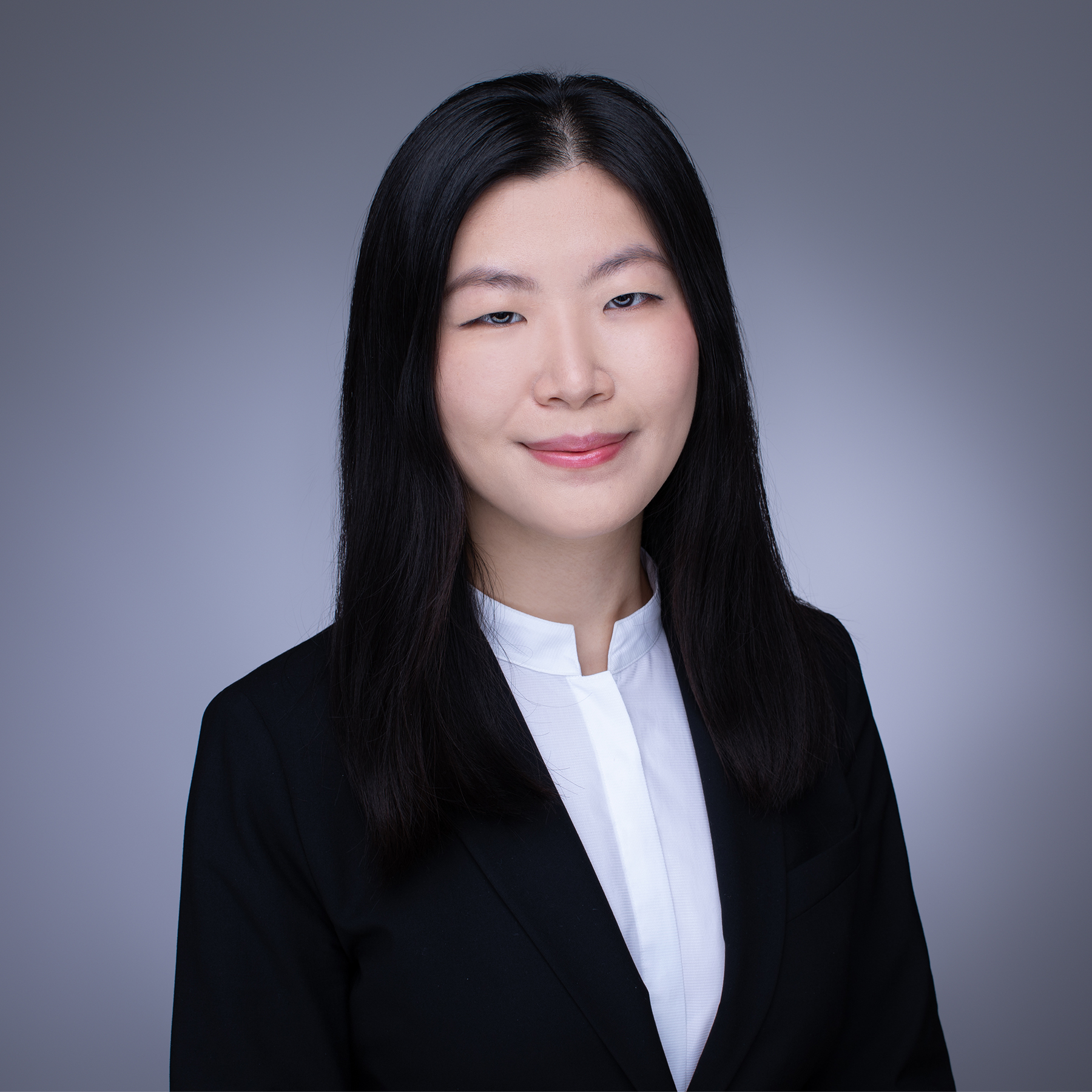 Before joining Chambers in September 2020, Emily was a Judicial Assistant at the Court of Final Appeal between 2019 and 2020, where she assisted judges in appeals, leave applications and other research and publications.
Emily is developing a broad civil practice and accepts instructions in all areas of Chambers' work. She is active in the area of land law (including land compulsory sale applications, adverse possession, landlord and tenant disputes and building planning) and has co-authored the articles Summary possession of land under Order 113: Practical tips (with Ross Yuen) and Exemption clauses in the Deed of Mutual Covenant: A built-in shield against liability for building managers? (with Isabel Tam).
Emily also regularly acts as sole advocate in and advises on land, trust and probate matters.
Find out more from Emily's profile.
Jasper Wong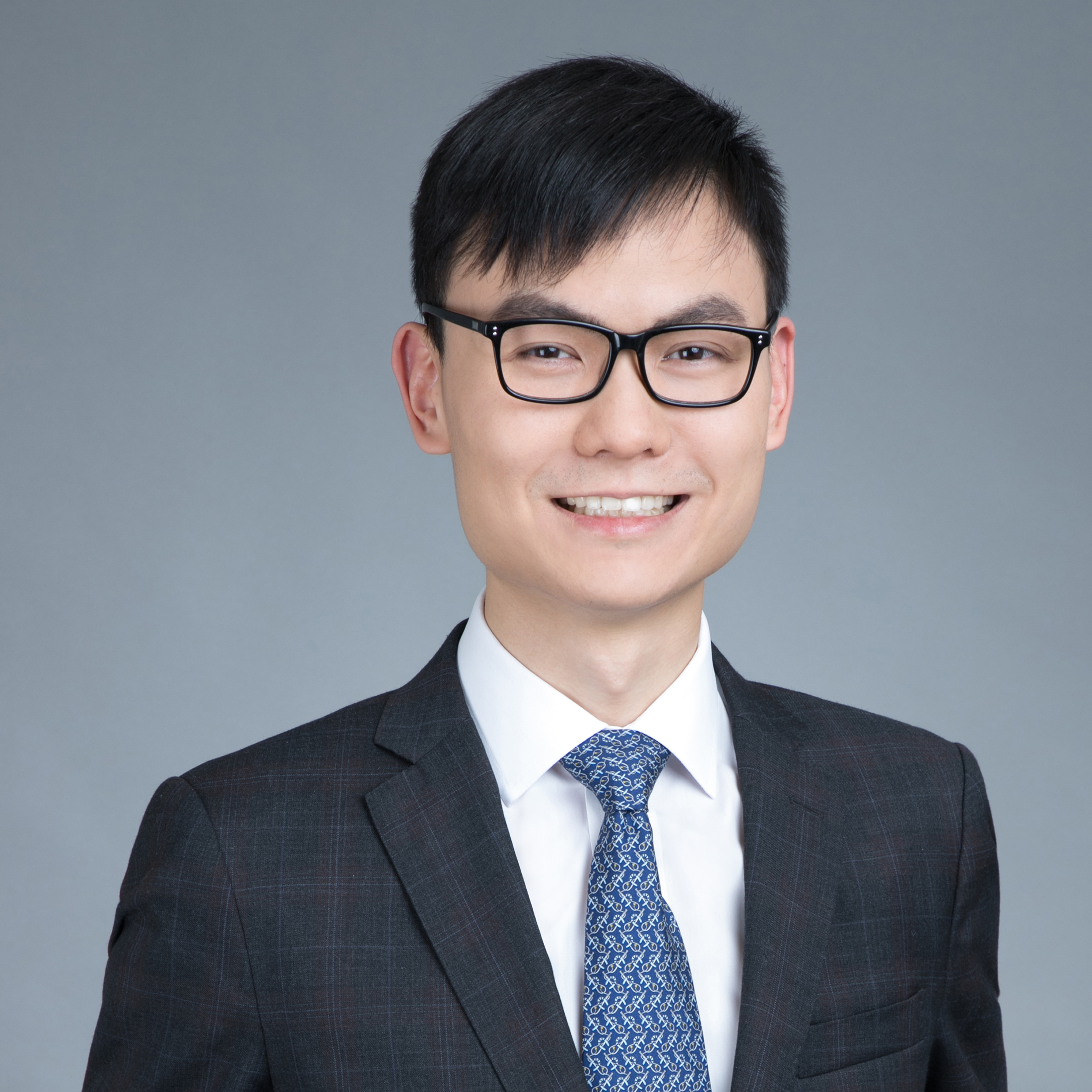 Jasper graduated with a Double First in Law at the University of Cambridge. He was the first recipient of the Sir Oswald Cheung Scholarship at the University of Hong Kong, which is awarded to the best HKU PCLL applicant who intends to join the Bar each year.
Jasper is developing a broad civil practice, which includes injunctions, probate, conveyancing, stamp duty appeal, regulatory review, appearances before tribunals (including the Anti‐Money Laundering and Counter‐Terrorist Financing Review Tribunal) and judicial review.
See Jasper's profile for more information.
This article was first published on 23 August 2023.
Disclaimer: This article does not constitute legal advice and seeks to set out the general principles of the law. Detailed advice should therefore be sought from a legal professional relating to the individual merits and facts of a particular case. The photographs which appear in this article are included for decorative purposes only and should not be taken as a depiction of any matter to which the case is related. The views and opinions expressed in this article/material are solely those of the members authoring it and do not necessarily reflect the official policy or position of Denis Chang's Chambers.