---
Anson obtained his Bachelor of Business Administration (Law) and Bachelor of Laws double degrees, as well as his Postgraduate Certificate in Laws (Full-time), at the University of Hong Kong. He served his pupillage with Ms Audrey Eu SC of Sir Oswald Cheung's Chambers, Mr Hectar Pun SC and Mr Samuel KY Chan of Denis Chang's Chambers, and Mr Samuel CH Yip of Plowman Chambers. He was called to the Hong Kong Bar in 2015.
Anson has developed a broad civil practice with an emphasis on public law, intellectual property litigations and competition law matters. He is experienced in handling complex public law issues, including human rights, regulatory, disciplinary, immigration, discrimination and election-related matters, etc. For example, he acted for the applicants in the landmark judicial review cases challenging the constitutionality of the Emergency Regulations Ordinance and the "anti-mask" law (see Leung Kwok Hung v Secretary for Justice [2020] HKCFA 42 (CFA); [2020] 2 HKLRD 771 (CA); [2020] 1 HKLRD 1 (CFI)), as well as the constitutionality of the police power to search without warrant the digital contents of a mobile phone or similar device upon arrest (see Sham Wing Kan v Commissioner of Police [2020] 2 HKLRD 529).
Apart from public law, Anson is also experienced in handling both civil and criminal matters involving complex issues of law. For example, he acted for an appellant in a civil appeal raising novel issues concerning common intention constructive trust and proprietary estoppel which have never been dealt with by any cases before (see Cheung Lai Mui v Cheung Wai Shing [2020] 2 HKLRD 15). He also appeared in one of the first two enforcement actions before the Competition Tribunal, arguing issues relating to the burden and standard of proof as well as the proper approach for the determination of pecuniary penalties (see Competition Commission v W Hing Construction Co Ltd [2019] 3 HKLRD 46; [2020] 2 HKLRD 1229).
Anson is a member of the Committee on Constitutional Affairs and Human Rights, Committee on Intellectual Property and Committee on Competition Law of the Hong Kong Bar Association.
---
• 2011 BBA (Law), University of Hong Kong
• 2013 LLB, University of Hong Kong
• 2014 PCLL, University of Hong Kong
---
• Member, Committee on Constitutional Affairs and Human Rights, Hong Kong Bar Association (2016-2018; 2019-)
• Member, Committee on Intellectual Property, Hong Kong Bar Association (2019-)
• Member, Committee on Competition Law, Hong Kong Bar Association (2019-)
• Member, Standing Committee on Civic Education, Hong Kong Bar Association(2016-2019)
• Member, Standing Committee on Pupillage Reform, Hong Kong Bar Association (June 2017-2018)
---
• Co-edited the chapter of 'Human Rights' in Halsbury's Laws of Hong Kong (2015 Reissue) with Professor Johannes Chan SC (Hon) (April 2015)
• Co-authored the chapter of 'Applications for Judicial Review' in Bullen & Leake & Jacob's Precedents of Pleadings Hong Kong with Mr Hectar Pun SC (Sweet & Maxwell, 2nd edn, 2018)
• Edited The Annotated Ordinances of Hong Kong: Oaths and Declarations Ordinance (Cap 11) (2018 Reissue)
---
Administrative and Public Law
• Leung Kwok Hung v Secretary for Justice [2020] HKCFA 42 (CFA); [2020] 2 HKLRD 771 (CA); [2020] 1 HKLRD 1 (CFI)
• Leung Kwok Hung (also known as "Long Hair") v Commissioner of Correctional Services [2020] HKCFA 37
• Chan Kung Shun & Ors v Commissioner of Police [2020] HKCFI 2882
• Sham Wing Kan v Commissioner of Police [2020] 2 HKLRD 529
• Leung Chung Hang Sixtus v President of Legislative Council [2019] 1 HKLRD 292
• HKSAR v Fong Kwok Shan Christine (2017) 20 HKCFAR 425
• Yau Wai Ching v Chief Executive of HKSAR (2017) 20 HKCFAR 390
• Chief Executive of HKSAR v President of Legislative Council [2017] 4 HKLRD 115
• Chief Executive of HKSAR v President of the Legislative Council [2017] 1 HKLRD 460 (CA); [2016] 6 HKC 417 (CFI)
• So Ching Yat v City University of Hong Kong [2016] 3 HKLRD 661
Intellectual Property
• Sebastien Laffargue v Marco Skates Ltd & Anor (HCA 3342/2016)
• Nu Pharm Ltd v Champ Group Ltd & Anor (HCA 2995/2016)
• Shelter Lounge Ltd v Ocean Concept Holdings Ltd (Opposition to Trade Mark Application No 302585962, 1 December 2016)
• Champ Group Ltd v Nu Pharm Ltd (Opposition to Trade Mark Application No 302406546, 30 June 2016)
Competition Law
• Competition Commission v W Hing Construction Co Ltd [2020] 2 HKLRD 1229
• Competition Commission v W Hing Construction Co Ltd [2019] 3 HKLRD 46
Equity & Trust
• Cheung Lai Mui v Cheung Wai Shing [2020] HKCFA 41 (Appeal Committee); [2020] 2 HKLRD 15 (CA)
• Poon Ka Man Jason v Cheng Wai Tao (2016) 19 HKCFAR 144
Company Law
• Pilot International Investment Ltd v Ingredients Plus Holdings (Pte) Ltd & Ors [2018] HKCFI 375 (HCMP 2454/2015, 1 February 2018)
• Loyal Profit International Development Ltd v Travel Industry Council of Hong Kong (HCMP 256/2016, 27 April 2017)
• Poon Ka Man Jason v Cheng Wai Tao (2016) 19 HKCFAR 144
Personal Injuries
• Fong Chak Kwan v Ascentic Ltd & Ors [2020] HKCFI 679 (HCPI 242/2016, 29 April 2020)
• Lo Hing Kin Nelson v Personal Representative of Lam Yuk Wan (deceased) [2017] 3 HKLRD 294
• Li Man Chi v Or Chun Kit (CACV 141/2015, 24 June 2016)
Criminal
• 香港特別行政區 訴 湯偉雄及另二人 [2020] HKDC 588 (DCCC 872/2019, 24 July 2020)
• 香港特別行政區 訴 陳珩及另六人 [2020] HKDC 521 (DCCC 868/2019, 9 July 2020)
• HKSAR v Tai Yiu Ting & Ors (DCCC 480/2017, Verdict: 9 April 2019 & Sentence: 24 April 2019)
• Secretary for Justice v Leung Hiu Yeung (2018) 21 HKCFAR 421
• Secretary for Justice v Wong Ho Ming (2017) 20 HKCFAR 518
• HKSAR v Cheung Wai Kwong (2017) 20 HKCFAR 524
• HKSAR v Leung Kwok Hung (DCCC 546/2016, 31 July 2017)
Contempt
• Secretary for Justice v Wong Ho Ming [2018] HKCFA 62; [2018] HKCA 173
• Secretary for Justice v Siew Yun Long [2018] 4 HKLRD 438
• Secretary for Justice v Cheng Kam Mun [2015] 5 HKLRD 41
• Secretary of Justice v Li Pang Kay & Anor (HCMP 1851 & 1852/2013, 20 August 2015)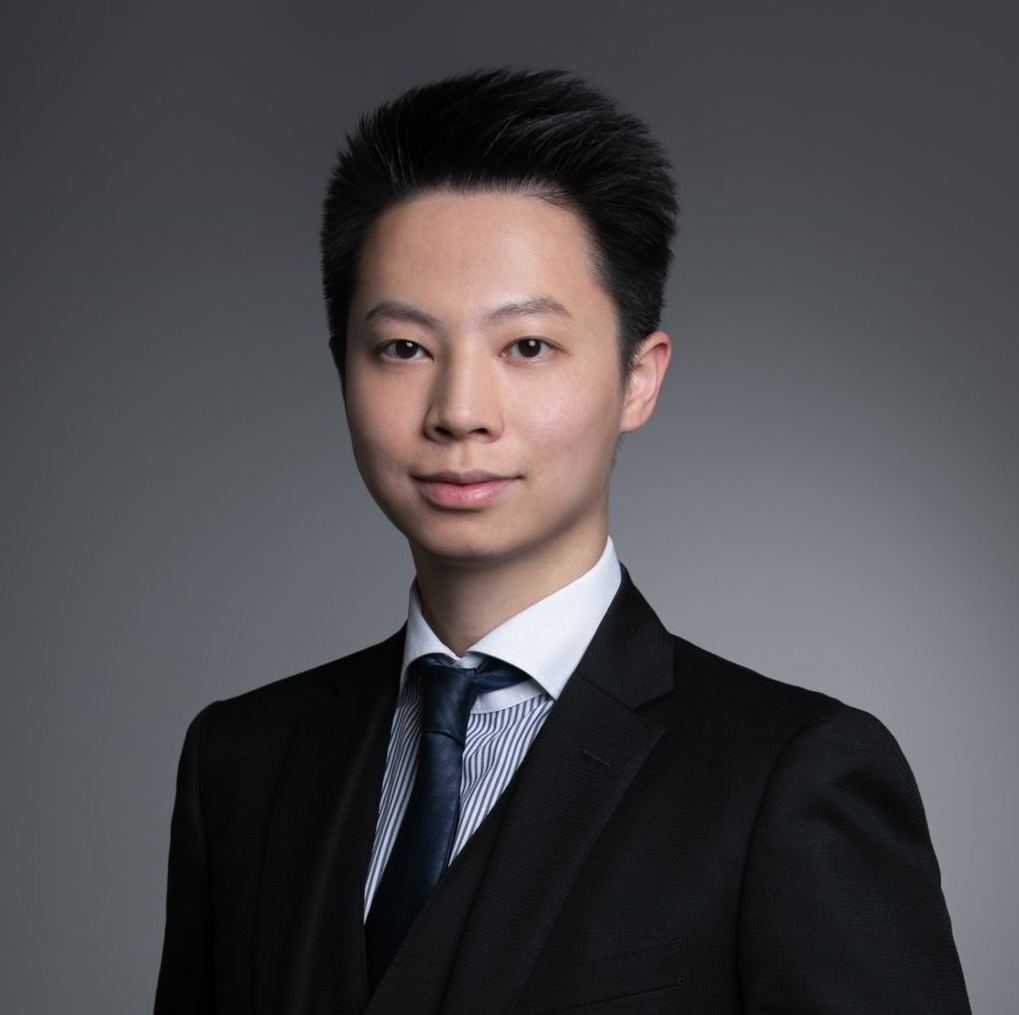 Call : 2015
---
Set : Main
---
Practice Areas
---
Administrative and Public Law
Chancery
Commercial Law
Company and Insolvency
Competition Law
Criminal Law
Defamation
Employment
Intellectual Property
Land and Property Law
Probate and Administration
Regulatory and Disciplinary
Tort and Personal Injuries