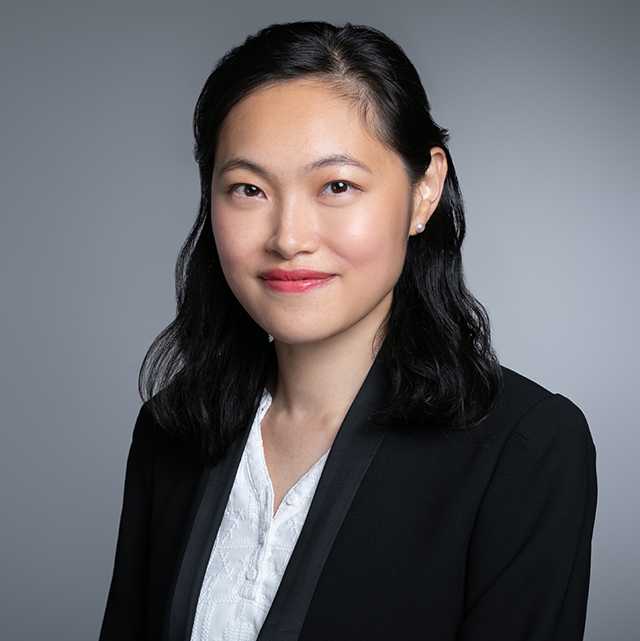 Call : 2013 (HK); 2012 (NY)
---
Set : Main
---
Practice Areas
---
Administrative and Public Law
Chinese Customary Law
Commercial Law
Competition Law
Family Law
Land and Property Law
Probate and Administration
Public International Law
Regulatory and Disciplinary
Tax Law
Tort and Personal Injuries
---
Isabel Tam graduated with a first class LLB and with distinction in her LLM. She was awarded the Bar Scholarship in 2012. Her practice has an emphasis on public law, family law, and regulatory matters. She also has an MA in competition law with distinction in the examination component, and was seconded to the Competition Commission.
She has appeared as sole counsel in the Court of Appeal, the Court of First Instance, the District Court and the Magistrates' Courts. She has also appeared in the Court of Final Appeal.
Recent highlights of Isabel's experience include AA v BB [2021] HKCFI 1401, which has been hailed as a landmark victory for the LGBTQ community, granting parental rights to a separated same-sex couple who had co-parented children during their relationship. Isabel appeared for the Respondent, the non-biological mother within the same-sex relationship, and secured parental rights for her including guardianship and joint custody.
Isabel successfully resisted the Inland Revenue's appeal before the Court of Appeal in Koo Ming Kown & Anor v The Commissioner of Inland Revenue [2021] 3 HKLRD 642, representing two company directors charged to additional tax (led by Mr Denis Chang SC). This is Hong Kong's first ever case to deal with the third party's liability for additional tax by reason of "incorrectness" in the company's return.
Isabel's experience also includes:
Administrative and Public Law 
Judicial reviews and hearings relating to the Small House Policy, the "Co-location Arrangement", the 3rd airport runway, immigration decisions, disciplinary decisions, administrative tribunals, and more.
Family Law
Children matters, ancillary relief, anti-suit injunction, harassment-related proceedings, and more.
Regulatory Matters
Representing the SFC in disciplinary proceedings and in trial, advising on competition law, advising on listing rules, representing respondent and complainant in professional misconduct cases, and more.
Land Law
Trials on adverse possession, trust claims over property, disputes over common parts, conveyancing disputes, unauthorized building works, and more.
International Work
Her legal experience outside Hong Kong includes working on a state-to-state international arbitration, researching at the International Environmental Law Research Centre in Kenya and a summer judicial clerkship at U.S. federal court. She was also called to the Bar in New York.
Pro Bono Work
She regularly undertakes pro bono work, including advising non-profit organizations and acting for litigants on a pro bono basis. She is also interested in environmental law, and has advised and published on the ivory trade and trade in endangered species.
---
• Barrister (Hong Kong) (2013)
• Attorney (New York) (2012)
---
• LLB (First class), University College London (2010)
• LLM (Distinction), Georgetown University (2011)
• PCLL, University of Hong Kong (2012)
• MA in EU Competition Law, King's College London (2017)
---
• Bar Scholarship (2012)
• Charles Ching Memorial Scholarship (2012)
• Dean's List (2011)
• Georgetown Global Teaching Fellowship (2011)
• Georgetown Law Center best paper in international criminal law (2011)
• International Bar Association Asian Regional Forum Scholarship (2014)
• Inter-Pacific Bar Association Scholarship (2017)
---
• Vice-chair (2019 – 2020), Standing Committee on Young Barristers, Hong Kong Bar Association
• Member (2022 – 2023), Committee on Constitutional Affairs & Human Rights
• Member (2018 – present), Standing Committee on Equality and Diversity, Hong Kong Bar Association
• Member (2020 – present), Standing Committee on International Practice, Hong Kong Bar Association
• Part-time Lecturer, School of Law, City University of Hong Kong (2018-19 & 2019-20)

---
• Hong Kong Civil Procedure (2015 – present), contributing editor
• Halsbury's Laws of Hong Kong (volume on Judicial Review), contributing author
• Hong Kong Construction Law (Issue 39), contributor
• Environmental Impact Assessment Ordinance, Cap 499 (Annotated Ordinances of Hong Kong) (2017), author • Protection of Endangered Animals and Plants Ordinance, Cap 586 (Annotated Ordinances of Hong Kong) (2019), co-author • Public Health and Municipal Services Ordinance, Cap 132 (Annotated Ordinances of Hong Kong) (2019), co-author • Water Pollution Control Ordinance, Cap 358 (Annotated Ordinances of Hong Kong) (2019), author • The Trade In Live Reef Food Fish-Going, Going Gone (2017), co-author
• Bullen & Leake & Jacob's Hong Kong Precedents of Pleadings (2nd ed) (contributor, chapter on Competition Law)
---
Administrative and Public Law
Mutebi Roy Doreen v Torture Claim Appeal Board & Ors [2022] HKCA 294
Appeal allowed, reversing refusal of leave to bring judicial review proceedings
Kwok Cheuk Kin & Anor v Director of Lands & Ors (2021) 24 HKCFAR 220
Waiving security for costs (sought in the total amount of $ 4.8 million) of appeal to the Court of Final Appeal
Kwok Cheuk Kin & Anor v Director of Lands & Ors [2021] HKCFA 38
Judicial review of the Small House Policy
Kwok Cheuk Kin & Anor v Director of Lands & Ors [2021] 3 HKLRD 411
Holding that the Public Interest Litigation exception may be relied upon by an unsuccessful applicant against a successful non-government entity
Chan Tsui Yan v Social Workers Registration Board & Ors [2019] HKCA 279
Representing the Social Workers Registration Board in a judicial review against the Board
Kwok Cheuk Kin v Secretary for Justice [2021] 3 HKLRD 140
Judicial review of the "Co-location Arrangement" of the high speed rail at the West Kowloon Station
Family Law
AA v BB [2021] 2 HKLRD 1225
Grant of guardianship and joint custody to same-sex couple
LWK v ZQJ [2018] HKFC 117
Anti-suit injunction
Tax Law
Koo Ming Kown & Anor v The Commissioner of Inland Revenue [2021] 3 HKLRD 642
Appeal against decisions of the Inland Revenue Board of Review