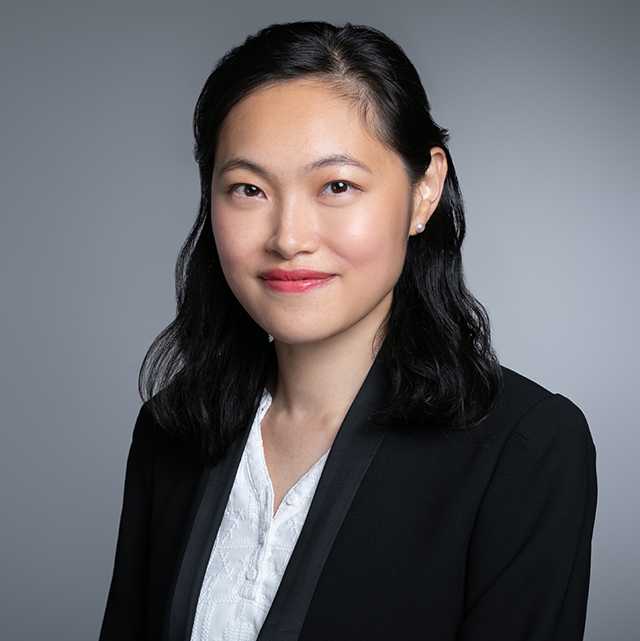 Call : 2013 (HK)
---
Set : Main
---
Practice Areas
---
Administrative and Public Law
Chinese Customary Law
Commercial Law
Competition Law
Family Law
Land and Property Law
Probate and Administration
Public International Law
Regulatory and Disciplinary
Tax Law
Tort and Personal Injuries
---
Isabel Tam graduated with a first class LLB and with distinction in her LLM. She was awarded the Bar Scholarship in 2012. Her practice has an emphasis on public law, family law, commercial law, regulatory matters, land law, and arbitration. She also has an MA in competition law with distinction in the examination component, and was seconded to the Competition Commission.
She has appeared as sole counsel in the Court of Appeal, the Court of First Instance, the District Court and the Magistrates' Courts. She has also appeared in the Court of Final Appeal.
Her experience in public law includes: judicial reviews and hearings relating to the Small House Policy, the "Co-location Arrangement", the 3rd airport runway, immigration decisions, disciplinary decisions, and administrative tribunals.
Her experience in family law includes: children matters, ancillary relief, anti-suit injunction, and harassment-related proceedings.
Her experience in regulatory matters includes: representing the SFC in disciplinary proceedings and in trial, advising on competition law, advising on listing rules, and representing respondent and complainant in professional misconduct cases.
Her experience in land law includes: trials and hearings on adverse possession, management fees, disputes over common parts, IO meeting procedures, charging orders, and unauthorized building works.
Her legal experience outside Hong Kong includes working on a state-to-state international arbitration, researching at the International Environmental Law Research Centre in Kenya and a summer judicial clerkship at U.S. federal court. She is also called to the Bar in New York.
She regularly undertakes pro bono work, including advising non-profit organizations and acting for litigants on a pro bono basis. She is also interested in environmental law, and has advised and published on the ivory trade and trade in endangered species.
---
• Barrister (Hong Kong) (2013)
• Attorney (New York) (2012)
---
• LLB (First class), University College London (2010)
• LLM (Distinction), Georgetown University (2011)
• PCLL, University of Hong Kong (2012)
• MA in EU Competition Law, King's College London (2017)
---
• Bar Scholarship (2012)
• Charles Ching Memorial Scholarship (2012)
• Dean's List (2011)
• Georgetown Global Teaching Fellowship (2011)
• Georgetown Law Center best paper in international criminal law (2011)
• International Bar Association Asian Regional Forum Scholarship (2014)
• Inter-Pacific Bar Association Scholarship (2017)
---
• Member (2018 – present), Standing Committee on Equality and Diversity, Hong Kong Bar Association
• Member (2019 – present), Committee on International Law, Hong Kong Bar Association
• Part-time Lecturer, School of Law, City University of Hong Kong (2018-19 second semester, 2019-20 second semester)
• Member (2020 – present), Standing Committee on International Practice, Hong Kong Bar Association
---
• Hong Kong Civil Procedure (2015 – present), contributing editor
• Bullen & Leake & Jacob's Hong Kong Precedents of Pleadings (2nd ed) (contributor, chapter on Competition Law)
• Hong Kong Construction Law (Issue 39), contributor
• Annotated Ordinances of Hong Kong: Environmental Impact Assessment Ordinance, Cap 499 (2017), author
• Annotated Ordinances of Hong Kong: Protection of Endangered Animals and Plants Ordinance, Cap 586 (2019), co-author
• Annotated Ordinances of Hong Kong: Public Health and Municipal Services Ordinance, Cap 132 (2019), co-author
• Annotated Ordinances of Hong Kong: Water Pollution Control Ordinance, Cap 358 (2019), author
• The Trade In Live Reef Food Fish-Going, Going Gone (2017), co-author
---
Kwok Cheuk Kin & Anor v Director of Lands & Ors, HCAL 260/2015
Judicial review; judicial review of the Small House Policy
Koo Ming Kown & Anor v The Commissioner of Inland Revenue [2018] HKCFI 2593
Tax; appeal against decisions of the Inland Revenue Board of Review
Chan Tsui Yan v Social Workers Registration Board & Ors [2019] HKCA 279
Judicial review; representing the Social Workers Registration Board in a judicial review against the Board
LWK v ZQJ [2018] HKFC 117
Family law; anti-suit injunction
郭卓堅 v 林鄭月娥特首連同行政會議成員, HCAL 453/2017 
Judicial review; judicial review of the "Co-location Arrangement" of the high speed rail at the West Kowloon Station