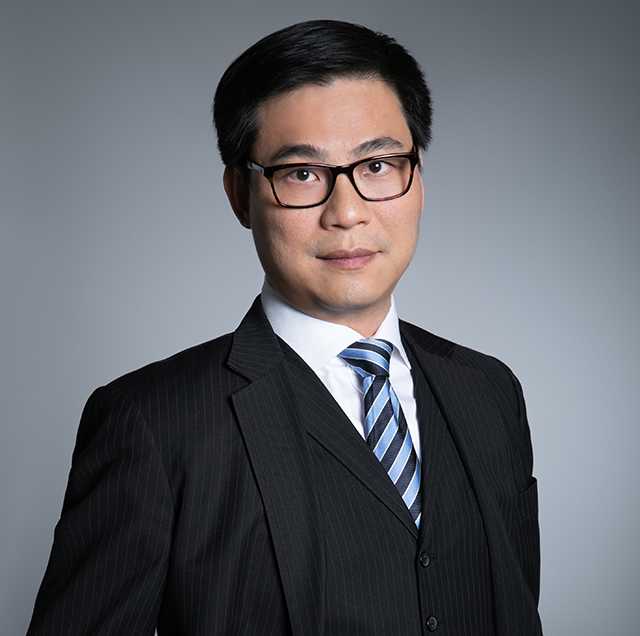 Call : 2008 (HK) , 1998 (England & Wales, non-practising)
---
Set : Main
---
Practice Areas
---
Administrative and Public Law
Criminal Law
Family Law
Regulatory and Disciplinary
---
"Randy is a highly experienced counsel in the criminal law practice. He offers pragmatic and robust advice to clients and achieves favourable outcomes for them."
Legal 500 Asia-Pacific 2023: Regulatory, Investigations and Crime — Leading Juniors
Randy's main areas of practice include criminal law, human rights and civil liberties, and public law.  He also accepts instructions for civil cases involving injunctions, family law, and land law.
While he regularly receives instructions to prosecute on behalf of the Department of Justice, Randy is mainly a criminal defence counsel.  Randy has a long and established track record for defending cases arising from protests, demonstrations and other high profile public order events, which frequently involve human rights and civil liberties dimensions.
Moreover, he is also experienced in handling conventional crime, white collar crime, SFC investigations, and serious crime, including sexual offences and murder.  He has conducted trials and appeals in all court levels, both as led junior and on his own right. Randy particularly enjoys jury advocacy and is able to accept both private and legal aid instructions for trials in the Court of First Instance.  Randy is also experienced in handling and challenging expert forensic evidence including diverse areas such as explosives, clinical psychology, neurology, telecommunications, computer forensics, DNA, and video identification etc. He has also rendered advice on and is familiar with criminal legal issues concerning cryptocurrencies and digital assets.
On the civil side, his main area of practice is public and administrative law. Randy is experienced in advising and appearing in judicial review applications, election petitions, licensing and regulatory tribunals, disciplinary tribunals, and various administrative appeal tribunals.  He is particularly familiar with immigration and refugee matters and is regularly instructed to advise and represent non-refoulement claimants in judicial review applications, appeals to the Torture Claims Appeal Board and at the initial screening stage.
Other areas of Randy's civil practice include land disputes such as adverse possession, or ancillary relief and asset division in matrimonial law.  Other family law matters that he has acted in include domestic violence, custody rights, and wardship applications.   He is experienced in applying for and defending injunctions including Mareva Injunctions and Anton Piller Orders.
---
Post-graduate Certificate in Laws, University of Hong Kong
Bar Vocational Course, Inns of Court School of Law, United Kingdom (Called: 1998, Middle Temple)
Master of Laws in Intellectual Property Law, University College London, United Kingdom (with a Distinction in Art and Cultural Property Law)
Bachelor of Law (Hons), University of Warwick, United Kingdom
Bachelor of Arts in History and History of Art (Hons), University of Toronto, Canada
---
• Chairman of the Appeal Tribunal (Buildings Ordinance) (since 2021)
• Member, Legal Aid Services Council (2018-2022)
• Bar Council, Hong Kong Bar Association (2018 to 2021)
• Hong Kong Bar Association, Committee on Criminal Law and Procedure
• Hong Kong Bar Association, Committee on Constitutional Affairs and Human Rights
• Tutor in Criminal Procedure, City University of Hong Kong PCLL (Part-time), 2013-2014
• Election Committee of the Chief Executive of the HKSAR, Legal Subsector (2011 – 2021)
• Tutor in Matrimonial Practice and Procedure module, HKU PCLL, 2010-2016
• Part-Time Lecturer in Law, St John's College, HKU, 2009-2016
---
• Juries, Halsbury's Laws of Hong Kong, Vol.34(1) (2nd Edition, 2021), Principal Author with Johannes Chan SC (Hon)
• Environmental Offences, Archbold Hong Kong (2022) Chapter 40, Contributing Editor with Rachel Wong
• Freedom of Assembly, Procession and Demonstration, Community Legal Information Centre, University of Hong Kong, Author
---
Criminal Law
HKSAR v Tai Yiu Ting (戴耀庭) [2021] 2 HKLRD 899 (Court of Appeal, with Mr Eric T M Cheung as Solicitor Advocate, and Mr Jason Kung)
Conspiracy to Commit Public Nuisance – legal certainty of offences
Represented the 1st Defendant on appeal against conviction and sentence related to the 2014 Occupy Central Movement
HKSAR v Ting Chin Fung (丁展峯) DCCC 476/2020 (District Court)
Conspiracy to make explosive substances – possession of explosive substances – possession of things with intent to damage property
HKSAR v Ip Kwan Shing Kevin S. (葉君誠) DCCC 46/2020 (District Court)
Obtained acquittal for client facing a charge of riot in connection with the protests on 31 August 2019; the third acquittal secured by Randy in riot prosecutions arising from protests on that day

HKSAR v Yeung Loi (楊來) HCCC 15/2020 (Court of First Instance)
Secured acquittal for client facing a primary charge of rape and an alternative charge of unlawful sexual intercourse with a mentally incapacitated person; jury returned unanimous Not Guilty verdict on both counts
HKSAR v Yeung Ho Nam (楊浩南) [2020] 1 HKLRD 2019 (on his own right at the Court of First Instance, led by the late Dr. Gerard McCoy SC on appeal)
Criminal Sentencing – Unlawful homosexual buggery with man under 16 – "compensated dating"
Successful constitutional challenge against the sentencing provision of s.118C of the Crimes Ordinance resulting in the Court holding that the section should be read down to comply with the 'equality before the law' provision of Article 25 of the Basic Law
HKSAR v Gung Tsz Shun Jason (龔梓舜) DCCC 12/2020 (District Court)
Secured acquittals for the 4th Defendant in a charge of riot and a charge of possession of offensive weapons in a public place (extendable baton and petrol bomb) in the riot on 31 August 2019 in Wan Chai
HKSAR v King Kwan Hing (金君卿) DCCC 9/2020 (District Court, with Ms Hayley Wong)
Obtained acquittal for the 2nd Defendant in a charge of riot related to the riot on 31 August 2019 in Causeway Bay
HKSAR v Ng Man Yuen Avery (吳文遠), [2020] 3 HKLRD 386 (on his own right at trial, led by Prof. Johannes Chan SC (Hon.) of Denis Chang's Chambers on appeal)
Prevention of Bribery Ordinance – Disclosure of details of ICAC investigation – Defence of reasonable excuse – Defence of public interest disclosure
HKSAR v To Kai Wa (杜啟華) DCCC 778/2019 (District Court, with Mr Jason Ko of Denis Chang's Chambers)
Defended against charges of disorderly conduct in a public place, assaulting police officer, inflicting grievous bodily harm, and wounding with intent arising from a riot in Shatin New Town Plaza on 14 July 2019 where a police officer's finger-tip was bitten off by the defendant
HKSAR v Wong Tsz Hin (黄子軒) HCCC 271/2019 (Court of First Instance)
Defended in a serial rape and criminal intimidation prosecution where the defendant was acquitted for the criminal intimidation count
HKSAR v Chu Tsun Wai (朱峻瑋) (2019) 22 HKCFAR 30 (Court of Final Appeal, with Mr Geoffrey Yeung of Denis Chang's Chambers)
Criminal Damage – Damage by misuse of computer – DDoS attacks
The CFA clarified the application of s.59(1A)(a) Crimes Ordinance on criminal damage of computers where a computer's operation is not affected by DDoS attacks
HKSAR v Dhaliwal Jaspreet Kaur [2019] 5 HKLRD 428 (Court of Appeal)
Criminal Sentencing – theft of credit card and use of stolen credit card – young offenders
Successful appeal against sentence for a 21-year old defendant resulting in departure from usual sentencing range on the basis of individual circumstances of the case
HKSAR v Cheung Kit Yung (張傑勇) [2019] HKCFI 2993 (Court of First Instance)
Criminal Sentencing – Trafficking in 991g of ice and 429g of cocaine – International element – 16 year old offender
Obtained a significant reduction in sentence for a young offender convicted with trafficking in a significant amount of dangerous drugs
HKSAR v Cheung Chi Wai (張志偉) DCCC 171/2019 (District Court)
Secured acquittal for a charge of trafficking in a dangerous drug
HKSAR v Lau Wai Lun (劉偉麟) KCCC 2064/2019 (Kowloon City Magistrates' Court)
Secured acquittals for a charge of obstructing police officer and a charge of possession of offensive weapons in a public place (a foldable knife and a cutter) in a protest on 4 August 2019 outside Mongkok police station
Secretary for Justice v Wong Chi Fung (黄之鋒) (2018) 21 HKCFAR 35 (led by Mr Lawrence Lok SC at trial, on his own right at the Court of Appeal, led by Mr Philip Dykes SC at the Court of Final Appeal)
Successful appeal against the Court of Appeal's imposition of imprisonment against the 1st Appellant, who was a student leader of the 2014 Occupy Central Movement
HKSAR v Law Lam Man (羅林文) [2018] 3 HKLRD 263 (Magistracy Appeal)
Summary Offences – Doing an act whereby obstruction might accrue to traffic under 2.4(28) of the Summary Offences Ordinance
Successful appeal against conviction on the basis that the trial magistrate failed to sufficiently consider evidence as to lawful authority or excuse
HKSAR v Chung Kin Ping (鍾建平) [2018] 1 HKLRD 964, [2018] 4 HKLRD 682
Public Interest Immunity – Prosecution duty of disclosure – Disclosure of documents concerning police strategies for processions
HKSAR v Chan Yiu Shing (陳耀成) [2018] 1 HKLRD 968
Possession of Offensive Weapons se – whether offensive weapon on basis intended for purpose of causing injury to others –  whether magistrate reversed burden of proof
HKSAR v Lee Sin Chee (李善芝) [2018] 1 HKLRD 1207 (Magistracy Appeal)
Obstructing police officer in due execution of duty – whether police acting in due execution of duties – during demonstration, defendant refused to leave pavement and went limp while being removed by police – whether defendant's conduct constituted obstruction
HKSAR v Chow Pui Ki (周珮祺) DCCC 828/2017 (District Court)
Conspiracy to deal with proceeds of an indictable offence – Insurance Fraud
Secured acquittal for the 2nd Defendant in an elaborate fraudulent scheme where bogus motor vehicle insurance was sold to the public
HKSAR v Chu Ka Yin (朱家賢) [2017] 2 HKLRD 1046 (Magistracy Appeal)
Criminal Sentencing – Assaulting police officer in execution of duty – young offenders
Successful appeal against sentence for a 14-year old defendant, overturning an order to Rehabilitation Centre with a Probation Order
HKSAR v Lau Tsz On (劉子安), [2017] 3 HKLRD 213 (Magistracy Appeal)
Costs – Defendant acquitted – whether award depriving part of costs justified
Successful appeal against a partial costs order after acquittal in trial for an obstructing a police officer charge during the 2014 Occupy Central Movement
HKSAR v. Junaid Ahmed, CACC 79/2017, [2017] HKCA 610 (Court of Appeal)
Sentencing – Whether a defendant's status as a mandated refugee (as opposed to an asylum claimant) is an aggravating factor
HKSAR v Chan Yiu Sing (陳耀成), HCCC 41/2016, [2018] 1 HKLRD 421 (Court of First Instance)
Successfully acted for the 1st Defendant against a charge of conspiracy to manufacture explosives (with a conviction for possession of explosives) in an alleged plot that took place in the ex-ATV studio in Ho Chung, Sai Kung
HKSAR v. Ngai Hon Kwong (魏漢光), HCCC 78/2016 (Court of First Instance, led by Robert Lee SC)
Murder – Application under s.16 of the Criminal Procedure Ordinance, Cap.221 – Application to switch trial language from English to Chinese
HKSAR v Chan Siu Kwan Leo (陳紹鈞), DCCC 860/2016 (District Court)
Secured acquittal for the 3rd Defendant in a charge of riot during the 2016 Mongkok riots
HKSAR v. Ho Ling Yu (何菱瑜), HCCC 459/2016
Murder – DAN6 Cement coffin case
Successfully negotiated an agreement with the Prosecution to withdraw a charge of conspiracy to commit murder for the 4th Defendant
HKSAR v Wong Chi Fung (黄之鋒), ESCC 2219/2015 (Eastern Magistracy, led by Lawrence Lok SC)
Successfully defended against a charge of obstructing police officer in the 2014 protest against the publication of the "The Practice of the 'One Country, Two Systems' Policy in the Hong Kong Special Administrative Region"
HKSAR v Wong Yuk Man (黃毓民) [2015] 1 HKLRD 76 (acted for the acquitted 8th Defendant at trial, with Mr Hectar Pun of Denis Chang's Chambers on appeal)
Unlawful assembly – Constitutionality of notification scheme under s.13 of the Public Order Ordinance – Elements of Unlawful Assembly – Whether spontaneous assembly subject to regulation under s.13
Successfully appealed for the 2nd Appellant against a suspended sentence for taking part in an unlawful assembly and an unauthorised assembly  which was replaced by a fine
HKSAR v Chan Tak Cheung (陳德章) HCMA 741/2014 (Magistracy Appeal)
Common Assault by throwing an egg at the Financial Secretary during a public forum – Mens rea of the common assault
HKSAR v Benig Derrick (泰歷) [2014] 2 HKLRD 594 (Court of First Instance)
Assaulting police officer – Fair trial – Change of prosecution case on suggestion by trial magistrate
Successful appeal against conviction in an assaulting police officer charge in a protest outside the Liaison Office)
HKSAR v. Chow Nok Hang (周諾恆) (2013) 16 HKCFAR 837 (on his own right at trial, led by Martin Lee SC and with Mr Carter Chim of Denis Chang's Chambers at the Court of Final Appeal)
Disorderly Conduct – Freedom of Demonstration – Breach of the peace
Successful appeal against conviction for disorderly conduct where the Court of Final Appeal clarified the elements for the offence under s.17B of the Public Order Ordinance
Secretary for Justice v Chiu Hin Chung (招顯聰) [2013] 1 HKLRD 214 (Magistracy Appeal)
Disorderly Conduct – Freedom of Demonstration – Breach of the peace
Successfully resisting an appeal by way of case stated by the Prosecution against acquittal for disorderly conduct where the Court of First Instance considered the elements for the offence under s.17B of the Public Order Ordinance
HKSAR v Ocean Technology Ltd. & Ors (海昇科技有限公司) ESS 2007-2010, 2012 (Eastern Magistracy)
Telecommunications Ordinance – Delivering Messages for Transmission by such Means of Communication 
Successfully defended against 32 out of 41 summons against Citizen's Radio for radio broadcasting without licence at various location in Hong Kong.  Mounted a constitutional challenge to the licensing requirement under Telecommunications Ordinance and challenging the forensic expert evidence on methods of FM broadcasting
Public Law
Lam Pok (Jimmy) v Lee Hin Long (Timothy Lee), [2021] HKCFI 779 & [2021] HKCFI 1355 (Election Petition)
Re Rahman MD Motaleb [2018] HKCA 386 (Judicial Review)
Chan Ho Tin v. Lo Ying Ka Alan [2018] 2 HKLRD 7 (led by Gladys Li SC and with Mr Azan Marwah) (Election Petition)
HK v. Wesley Wong [2015] HKCFI 385 (Judicial Review)
K v. Torture Claims Appeal Board, [2018] HKCFI 495 (Judicial Review)
Mok Charles Peter v. Tam Wai Ho [2010] HKCFA 23 (led by Martin Lee SC) (Election Petition)